A team of tax inspectors sat at another shop near Mukesh Kachori and started keeping track of sales. They found that Mukesh was earning anywhere between Rs 60 lakhs to Rs 1 crore and even more annually.
A notice has now been issued to Mukesh because he has not registered his shop under GST and does not pay any taxes.
The shop, known as 'Mukesh Kachori', is located near Seema cinema hall and is a favourite among the locals. Mukesh, the owner of the shop begins selling 'kachoris' and 'samosas' in the morning and continues through the day. The line of customers never seems to end.

www.indiatoday.in
Commercial Tax Officer Aligarh AK Maheshwari said, "The shop was raided as it has been found that on the basis of their annual turnover, they neither pay tax nor they have registered their business under GST Act. On investigation it has been found that their income is more than 60 lakh."
The owner of outlet, Mukesh Kumar, allegedly has an annual turnover of around Rs 60-70 lakhs but does not pay any tax. According to officials, the annual turnover of Mukesh might go beyond Rs 1 crore.
Mukesh, the shopkeeper said, "My shop was raided on June 20. My daily sale is around Rs 2000-3000. Modi ji had said that GST registration is required in turnover of more than Rs 40 lakh, my income is not even half of it. These people are threatening me now."
"Till March 31, businessmen having a turnover above Rs 20 lakh were required to have registration for the goods and services tax (GST) but from April 1, the limit has gone up to Rs 40 lakh. This 'kachori' seller, despite having a high turnover, had no GST registration," Deputy commissioner said.
"We have issued notice to Mukesh who has expressed readiness to have GST registration," Kauntiye said.
According to officials, there are about 600 kachori sellers in Aligarh. Officials of the department do not rule out massive tax evasion by such roadside stalls selling snacks.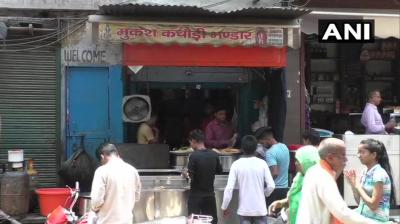 This came into the light of commercial tax department during a search conducted by the officials of special investigating branch (SIB).
www.asianage.com
I know for a fact that there are at least a 1 million Chat bandar-Samosa-Tea guys in India making Rs. 1lakh a day and still don't pay taxes!
Last edited: