Indian launch is expected to be around
OCTOBER 16th.
As ars rightly pointed out...
About that 16GB model:
Ars Technica readers are generally pretty savvy, and most of you would never turn down extra storage for apps and movies that you've downloaded. But there's one thing that everyone uses their phone for, even if they spend little time on the App Store and stream absolutely everything—pictures. People take pictures. They take movies. They did it before smartphones existed, and now that smartphone cameras are actually pretty good they do it even more.
We've been complaining about the 16GB iPhone base model for a while now. iOS 9's space-saving features and lower pricing for cloud storage are
Apple's official solutions to the problem
, but the iPhone 6S-series cameras are going to make those entry-level phones feel more restrictive than they did before. You can't upgrade to 12MP photos (with extra frames for the Live Photos feature, no less, which by some accounts
doubles the size of a standard picture
) and 4K video without eating up more storage, but the iPhone 6S' local storage didn't grow to accommodate the new capabilities.
The only real justification for keeping the base iPhone at 16GB is financial. Bump it to 32GB, and you'll get fewer upgraders to the 64GB and 128GB tiers. As far as the company's bottom line is concerned, it makes sense for Apple to incentivize those upgrades. Using iCloud storage along with the iCloud Photo Library can alleviate this, since it stores the full-resolution photos in the cloud but can keep smaller, "good enough for your phone" versions locally. But from a user's perspective it's hard to see why Apple can't go from 16GB to 32GB at the same price—it managed to go from 32GB to 64GB and from 64GB to 128GB without raising prices.
The new Apple TV starts at 32GB. The iPad Pro starts at 32GB. It's time for the iPhone (and, for that matter, all the other iPads) follow suit.
http://arstechnica.com/apple/2015/09/hands-on-with-the-iphone-6s-and-6s-plus-and-why-the-16gb-model-needs-to-die/
At $1=66rupees, 16Gb 6S model make costs Apple Rs.16,100($245) up from Rs. 13,100 ($200) for the iPhone6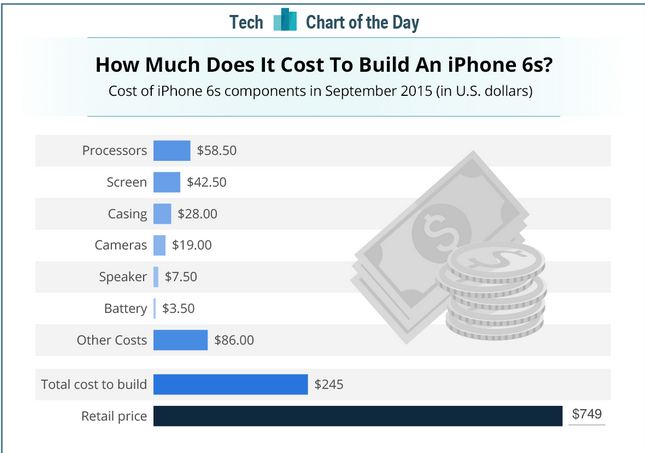 ​
Known Issues:
iPhones 6S battery life 'varies by up to two hours depending on chip supplier'


TSMC and Samsung make chips for iPhone 6S and 6S Plus, but power consumption varies markedly, according to user reports
http://www.theguardian.com/technology/2015/oct/08/iphones-6s-battery-life-varies-depending-on-chip-supplier
6S pricing US unlocked (A1688)
India launch price: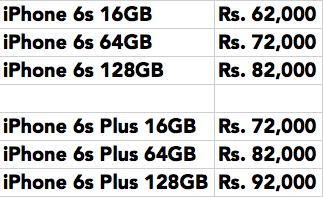 ​
Buy here:
http://www.amazon.in/Apple-iPhone-6s-Rose-Gold/dp/B0168L23VS?
http://www.infibeam.com/Mobiles/apple-iphone-6s/P-mobi-52685543939-cat-z.html
Last edited: