So, TataSky basically says that SET channels Bouquet and Indiatoday and other few channels have been dropped due to non renewal of agreement which expired 2 months back.

TataSky in its defense says Sony group has demanded to increase the rates and they wouldn't agree, So SET shut down the broadcast to TS subscribers.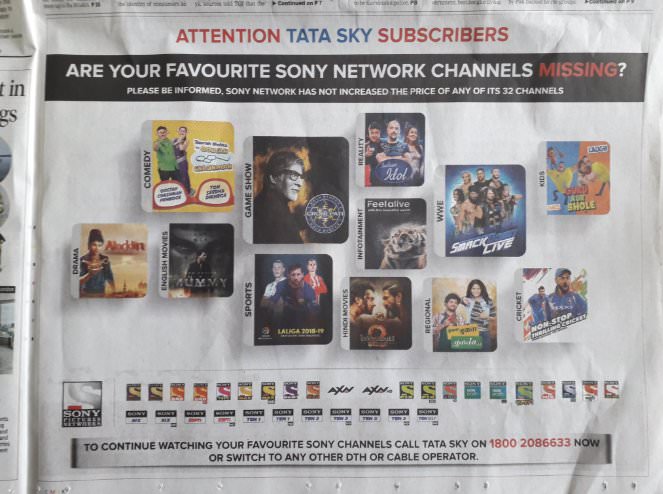 Sony clarified it has nothing to do with them and they have not demanded any price increase.

Now with the huge backlash from the TataSky Subscribers, They are bringing back the channels with one condition --- You have to give missed call to view that channel.




Wait, What the F***. You understand the chirp here.. You have to manually activate the channel which you are paying for... If you understand the agreements between broadcasters and DTH companies, rates are decided for each subscriber. So if you don't subscribe to ... TataSky saves the money which they collected from you, Whether you paid annually,Semi-annual or Monthly.

We're Down to this level of cheap business methods. A few suits have been filed against TataSky in the consumer forums and the results is awaited.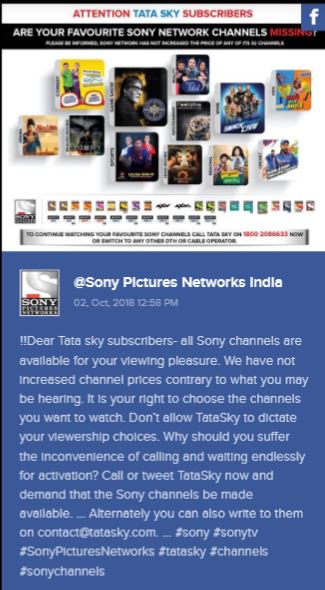 Read: https://www.thequint.com/tech-and-auto/tech-news/tata-sky-drops-32-sony-pictures-networks-channels

If you're unable to view dial these or the one's display on your TV.