Product: Transcend 2GB DDR2-667
Warranty:

This sticks carries Lifetime Indian Warranty.


Price: Rs.700 shipped, got them for 1400 on 24th Sep 2008.

Condition: As new, I got them on 24th Sep from TE member psdatta2005 over PM, so can't link to the thread,

the seller owned them for only 1week before me

I have the original box along with the warranty card, that's all I got from the seller. I got them as a back up cause one of my 1GB stick was not stable, so I was only left with 1GB. They are decent OCers, but never feed them more then 2V 24/7, and always had a fan over them, so they are in perfect condition.
Pic: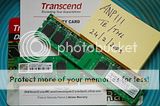 Product:
GeiL Evo One 2GB DDR2-800
Warranty:
Carries Lifetime warranty, bought from Newegg.com through KMD
Price:
900 Shipped, got them for Rs.3500 from KMD when $ price were Rs.39 in April 2008.
Condition:
One of the stick isn't stable at OCs, cause when I inserted the stick into the slot, the Intel stock fan wire accidentally go in between the slot and the RAM, thus burning one pin on the RAM (visible in the pic, on the below stick). It works, but not stable at OCs, gives BSOD on booting, so I consider it as good as dead. The other stick is in perfect condition, when this stick were running, they
used to do DDR2-1000 CL5 and DDR2-900 CL4 with 1.9v and DDR2-800 CL4 with 1.8v. Never tried extreme OC on it, just once I feed it with 2.2-2.3v, and it hit 570mhz 5-4-4-10, but that was just for a few minutes.
I have not tried getting RMA from GeiL cause I just don't have that much time. The stick carries lifetime warranty, thus you can try getting them RMA if you want from GeiLUSA/Newegg via KMD.
Pic: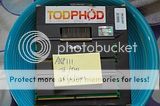 Reason for sale: Got Gskill 4GB PI and 6GB doesn't help in performance