Here on sale is an iphone replica. It has been opened for testing purposes and taking pics.
Its
iphone white replica
. it says 16 GB on the back panel but actually is
2gb PHONE
there are no scratches on the body.
About the touchscreen..its difficult to use it with fingers but works well with the stylus that comes with it.
Specifications ( as per info on the box )
battery: 1200Mah
3.2" screen
stereo bluetooth
QQ function
Radio Features
2_d Accelerator
Flip mute
1.3 Megapixel camera with video
Supports Tflash card
game simulator
This is an chinese iphone replica so please dont ask about warranty.
The product comes as is
.
i take no responsbility if it goes Kaput at any time.Though testing warranty of 3 days is applicable for DOA
For testing purposes only one single phone call has been made, and the music player works fine.
it came as a gift and have no intention of using it.
Package Contains
Phone
usb cable
earphones( forgot to take pictures , white in colour)
pin for sim cap removal
manual
carry pouch
cleaning cloth
Charger
Stylus
Pics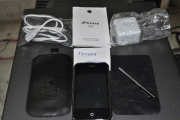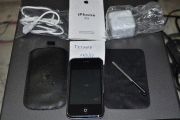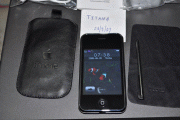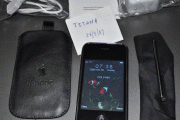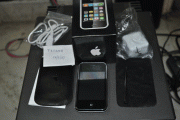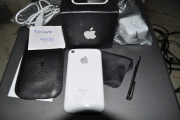 In the last image , the phone on right is an original Iphone 3G
(for comparison purposes only, it does not come with the package)
Please do not crap the thread. Buy so keeping in mind its chinese origin.
Replies
1)this has GPRS functionality. when i had inserted sim for testing it gave me option for installing data and mms settings and things went smooth. however i did not try browsing.
2)it is a java based phone and you can install applications.
3) its memory is 2 GB and extendable to 16 gb, no external slots for memory card as such on the phone.
i guess the phone has to opened up for that.
4) regarding the make of the phone, in the manual it says "COSUN M518color-display mobile phone"
5) Manufacture date is not mentioned on the phone/manual.
I have not been able to find links for this product, though links for similar phones are there on ebay.in..but posting those links will purely be speculation.
no holding business