If you can see the green dot, I'm online ;-)
Veteran
Mar 24, 2005
4,122
812
208
Mozilla says that the issue is due to a certificate expiration, and that it's working to fix the issue. In a blog post, Mozilla says that it's identified the issue, and it's begun
rolling
out a fix for users. "The fix will be automatically
applied
in the background within the next few hours...
Read on...
Add-ons disabled or fail to install on Firefox
(Redirected from
Add-ons failing to install on Firefox
)
9:31am PST, Please do not delete your add-ons as an attempt to fix. You will lose any data related to the add-on.
Disabled add-ons will not lose any data.
As of 8:13am PST, there is no fix available for Android. The team is working on it.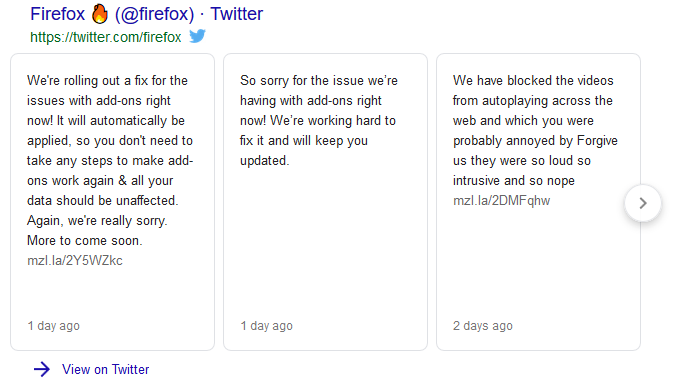 From FF team
FF Blog
So don't uninstall , disable or delete your existing FF addons/extensions as FF has screwed it automatically from their ends. It will be fixed automatically.
Make sure the mentioned options are set to enabled to get it fixed!!
If you are still curious install the
Hotfix
manually from
this link
and all disabled add-ons etc are re-enabled once again.
Last edited: