Hello everyone,
After 9 long years on laptops I've finally decided to build a gaming PC again, but the technology and markets have changed a lot. Last build I did was way back in 2005 and I'm not in touch. I read all that I could but few points still confuse me and wife is no good in that dept.
My biggest problem is the motherboard, I love the look of ROG series especially since my case has a full side-panel window, but not being an overclocker that might be overkill. I could be sensible

and spend the money on other parts. I have bought the cabinet which I just love due to it's looks, that's not to say it isn't functional. It's Corsair Carbide 540 Air and it looks awesome !! Attaching the image for everyone to see (taken from phone the moment I opened it)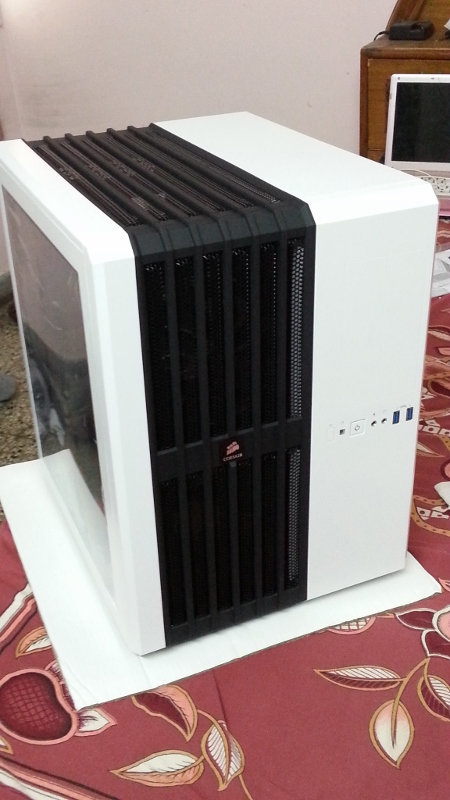 What is your budget?

90k+ It's flexible like everything else Indian , but I'd like to save as much as I can.

What is your existing hardware configuration (component name - component brand and model)
Which hardware will you be keeping (component name - component brand and model)
Which hardware component are you looking to buy (component name). If you have already decided on a configuration then please mention the (component brand and model) as well, this will help us in fine tuning your requirement.

CPU - Intel 4th gen i7 4790 or i5 4690
Motherboard - The one I'm confused about. I don't overclock but SLI/Crossfire may come into picture after 2 yrs hence can't decide between H97 or Z97.
GPU - Depends on the price of Motherboard. I'm eyeing AMD R9 290
PSU - 650W (Have read the PSU thread but confused due to availability issue)
RAM - Corsair Vengeance DDR3 16 GB 1600 MHz
CPU Cooler - IMO not needed but happy to change my mind if convinced.
HDD - One 120/128 GB SSD (for OS), One 1 TB WD Black.
Monitor - 24" IPS
Keyboard - Looking for a unique model, one which can take the typing and gaming abuse.

Is this going to be your final configuration or you would be adding/upgrading a component in near future. If yes then please mention when and which component

Yes I'll probably add a monitor.

Where will you buy this hardware? (Online/City/TE Dealer)

Delhi
Open to online purchase only if not available in Nehru Place.

Would you consider buying a second hand hardware from the TE market
What is your intended use for this PC/hardware

14-16 hrs Gaming
Heavy Photo processing and editing.
Loads and loads of typing.

Do you have any brand preference or dislike? Please name them and the reason for your preference/dislike.

Can't buy ASRock, no dislike but their I/O pins are in left bottom corner, unapproachable in my cabinet.

If you will be playing games then which type of games will you be playing?

All games except racing ones, no offence to fans but I just don't 'em.

What is your preferred monitor resolution for gaming and normal usage

Gaming - 1920 x 1080
Desktop - 1920 x 1080 or higher.

Are you looking to overclock?
Which operating system do you intend to use with this configuration?