Sep 19, 2005
7,622
1,562
302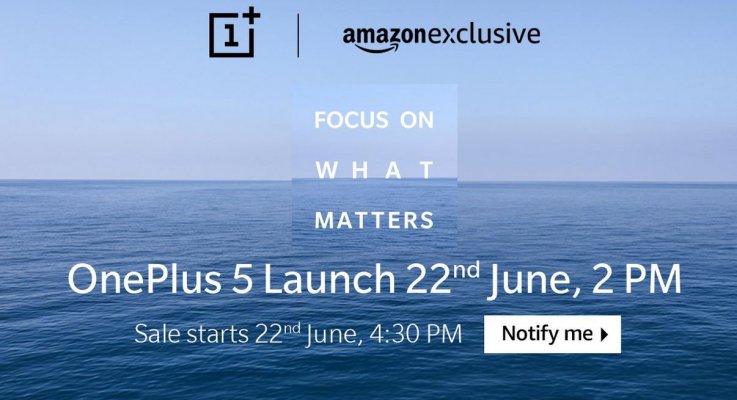 Another
source
mentions price may be higher than the One Plus 3T.
OnePlus 5 will be launched in India on June 22, right after it is unveiled on June 20. The Chinese smartphone manufacturer will launch its latest flagship in India at an event in Mumbai where the keynote address will be given by OnePlus CEO Pete Lau. This puts to rest the rumours that OnePlus will introduce the newest 'flagship killer' on June 15 .

OnePlus fans in India can attend the event by purchasing a ticket from oneplusstore.in on June 12. Fans attending the invitation-only event will be given a hamper of OnePlus merchandise. Some of them will be given a chance to buy the latest flagship at the event before it is available elsewhere in the country, the company said.

Specifications

Earlier, OnePlus had confirmed that the new smartphone will come equipped with Qualcomm Snapdragon 835 processor. The screen will be a 1920x1080 full HD AMOLED display. The phone will run Android Nougat out of the box.

OnePlus 5 is expected to come with 64GB of internal memory with 6GB of RAM. Some rumours even hinted at a variant with 128GB of internal memory with 8GB of RAM.

Price

Although, there is no confirmation on the price tag yet, rumours suggest that OnePlus 5 will carry the biggest price tag ever seen from the company. The phone is expected to be priced more than Rs 35,000. This price tag will, however, give it an edge over flagship devices from premium companies like Samsung or Apple.
Event price is 999/- per person.
Code:
What's in the Invite Box: 
 You can grab a launch Invite Box, which comes packed with a T-shirt combo (limited size and color options) and a free launch Invite for a mere Rs. 999. 
The Invite Box also entitles you to a Welcome Pack worth nearly Rs. 10,000 free of charge! What's in the Welcome Pack?
    1. A brand-new, exclusive OnePlus travel backpack worth Rs. 3990
    2. A pair of OnePlus sunglasses worth Rs. 6000 Upon successfully receiving a OnePlus 5 launch Invite, you will receive a voucher worth Rs. 999 credited to your OnePlus Account, which you can use within 3 days toward your purchase of a OnePlus 5. Invite holders will receive a OnePlus 5 invite code at the launch event.