If you can see the green dot, I'm online ;-)
Veteran
Mar 24, 2005
4,329
1,000
258
I moved in a rented apartment 3 months ago.
The bedroom has this Split AC:
Samsung AR12HC5ESLZN

This is the info. which reads at side of the AC.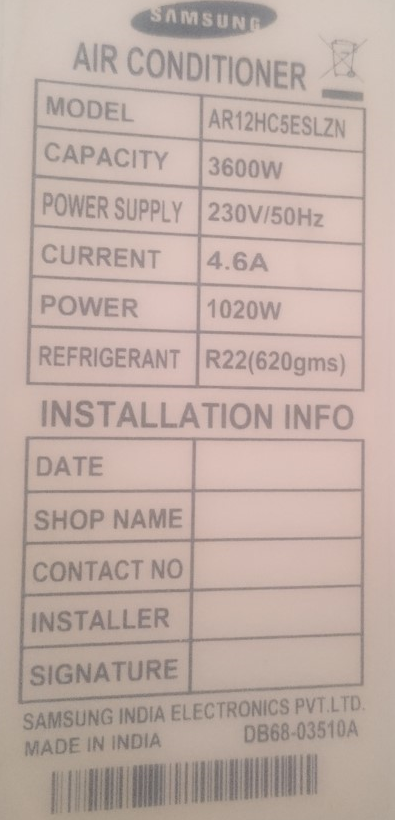 The AC is 4yrs old.
Bedroom is small sized (I aint good at measurements but my 1bhk flat is around 550sq ft).
AC was serviced 4 months ago and gas topped up. During demo it ran perfectly cool as to how a normal AC functions.
Never felt the need thereafter due to obvious chilly winters this time. So AC was just idle for these 3 months.
Now that summers are approaching I thought about trying the AC as we would require it for next few months.
Not new to ACs as using them since decades but never experienced such behaviors. Have used Hitachi, Bluestar and Daikins.
This is my first encounter with a Samsung AC.
Following are the issues I'm facing:
At midnight when I switched it on Fan keeps running/blowing for 10 minutes before the actual cooling starts. (the startup temperature reads 24c, I have to make it 16c which is the least)
Even when I set the temps to 16c and turn the Ac off, the next time turn it on back it defaults back to 24c. The temp should get locked to what we set via remote.
I kept my room air locked for 15-20 minutes @16c. When I enter I can only feel a Normal so-so cooling and not the chilly ones which @16c one should expect.
Also, not able to find this model anywhere on the net so as to download the service manual.
I also need to know these very button functionalities as to what behavior they do. Dotted circle, D'light cool, 2nd F etc. etc.

If somebody has similar model or near to matching model & remote as well, then let me know about the functionalities and help address above issues.