The study conducted in 4 states including Telangana and Andhra Pradesh found many cruel practices such as overcrowding, and the birds living in their own excrement for weeks.
It is not uncommon to see people hasten up their pace when they pass by places that have hens in cages. The rustling of these hens, tightly packed together in tiny cages, as well as the smell of bird waste, can get quite overwhelming.
Picture this though – around four to eight birds crammed together in a cage that is no bigger in area of two A4 size sheets. If they have to move, they must step on each other. They walk in their own urine and faeces, and the excreta of the hens in the cages stacked on top fall on those below.
The eggs we eat and relish come from birds that are kept in these conditions. A study by Animal Equality conducted in Maharashtra, Gujarat, Andhra Pradesh, and Telangana – states known for their egg production – in February 2019 has found these and several other cruel and illegal practices that dominate the Indian egg farming industry.
In Andhra Pradesh, Animal Equality covered Gudivada and in Telangana, the Nampally meat market.
Cruel practices
Apart from overcrowding and sanitation issues, researchers also found that hens kept in these conditions were missing feathers and were suffering from abrasions and skin irritations, probably due to the high concentration of ammonia in their litter. Their waste was cleared only once every few weeks after it made huge, stinking piles under their cages.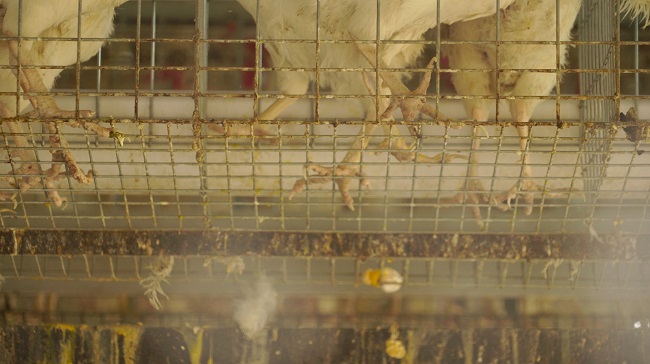 Why you should care
Hens delivering eggs in these conditions has serious repercussions for humans consuming them as well.
Firstly, the unhygienic living conditions of the birds can not only lead to high mortality in them but also cause diseases in consumers of eggs as well as people working in these egg farms.
"We have seen workers and their children working for long hours at the farm and sometimes they live at the farm.
Due to the harmful environment at egg farms, workers are known to contract respiratory diseases like asthma and chronic bronchitis," said Amruta Ubale, Animal Equality's Executive Director.
Read more:
https://www.thenewsminute.com/article/study-reveals-cruel-practices-indian-egg-farming-why-it-s-cause-concern-105378