May 30, 2007
19,413
1,233
377
Yep you heard that right ladies!
[strike]Uncharted[/strike]
Unearthed: Trail of Ibn Battuta
has been announced for the PC, OSX, PS3, X360, Wii, Android & iOS by Saudi developers
Semaphore
. The release dates aren't known as yet.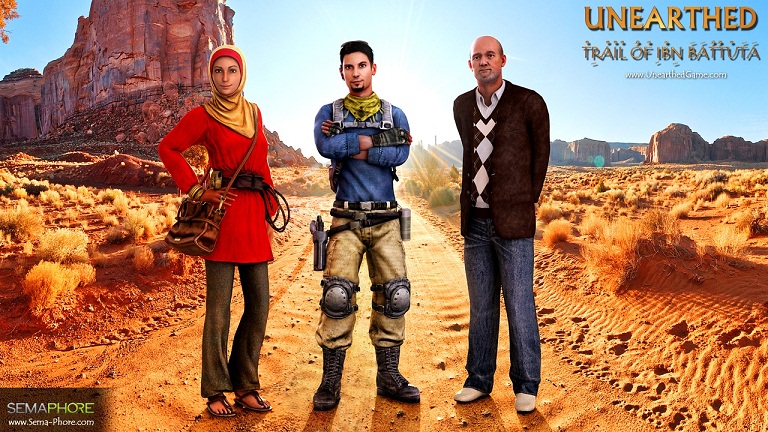 Get ready for the spine-chiller of the year! When Arab fortune hunter Faris Jawad and his archeologist sister Dania receive a call to visit Morocco they embark on an exotic adventure throughout the Middle East on the trail of the famous Muslim explorer Ibn Battuta (1304-1369 A.D.). The trail won't be clear however as Faris will have to overcome an unholy alliance of a militia army leader, a weapons dealer and a wealthy antiquities smuggler who are after the same goal.
Key Features:

-Unique mix of platforming, melee fighting, shooting and stealth gameplay.

-Travel across the Middle East from the wild life of Moroccan Atlas mountains to the alleys of old Damascus through the port of Alexandria and the metropolitan city of Dubai.

-Presented in a TV style episodic format along with recaps of previous episodes and teaser cliff hangers of what lies ahead.
Teaser trailer:
[youtube]V8YACATSVvo[/youtube]
Gameplay trailer:
[youtube]nw3DCtQR-xo[/youtube]
Saudi developers are a first but I am definitely looking forward to this title to see how much more have they derived/copied/borrowed from the Uncharted series.
PS: Is that the Arab clones of Elena, Drake and Sully?
hyeah: