trying to rationalize my fragrance collection:
Dior Aqua Fahrenheit (125ml) - 75%+ left - a very long lasting fragrance with strong projection; Dior is an ultra premium brand for fragrances; Fahrenheit is an all-time classic; can be worn for day and evening wear; bought in US
Price: 5,200
Versace EROS (50 ml) - 95%+ left - hardcore evening/night fragrance; perfect for night outs/parties; strong and long lasting; this is the current flagship fragrance from versace if i'm correct; bought from a duty-free
Price: 2,800
Bvlgari Aqua Toniq (100 ml) - 80%+ left - very nice, fresh and long lasting day fragrance; imported from Amazon US
Price: Rs. 2,200
CK Encounter Fresh (50ml) - 70%+ left: great day fragrance; reasonably long lasting with nice projection; Duty fre purchase
Price Rs. 1,200
Ferrari EDT (75ml) -95%+ left: its actually one of my earliest favourite fragrances but not so much anymore; kinda sweet but surprisingly long lasting; Indian purchase: received it as a gift
Price: Rs. 850
ISSEY MIYAKE EDT (75ml) Mens - 50% of 75ml bottle left. There's a slight leakage on the nozzle, but only when sprayed. price: Rs. 1,000
Armani Code EDT (125ml) Mens - 80-85% left. Rs. 3,400
I'm reasonable about the prices and open to reasonable offers. Can work out a nice discount for someone looking to take all 5.
If i my price seriously out of whack from market, please let me know and I'll correct the pricing.
PS: (mods I'm unable to upload another picture)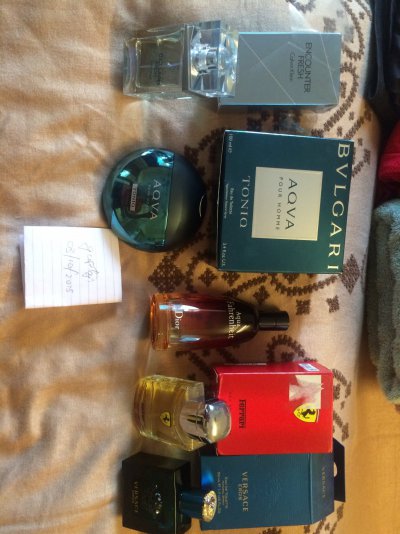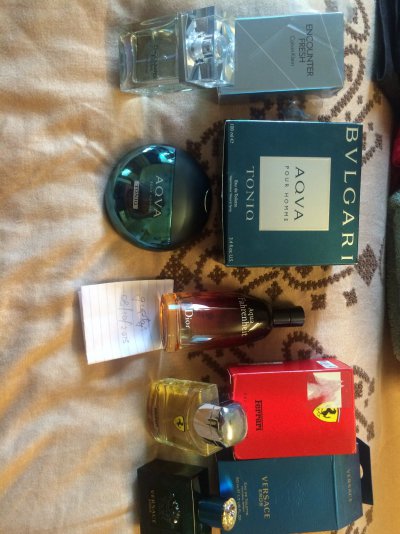 Last edited: