Warning : Take precautions when you check aircon's. I will not be held responsible for electric shock and damages arising to your life or properties
.
After 2 years of faithful service our 1T estrella needs some attention. I dont believe in AMC especially for premium model Aircon's. Just 1.5 months before service person from carrier visited our home for servicing. I was not at home but i am really surprised warranty is for 1 year and our ac is fast approaching 2years. He just cleaned the fins (evaporator and condenser) unit and gave a visiting card telling that he can service A/C lower cost compared to carrier corporation. We didnt use much as the climate is already cold. Last week i have noticed very poor air circulation i opened the filter at 1 AM sleepy night. To my surprise there is a thin layer of ice formation in the cooling coil. I thought this could be clogged dirt between the fins results poor heat transfer. Next day i cleaned the fins (IDU and ODU) with mild detergent. It was fine next day but there is intermediate crackle sound.
This saturday @ 1 AM poor air circulation and less cooling opened the grill and ice has formed. I knew something was wrong with the unit. Checked the ODU No hum in the compressor motor but noticed rapid ice formation in the delivery port and rather cold suction port. I have temperature probe and it shows -2.5C. Similarly in the indoor unit the first cooling coil shows -3.5 C and rest 20C this causes ice formation. Normal temp is between 8-10 C.
I called my friend in Bangalore he is a aircon tech. He told me there is very less gas in the system causes ice formation. This can be deliberately done by previous tech. In the suction valve i have noticed oil stains which confirms gas leaked in this area.
The cost can be anywhere between 1.5k to 2.5k but the cost can increase if leak down test is performed in the system. Also it is not absolutely necessary to flush all the remnant gases. Clueless owners were taken for a ride to flush all the gases and recharge with fresh one unless if you are performing leak down test. While recharging fresh gas it is always recommended to replace the capillary filter it cost 80 bucks. Also R22a cost Rs 500-550 per kg and labour charge of Rs300.
Central Air Conditioning Troubleshooting & Repair Guide: How to Inspect, Diagnose, & Repair Central Air Conditioning: Defects in A/C compressors, air handlers, duct work, and controls
This has lots of information and every aircon owner must know to avoid ac mech tricks to cheat customers. I have to spend around 1.5K for checking leaks and re-charging gas ofcourse i requested him to come down to chennai. Planning to do Indoor unit over haul and also fixing some clamps for ODU.
Practically A/C's are sealed units and doesnot require gas charge unless there is some leak or cut open if there is any block in the tubes
Be safe and never trust mechs. Summer is fast approaching and mechs do use such tricks to mint money from clueless customers.
How to read specification tag.
Out Door Unit(ODU) takes almost 95% of power. So we need to make sure it runs within specifications to save money on power bill.
From Estrella 1 ton. I took only main specification
hcfc R22 ==> Type of refrigerant
1.270 kw ==> Power consumption during the start of the compressor
6.75 A ===> Starting current. This can be checked using clamp meter
1.05 kg ==> Refrigerant quantity by weight
2.16/0.59 Mpa ==> maximum allowable pressure in Delivery and suction(313/85.5 psi) I am not sure whether its working pressure or max allowable pressure.
5.0 A ==> Running current
1.09 Kw ==> Actual power consumption
1090 watts.
Technical Tips
How to check whether gas has been leaked or not:
This is not fool proof only pressure meter fitted in the suction end can find it accurately.
Check the suction and delivery pipes especially over the valves and pipe joints for oil stains. If there any it indicates gas+ oil has been leaked from that area.
Another method is the soap bubble test
Turn on the aircon and wait for the compressor start. If you hear screeching noise subsides slowly may indicate less oil inside the compressor crank and bearings.
Compressor Noise
If you hear hum in the compressor please check the following:
Hum indicates weakening of the compressor
1. Check the voltage. Low voltage can be a cause for hum
2. Weak motor capacitor may introduce hum. Even the mech suggest to replace the compressor
try this first
. This can save couple of grands
3. Weak motor coil. No way to go replace with better compressor or buy a new aircon
Aircon got repaired and as described its very low in refrigerant. The suction pressure was only 10 psi :S . This is due to the leaky valve in the suction side. Got fixed it promptly. System took 2 Kg of R22 which includes "Leak test". The pressure kept at 65psi in the suction side. I would like to suggest important measures during fresh installation.
1. Never fit new aircon in the late evenings. we got installed by 7:00 pm and it was really dark. Perfect time to hide shabby work done by the mechs.
2. Dont let them allow to install A/C without your presence. Always watch them what they are doing.
3. Always perform a leak test right after A/C installation.( This was not done and its a costly mistake).
4. Ask them to use Teflon tape when they make gromet joints. It prevents leakage.
5. Delivery pipe (small pipe) should not feel cold when touched. It should be in normal temperature. If its colder or with thin layer of ice its sure the system has less refrigerant.
6.The indoor unit should not hear any "crackle" sound. This also indicates it has less gas. This is due to the formation of ICE in the grill.
7. If you have temperature probe place in front of the air-flow. The actual value should be less than 10C. Previous mech falsely told as less than 15C. After the refill the grill temp is 6.8C - 7.4 C :hap2: perfect.
8. Compressor noise has been reduced drastically once coolant was loaded from "Grrrrrrrrr" to 'mmmmmmmm'.
When he opened the ODU he told the compressor is Made in Japan :hap2:
I will post detailed write up of maintainence care in couple of days
I just came through wonderful ppt presentation. It answers most of our queries on air conditioning.
http://www.energymanagertraining.com/Presentations/SEEM6_7October2005/01SEEMWorkshop/SEEM9.pdf
Very important point from the ppt: Improper gas pressure will affect cooling capacity.
I have also planning to order Gulf neutralizer spray to get rid of mold formation in cooling coil. Cost Rs 350 including shipping
Neutralizer - Air Conditioner Cleaner - Rs350 : Welcome to UnitedGraphix.com, Currently under testing
Also chemicals from carrier. I am not sure where to purchase and pricing. I am keenly interested on Condenser cleaner- non acid and Fin protectant. Estrella model does not have any kinda coating and we are located near sea shore.
Welcome to CarrierAirConditions
Aircon Maintenance tips
1. Always clean the coils before summer to get maximum efficiency.
2. Clean the filters atleast once in 2 weeks. The will help to attain max efficiency in peak summers.
3. User Fan only mode for 5 mins before switching off aircon. This will prevent mold formation.
4. I have not tested yet. Put chlorine tablets in the collection tray. This will prevent Algae formation which results in bad smelling a/c. Drop 1 or 2 tabs for every 10 to 15 days.
Reqd Tool sets
Pril is far better than soap powder. It really cleans well. Of course you need some 2inch nylon brush as shown.
Procedure
Remove the Indoor unit covers and filters. Wash well with pril and water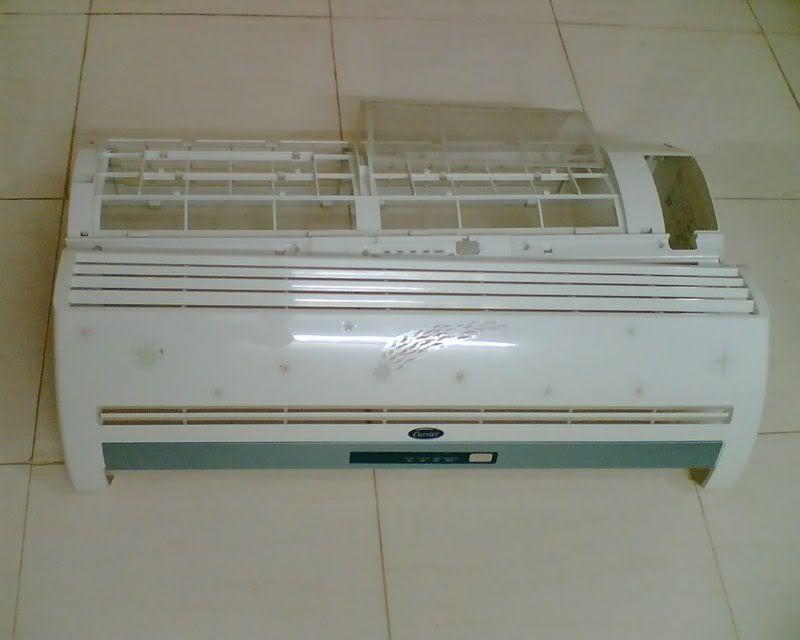 Do not forcefully remove the covers. Its just plastic. If you dont know what you are doing this is not for you
Remove the water by using micro fiber cloth or best baniyan cloth :hap2:
Clean the filters with water.
If you have special filter like bacterial filter do not wash in water just brush off to clean the dust
Caution: Fins are very sharp if you are not careful it will cut your fingers. Try not to bend the fins
Pour 2 buckets of water over the fins then pour some dishwash liquid over the fins.
Clean the fins with the soft nylon brush. The movement should be in line with fins alignment.
After thorough cleaning use adequate water to remove the soap (approx 2 buckets)
Turn on the A/C in the fan mode to remove all the water from the coil. Use for atleast 10 mins.
Put back the cover and filter.
Turn on the A/C and check. Its time for....
Results
Note: I have not verified the accuracy of the meter. Test conducted at 5 PM in Chennai
Outside temperature (Hall)
Result after 5 mins of running thermostat kept at 17C
Grill Temperature
Reading after approx 10 mins of running
Grill temp
Ambient temp Room
Reading after approx 20 mins of running
Grill temp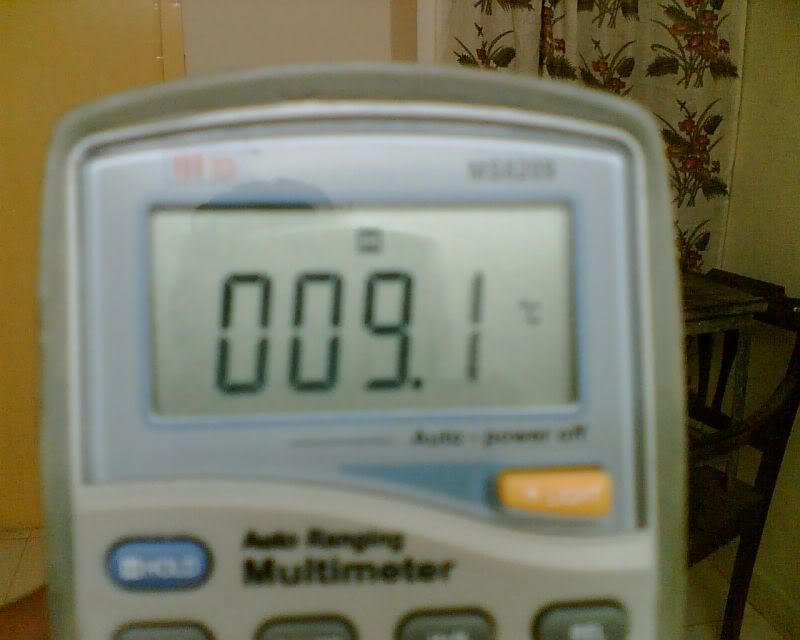 Noise dB
1 meter approx from unit
Full speed
Auto mode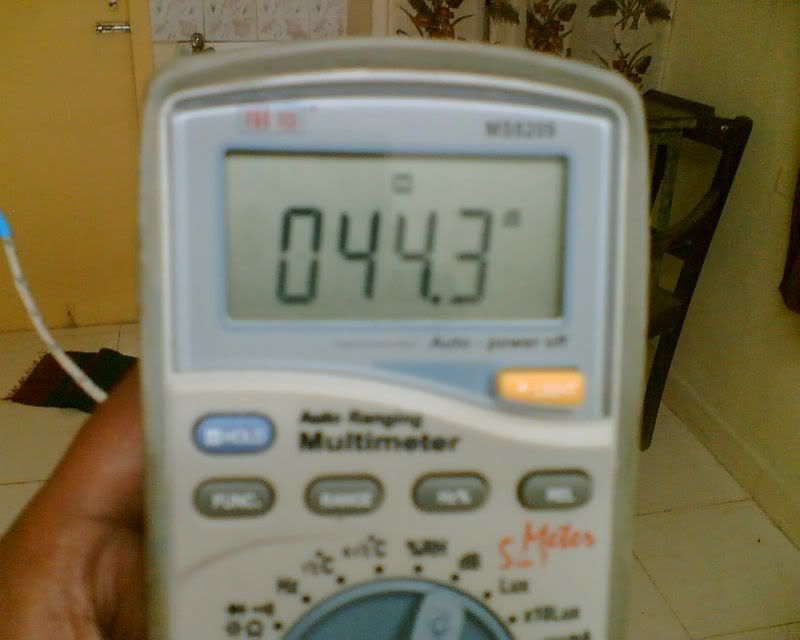 Silent Mode
Relative Humidity %RH
After 25 mins of run
Humidity outside
I have not cleaned the ODU. I may do it tomorrow