Recent years many laptop brands came out more and more gaming notebook in the red sea market,
The GIGABYTE gaming laptops is rare to see in the market before.
But these 2 years they start to have more products for gaming style design
With the positive market competitions, the gaming laptops become much better on design and price range.
GIGABYTE got its own gaming brand AORUS with gaming laptops,
AORUS series is simple, only got AORUS 15, AORUS 5,7 series in 2019
This simple way might make lower awareness in the market.
Let?s get back to the AORUS 15; A cover used metallic design,
Black matted coating with high quality. Looks might be a bit of finger print on it.
Most of the current matted metal coating notebook chassis had this status.
AORUS designed their Eagle shape logo with lines on both side to create speedy style.
The Logo and lines will have white lighting when notebook boot up, it will be more fancy if comes with RGB lights.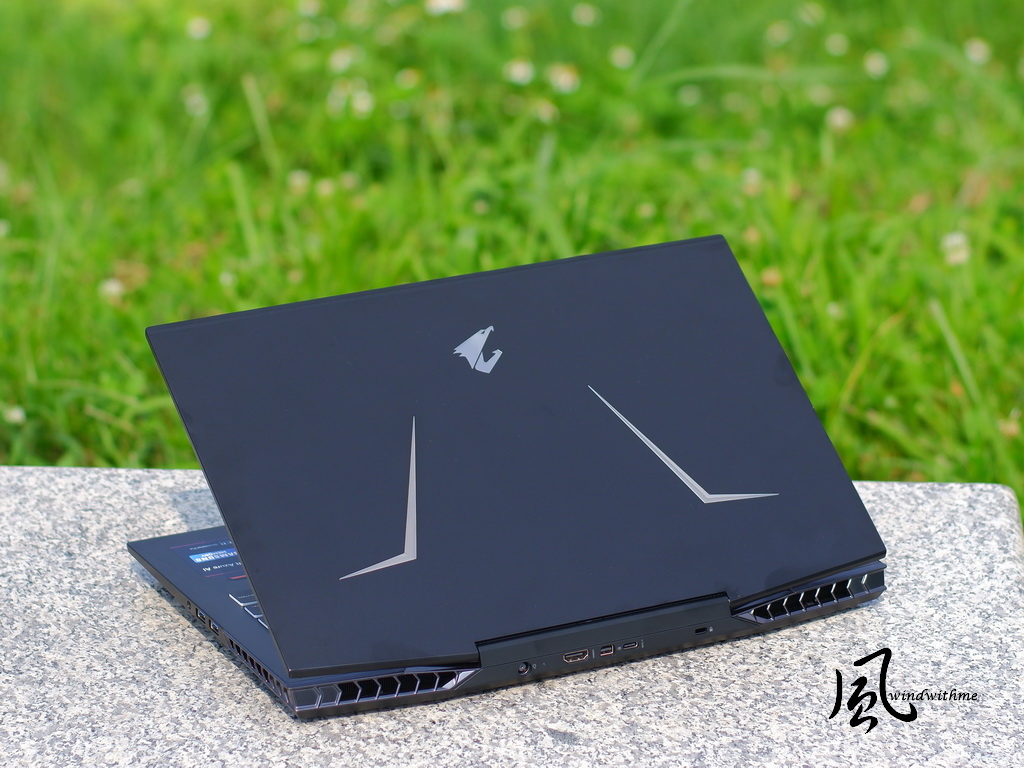 I tested around 2225g, it?s a bit lighter than their formal data.
A side and back side heat exhaust sink holes, looks similar as HP Pavilion Gaming 15.
Many high level gaming notebook had this kind of design, but AORUS 15 is most outstanding as my user experience.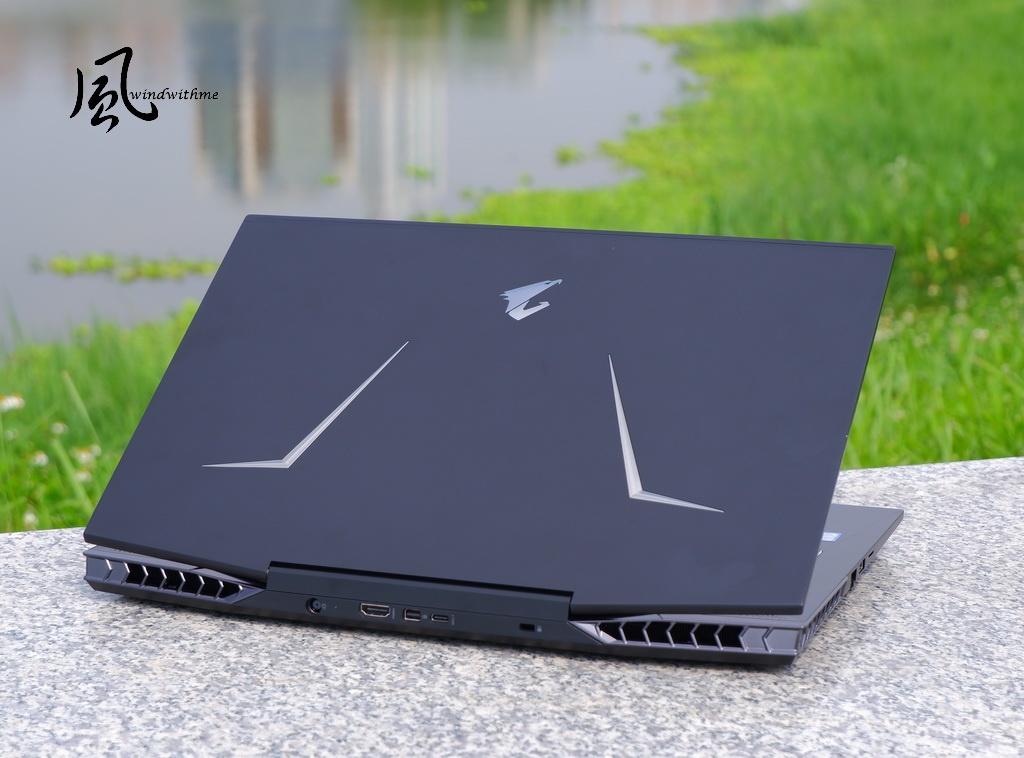 Open the AORUS 15, B and C side design
The hinge design closer to the middle on both left and right side, the biggest open angle around 130 degree,
because the chassis assembling quality is solid, so it didn?t easily shake when open up the screen.
B side designed with thin bezel frame that thin gaming notebook often used since 2018
The AORUS 15 with 6mm thin bezel on 3 sides.
Webcam still on the top side, is more convenient and outstanding.
15.6? matted display with IPS panel, with Full HD resolution and 144Hz refresh rate.
HD Webcam, work with face tracing function, it?s smooth but image quality could be improved.
C side use matted aluminum metallic chassis besides of keyboard. This part is same as A side.
Designed with membrane full color backlit keyboard, support RGB Fusion technology.
Although the thin membrane keyboard is easy to be soft, but this one is good on feedback.
There are branding stickers aside the touchpad, if the sticker is too big will impact the beauty of the ID design, recommend to make it smaller and simplified, or put it under D side is also a way.
Touchpad used larger surface design, looks wider on left and right side.
This makes more convenient using experience, the pointing is very accurate when moving.
In my personal experience, high accuracy touchpad appeared on higher price products mostly.
The power button with white light when boot up, the left and right side aside the corner have LED project lights for gaming ambience.
On top of C side is power button, it?s same icon as A side image.
Align the button it designed with cooling holes with special shapes to give it streamline style.
On the upper right side of keyboard key with fan icon, used Fn+Fan key to adjust fan speed.
Left side IO
From left, heat exhaust / RJ-45 LAN port / USB3.1 (Super Charge) / Micro SD reader
Storage light / Power light. The heat exhaust hole design is really good looking and quality.
Right side IO
From left, headset port / 2x USB 3.1 / heat exhaust
The USB 3.1 all Gen1 Type-A format
This machine of cooling system used dual 7cm high speed fan, 6 heatpipes, 9 in & out airflow exhausts, it should have very good present on cooling power.
The analysis is coming soon.
Post automatically merged:
Back side IO
From left, heat exhaust / NB Lock / USB3.1 Gen2 Type-C (Charge, Display)
Mini DP 1.3 / HDMI 2.0 / AC connector / heat exhaust
This photo could see the D side deign, half of the surface design with cooling holes, D side on the left and right could see speaker out hole, use stereo dual channel design.
AORUS 15 mainly with 3 type of version
Entry level with GTX 1660Ti / LG 144Hz IPS FHD display / 180W adaptor
This test model with RTX 2060 / LG 144Hz IPS FHD display / 180W adaptor
Highest level with RTX 2070 / SHARP 240Hz IGZO FHD display / 230W adaptor
At this high level hardware SPEC., the adaptor is light and easy to carry.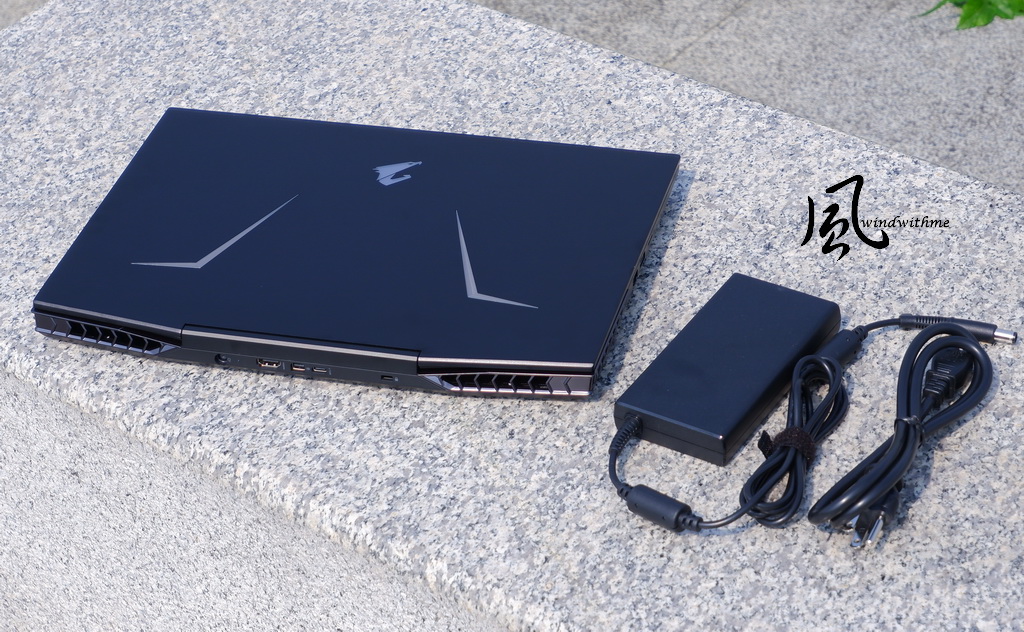 AORUS Control Center unique software
Open up at first page is Smart Dashboard
Mainly for hardware monitor, hardware SPEC., and hardware status
The AI software on the right top side, it used Microsoft Azure with cloud and learning
Use database to learn user experience on the programs, dynamic adjust CPU and GPU power consumptions.
In a easy way is to use AI to optimized hardware performance, to have higher efficient on programs.
Manager is similar as mobile phone interface
Mainly to show the function status and quick open program
AORUS Fusion technology, support highest up to 1677M colors of RGB Zone backlit keyboard.
Left and right down side could see the aside project lights, could adjust lights.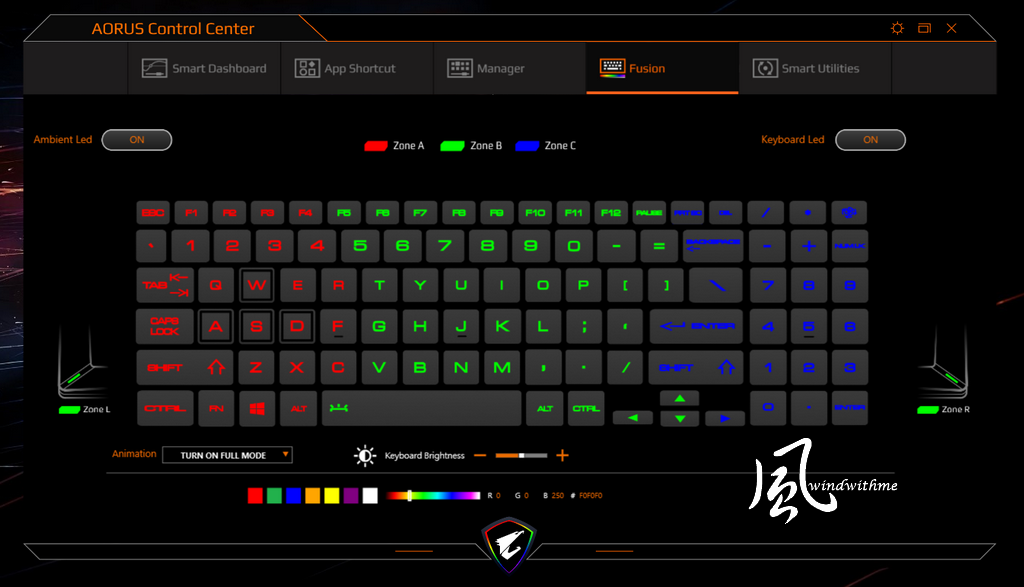 Smart Utilities
About hardware update info, system backup, product intro, FAQ and register function.
AORUS Control Center unique application got rich functions,
Interface also improved a lot, looks like AORUS motherboard software UI
But I think the interface and UI design still could be improved.
Because windwithme used lots of many brands of high end gaming notebooks for years.
So far I think Dell Alienware Command Center is the best, 2nd is MSI Dragon Center 2.
Nahimic 3D sound software
These years tested many MSI gaming notebook models all used this software
The interface and function already updated many versions, it's useful software
Mainly support 4 sound scenario, with 3 functions to make it richer detail setup.
Mic page have 2 type for conversation or meeting, also have 3 functions to adjust.
Sound tracker is good for FPS gaming, it's useful for in game experience.
Here is the AORUS 15 sound experience, this part is subjective part
High Freq. – No too sharp sound, rich detail, high quality present.
Mid Freq. – Overall clarity is outstanding, human vocal not strong enough, still have room to improve.
Low Freq. – Low frequency drums is clear, mid-low sound is not bad, but the woofer power is too light.
Speaker might be the weakness on AORUS 15, the overall present is above the average.
Because of the sound stage and mid-low sound is a bit weak, if you have higher sound quality request, recommend to use external speakers.
The external headset AMP is good and brings outstanding headset sound detail at this price range. It benefits the gamers who like to use headset.
AORUS 15 embedded i7 8750H with 6 Core 12 Thread, basic clock 2.2GHz and up to 4.2GHz.
Fan Speed set to middle, about 2500~4500rpm to test CPU performance.
CINEBENCH R15
CPU => 1155 cb
CPU(Single Core) => 167 cb
Post automatically merged:
CINEBENCH R20.0
CPU => 2556 cb
CPU(Single Core) => 408 cb
CPUZ 1.88.0
Single Core => 450.8
Multi Core => 3388.2
Fritz Chess Benchmark => 43.67 / 20960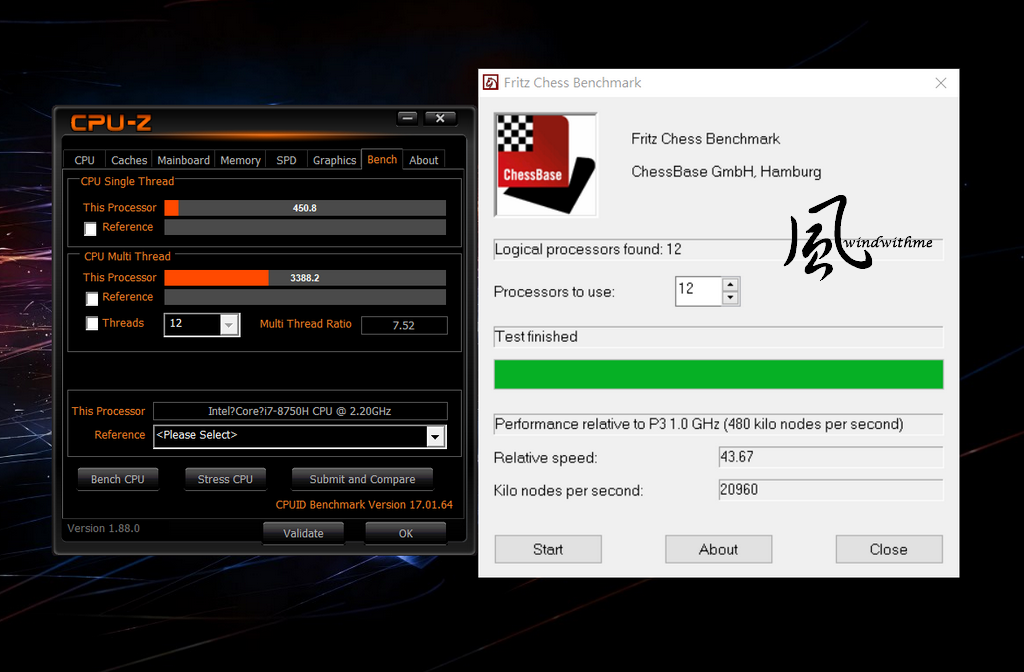 Geekbench 4
Single-Core Score => 5023
Multi-Core Score => 21859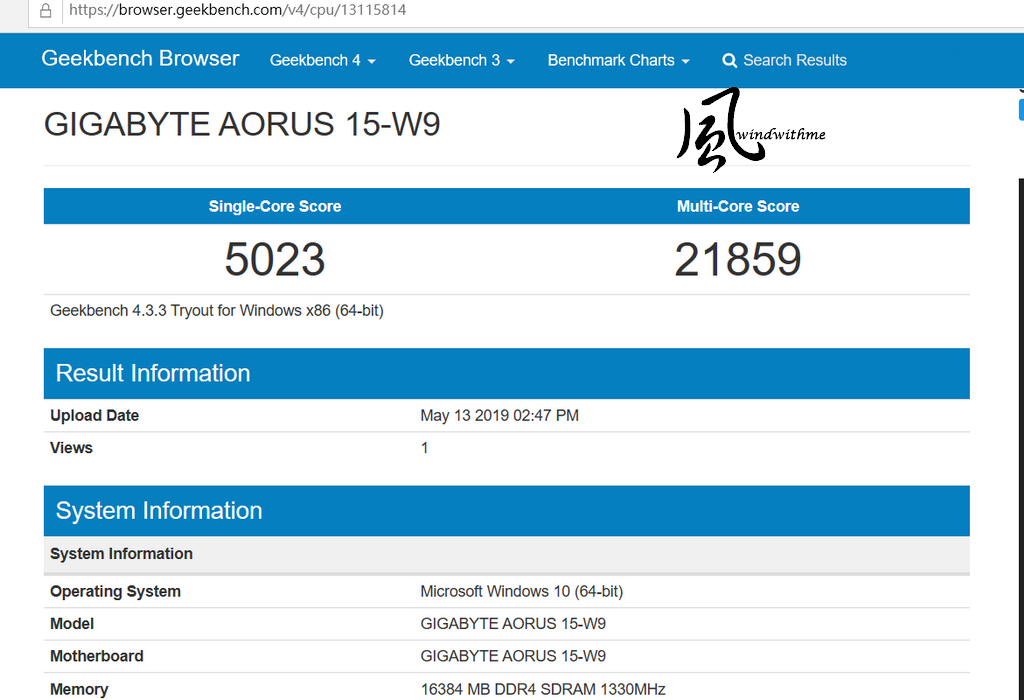 FRYRENDER
Running Time => 3m 07s
x265 Benchmark 2.1.0 => 35.8FPS
Intel 9th Gen i7-9750H just in the market, the clock about 26GHz~4.5GHz, it's about 300~400MHz, in fact the performance gap is small.
Current 8th Gen CPU platform still popular in the market, and the price already dropped to lower range. Basically pick 8750H is more efficient and lower cost.
AORUS 15 got stronger cooling system, so it's easy to have higher score on CPU tests.
In previous tests some notebook because of slim design but higher level SPEC., so they might need to boost their fan speed to higher level and test more times to have higher score.
DRAM performance test – DDR4 2666
AIDA64 Memory Read - 37260 MB/s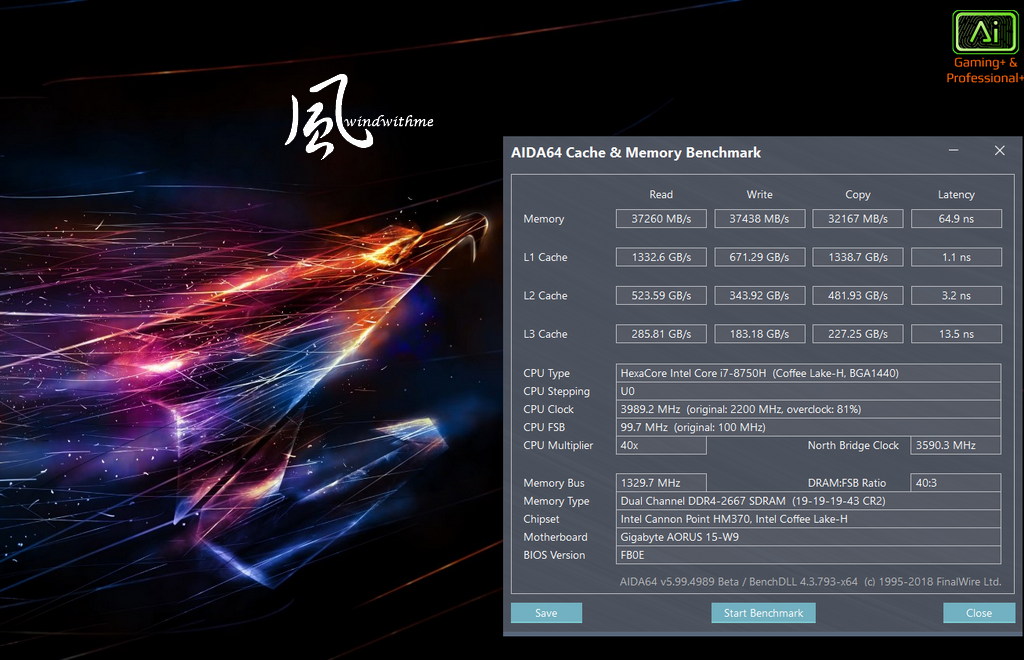 Base on 8th Gen architecture with dual channel DDR4 2666 bandwidth, AROUS 15 bandwidth speed already at high level,
with higher cost SAMSUNG DRAM, the compatibility and overclock speed is outstanding, if they could open Overclock options, it could be more unique as a gaming notebook.
For storage part, this could install dual M.2 SSD and 1 2.5" SASA3
Used Intel 760P M.2 PCIe 512GB SSD + 2TB HDD 5400rpm combination
SSD test part – CrystalDiskMark
Seq Read - 3061.1 MB/s,Write - 1516.3 MB/s
AS SSD Benchmark - 3098
Seq Read - 2636.31 MB/s,Write - 1485.31 MB/s
4K - 64Thrd Read - 876.00 MB/s,Write - 1031.23 MB/s
Since most high level notebook used SAMSUNG or TOSHIBA SSD, but Intel 760P got 3230MB/s of read speed, 1625NB/s of write speed.
As a single NVMe M.2 SSD, the performance of 760P is already very good, with Intel long term branding image and SSD product line with good quality,
it also fits AORUS 15 keep their All Intel Inside strategy with more Intel components.
Got a Transcend RF9 USB3.1/UHS-II Card Reader, just fit my test to compared built-in card reader. Used SanDisk Ultra microSD UHS-I 128GB to test.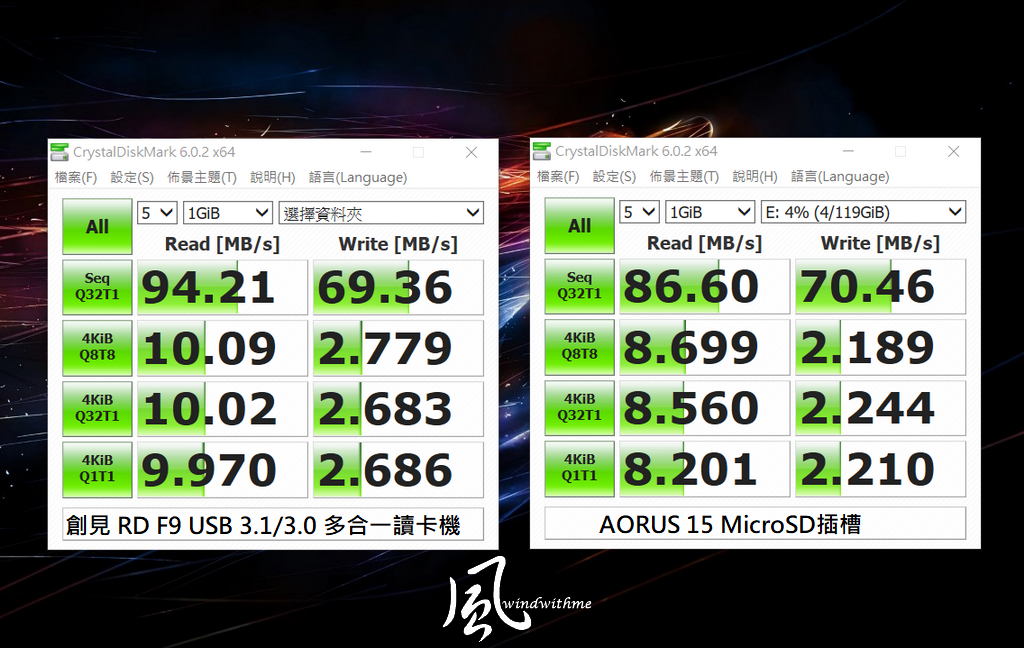 We could see that AORUS 15 built-in card reader also good present,
Compared to the comparison external Card Reader, the performance gap is not big.
Then take a look on 3D performance test, this model comes with nVIDIA GeForce RTX 2060
Will also attached previous test of GTX 1070 and RTX 2080 Max-Q for comparisons.
3DMARK Fire Strike => 13860
GTX 1070=14668,2080 MAX-Q=17188
3DMARK Time Spy => 6020
2080 MAX-Q=7509
UNIGINE 2
1080P MEDIUM => 11465
GTX 1070=13537,2080 MAX-Q=14380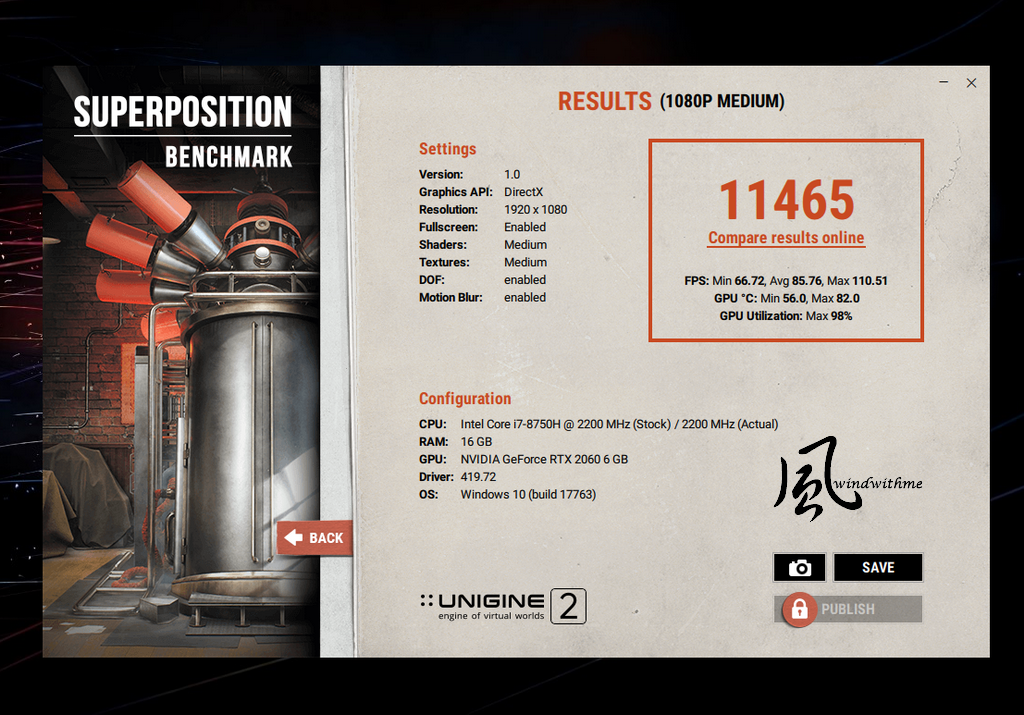 Post automatically merged:
FINAL FANTASY XIV : STORMBLOOD
1920 X 1080 MAXIMUM => 12017
2080 MAX-Q=15638
Apex Legends Hero
1920 x 1080, Video quality set to Highest
Practice Mode start theme – 119FPS
2080 Max-Q = 147 FPS
Battlefield V game
1920 x 1080, image quality: Ultra
DX12 and NVIDIA DLSS enable, into the practice mode start theme – 76 FPS
Monster Hunter: World
1920 x 1080, 3D effect adjust to highest, the game start theme – 47 FPS
2080 MAX-Q=71 FPS
Farcry 5
Resolution 1920 x 1080, set 3D effect to Ultra Mode
Built-in performance test function, rendered 4639 frames, start theme – 64 FPS
2080 Max-Q rendered 5654 frames, start theme – 75 FPS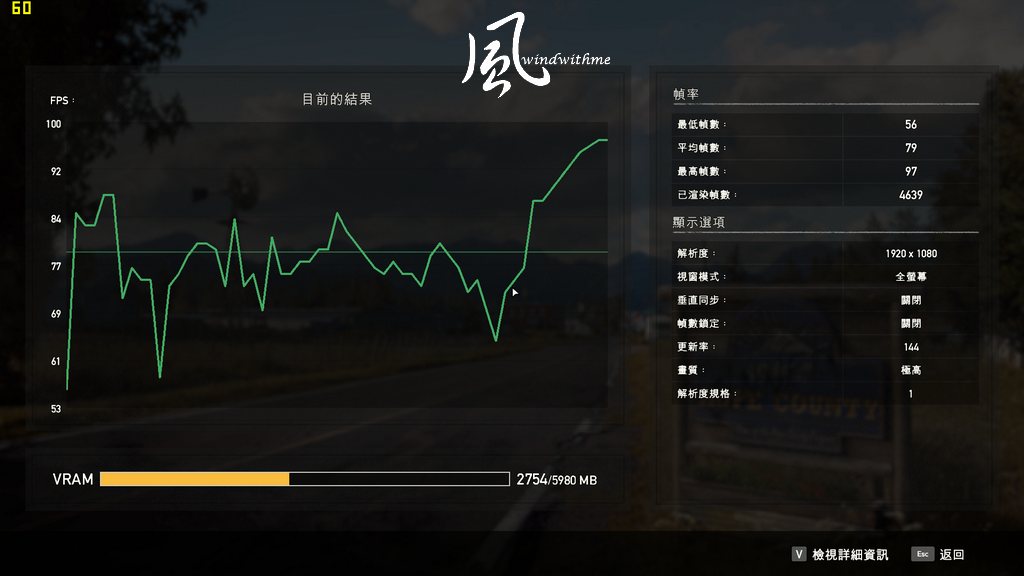 PLAYERUNKNOWN'S BATTLEGROUNDS
1920 x 1080, 3D effect to highest preset, character setup Lobby – 89 FPS
This RTX 2060 model present very good performance in some 3D test themes.
Maybe because of the clock is higher, the 3D present in some software test did not to far from 2080 Max-Q.
It's pity that I have to wait till my next test on Dell Alienware Area-51M to test RTX 2070 graphics performance, not able to make more GeForce RTX comparison here.
AORUS 15 designed with pure Discrete Graphics, so it could output 3x 4K display with Surround Mode.
The main design theory is for gaming performance, to avoid some software or games running with UMA graphics.
The advantage is 3D performance will be better, the weakness is the battery life will be shorter if only use for office works or internet surfing.
Ambient temperature is 31˚C, test CPU and nVIDIA RTX 2060 of cooling performance.
Fan speed is around 4500rpm as normal mode. CPU Clock at 3891MHz, running on LinX 0.7.1 to make system at full speed, -73~82˚C, maxima up to 95˚C.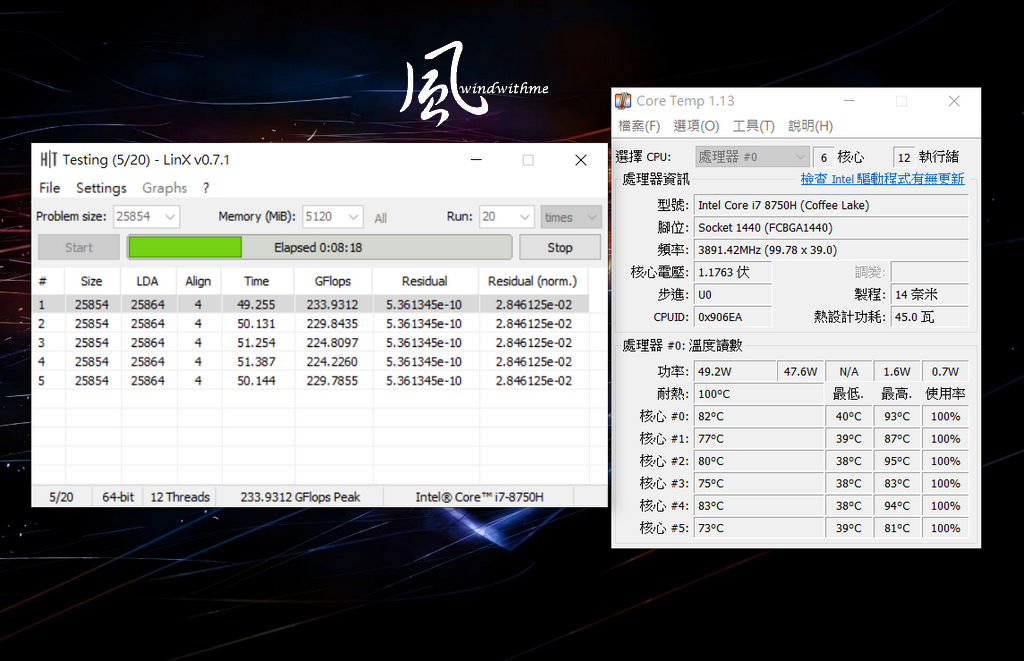 If used some bad cooling design notebooks, I might use AIDA64 to make burn-in test,
Because the loading is lower and temperature will not raise to ultrahigh status.
But since cooling is the advantage of AORUS 15, so used ultra loading of LinX test.
We could see that even with heavy loading burn-in test. i7-8750H still could achieve around 3.9GHz.
Through the software to check fan speed, if CPU around 90 more degree, the fan will speed up 500 more rpm, not to drop the CPU clock, it's more user friendly.
FurMark mainly to burn in on GPU of RTX 2060 graphics, GPU 1140MHz / MEM 7161MHz.
Runs the FurMark to get idle 53˚C and full loading 83˚C.
(If turn the fan speed to highest about 7200rpm, GPU full speed temp. will drop to 73˚C)
With FurMark burn-in test, the keyboard side is about 39~41˚C, left and right side airflow exhausts about 49~51˚C,
back side and D side airflow exhausts is about 59~63˚C, it seems back side and D side temp. will be a bit higher.
Go more detail about fan speed an noise, idle or internet usage runs quiet around 2000~2500rpm, if the loading getting higher, it will add 500rpm more per stage, start to have noise over 3500rpm.
If set with Normal/Mid-level fan speed, the highest speed only able to get 4500rpm, and a bit higher noise,
similar as many gaming notebook full speed fan noise, but mid-high frequency of noise will be more annoying.
If set fan at Full Speed will achieve 7200rpm, this rare speed will get much higher noise than most of gaming notebooks.
But the cooling is also become higher level to make GPU drop 10˚C, recommend to use headset to play games for this setup is better.
About battery life, Windows 10 power option set at balanced, battery mode set to power saving.
Actual test WiFi internet to broadcast Youtube 480P video, 50% left after 1 hour, up to 2 hours mostly.
Of course I could check the longest time with boot up and idle, but it's useless for gamers, so I prefer to test actual user experience ways.
Because AORUS 15 did not have UMA graphics, so the battery life will be lower.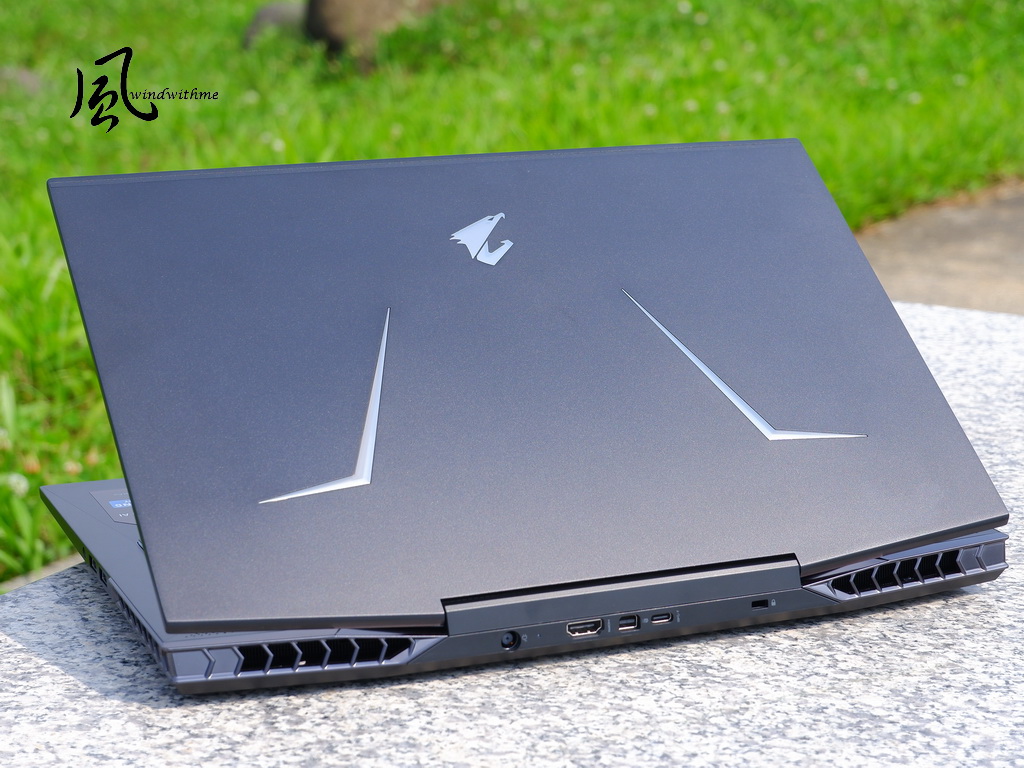 The AORUS 15 (i7-8750H/RTX 2060 6GB) Pros:
1. Solid chassis, assembly quality, ID design all very high quality at this price range.
2. nVIDIA RTX 2060 is higher C/P ratio for the 3D working/gaming users.
3. Big brand LG 15.6" IPS display, with 144Hz refresh rate and 3 side thin bezel.
4. Use higher quality and cost of SAMSUNG DDR4-2666 memory.
5. Support 2 M.2 NVMe SSD and 1 2.5" SATA3 slot.
6. Good function of AORUS Control Center and Nahimic 3 sound software.
7. Cooling system used high performance dual fan + 6 heatpipes + 9 airflow exhausts.
8. Unique Microsoft Azure AI dynamic control the power consumption and efficiency.
9. RGB Zone backlit keyboard with nice force feedback.
Cons to improve:
1. A side metallic cover if put it under brighter lights, the finger print will be more obviously.
2. WebCam resolution and quality is lower, hope this could be improve.
3. Non UMA switch design, full time RTX 2060 graphics will drop the battery life.
4. Not recommend to use full speed of fan setup if did not use headset, because 7200rpm is too noisy.
5. Speakers of low frequency effect and sound stage could be improved
Performance Rate ★★★★★★★★☆☆ 85/100
Material Rate ★★★★★★★★☆☆ 86/100
Specification Rate ★★★★★★★★☆☆ 85/100
ID design rate ★★★★★★★★★☆ 90/100
Pice/Cost rate★★★★★★★★☆☆ 85/100
On the internet data the AORUS 15 was made by Quanta, design ID and chassis quality is really impressive,
last year shared similar model of HP Pavilion Gaming 15, that quality is not even close to AORUS 15.
So far in the market the different version comes with i7-8750H with RTX 2060, i7-9750H with GTX 1660Ti,
CPU part the 9750H is about 10% higher, GPU part the RTX 2060 is 7%~20% faster compared to different games.
The price of i7 9750H with GTX 1660Ti is a bit higher, recommend to choose depends on your request.
Besides that, higher level with RTX 2070 got i7-8750H and i7-9750H both models in the market, the price gap is about $200USD.
Of course you could take it as on sell the 8th Gen CPU models, but when choose notebook, SPEC. and price also have bigger gap.
AORUS 15 from material and SPEC. side is very competitive in the market as many brands,
of course every notebook have its Pros and Cons, this article already have detail analysis and comparison for reference.
Hope the AORUS gaming notebook could keep improving to make it more competitive and higher value, let consumers have 1 more better choice.
After this article should be Alienware Area-51M review, hope to see more new evolution products.
Desktop is looking forward to AMD Ryzen 3000 series, might have first timing review.
If you like windwithme review articles please welcome to my fans club to Like.
To know my personal test and review status, your Reply and Like still my best momentum to moving forward the works.
Last edited: