ASUS RT-AC58U Wireless-AC1300 Gigabit Router Review
We at PC TeK Reviews were fortunate to review few of the best Wireless routers from ASUS in the past and were very impressed with the router product line from ASUS. But those all were high end and expensive products, everyone can't buy. So today we are reviewing a new mid price range AC1300 dual band WiFi router from ASUS, the ASUS RT-AC58U Wireless-AC1300 Gigabit Router, with quality and features for everyone's need.
Now let's see what this ASUS RT-AC58U Wireless AC1300 Router have for us.
Features
Essential AC Upgrade with Uninterrupted Wi-Fi Signal - ASUS RT-AC58U AC1300 Dual-band Gigabit Wi-Fi Router with four high-gain antennas and high power technology delivers extremely long operating range. Its 802.11ac high-speed performance is perfect for streaming up to 4K Ultra HD videos, online gaming with support for latest gen consoles such as Xbox One® and PlayStation® 4 and performing other bandwidth-intensive tasks. Multi-purpose USB 3.0 port allow printer, hard drive and 3G/4G sharing1; while ASUS AiCloud support allows you to access, share, and stream files from your home PC to internet-connected devices.
Full Wi-Fi Speeds on Multiple Devices Simultaneously - Thanks to MU-MIMO technology and powerful 128 MB memory, you can enjoy full-speed Wi-Fi on compatible devices2 at the same time without needing to wait for sequential transmissions.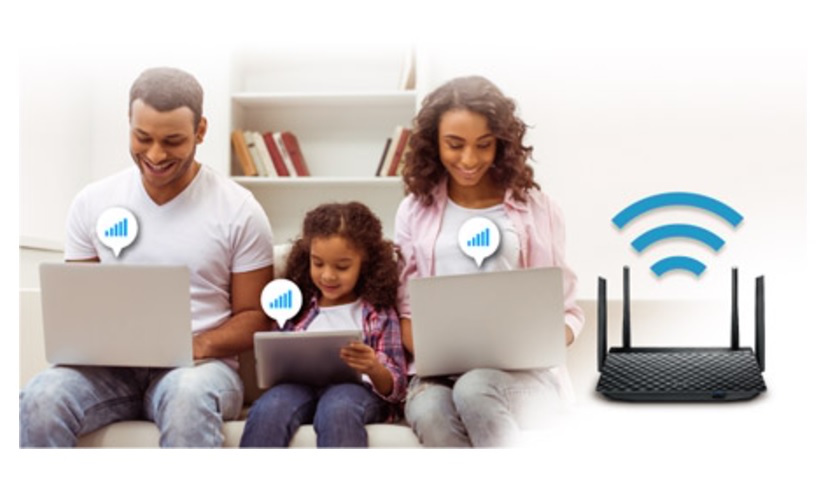 Powerful Processor, Higher Network Speed - RT-AC58U is equipped with improved WAN to LAN speed thanks to its latest quad-core A7 processor, ensuring responsive network performance for bandwidth-intensive tasks.
Improved Wi-Fi Range - The four external high performance antennas on RT-AC58U improve the Wi-Fi range and multi-device performance in your home.
Control your network anywhere - In your increasingly mobile-enabled life, having control over your network via an app is more important than ever. The new ASUS Router App is built from the ground-up to be both intuitive and robust, allowing you to setup your router, manage network traffic, diagnose connection issues and even update firmware, all without needing to boot up a PC.
Ultimate USB Speed and Versatility - USB 3.0 port delivers up to 10-times faster data transfers than USB 2.0. It makes RT-AC58U perfect for file, multimedia, and 3G/4G sharing1, while ASUS AiCloud enables remote access and content streaming.

The One Place for All Your Data - ASUS AiCloud - ASUS AiCloud keeps you connected to your data wherever and whenever you have an internet connection. It links your home network and online web storage services, giving you access to your files using the AiCloud mobile app on your iOS, Android smartphones or via a personalized browser URL. You can share photos instantly with services like Facebook, Flickr and Dropbox directly from the AiCloud app. It's your expandable and unlimited personal cloud — and it's completely free!
Specifications
Package
ASUS RT-AC58U comes in a box securely packaged with product image, model name and features highlights on front and the back of the box.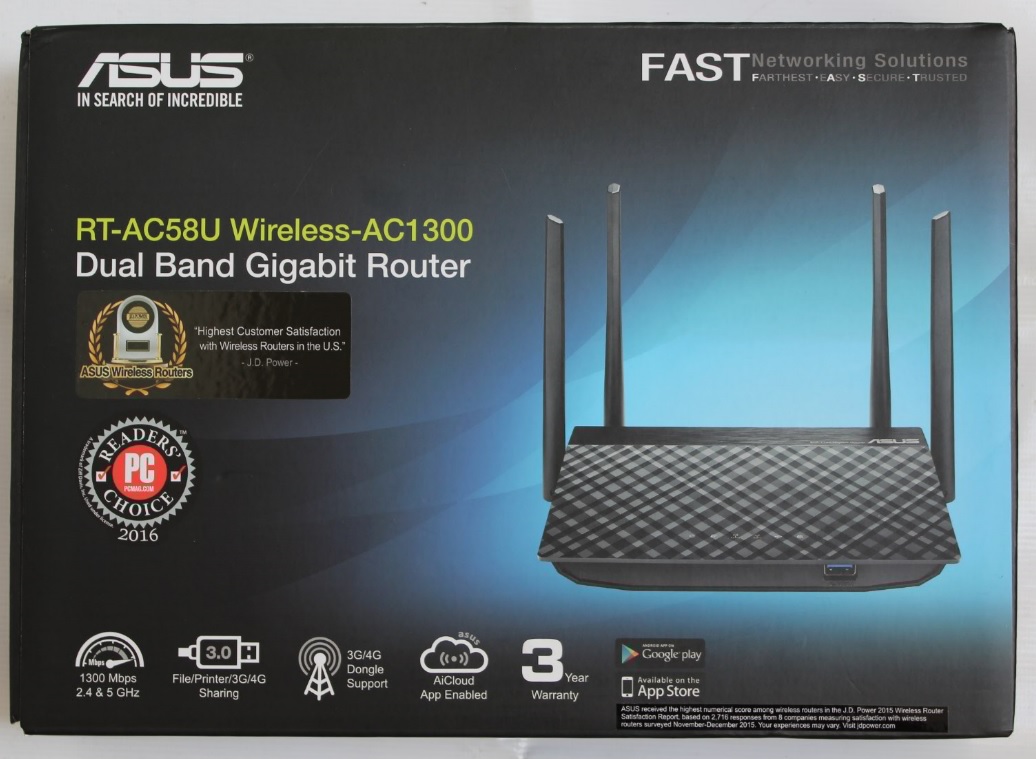 Inside the box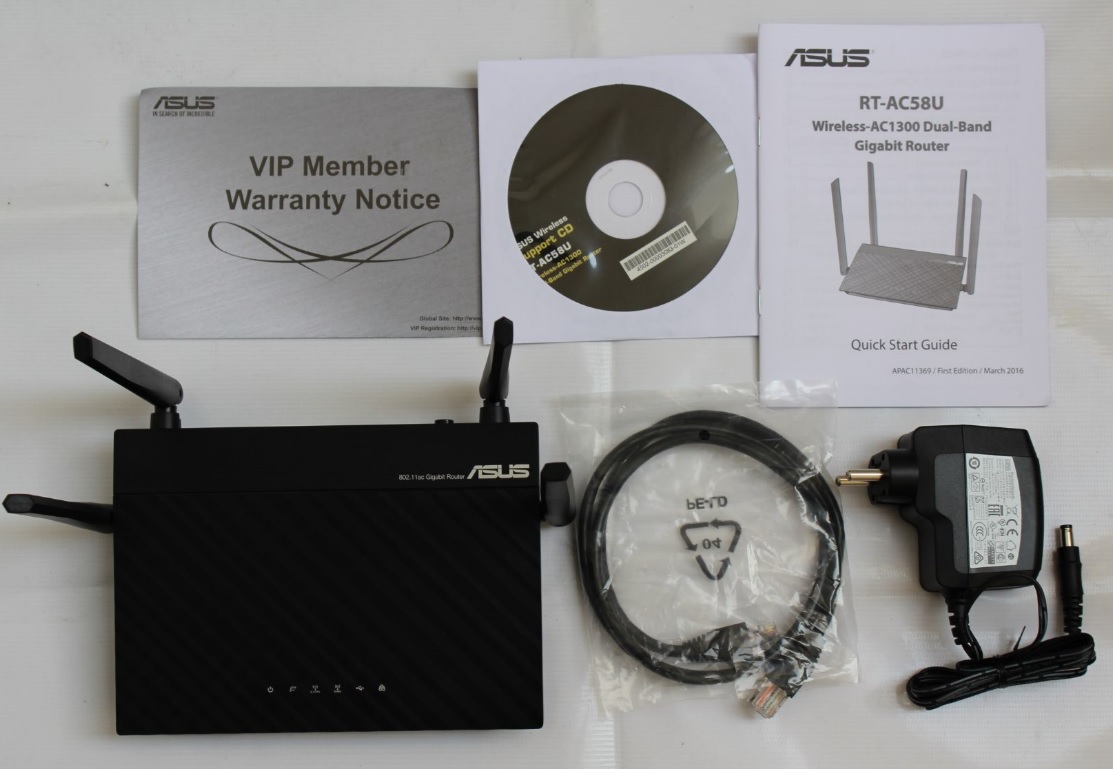 Looks
ASUS RT-AC58U is a sleek looking router with 4 pre-installed external antennas, each about 20cm long. Antennas can be setup in any direction for optimal signal coverage.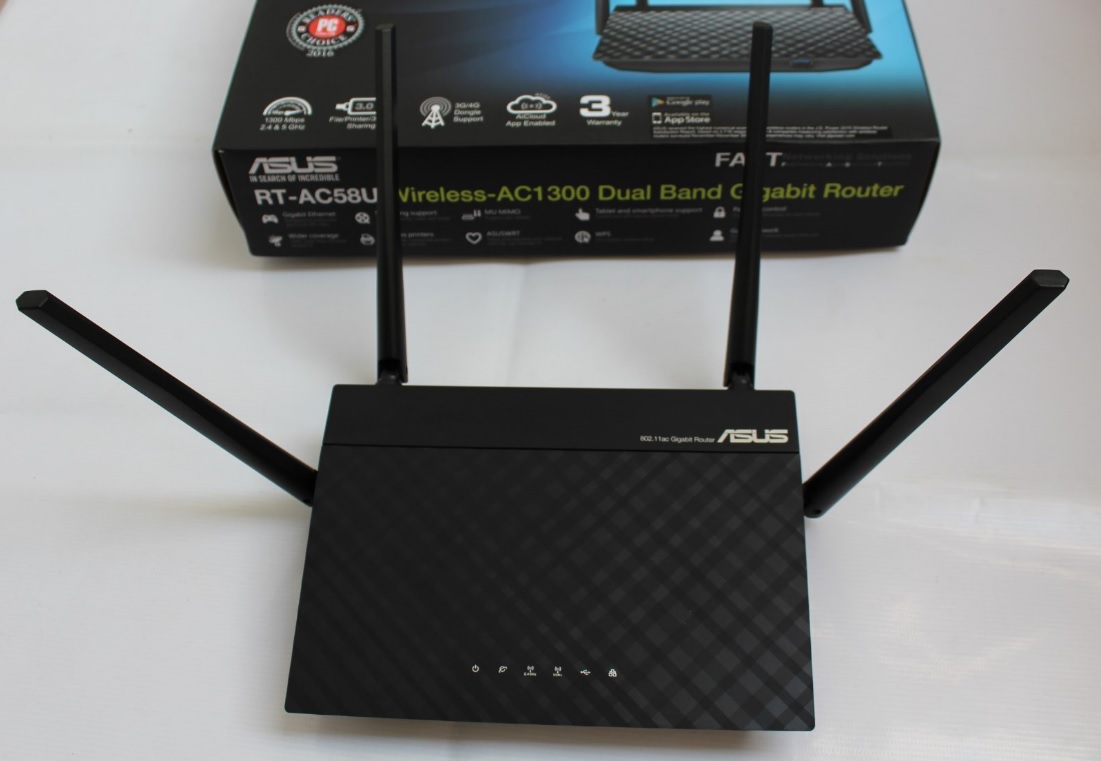 The status LEDs on the top of the router lights up in blue indication corresponding activity or status .
Front USB 3.0 port can be used in various functions such as file server, printer server and so on.
On the back we have a power button, reset button, power jack, 4 GLAN ports, one WAN port and WSP button.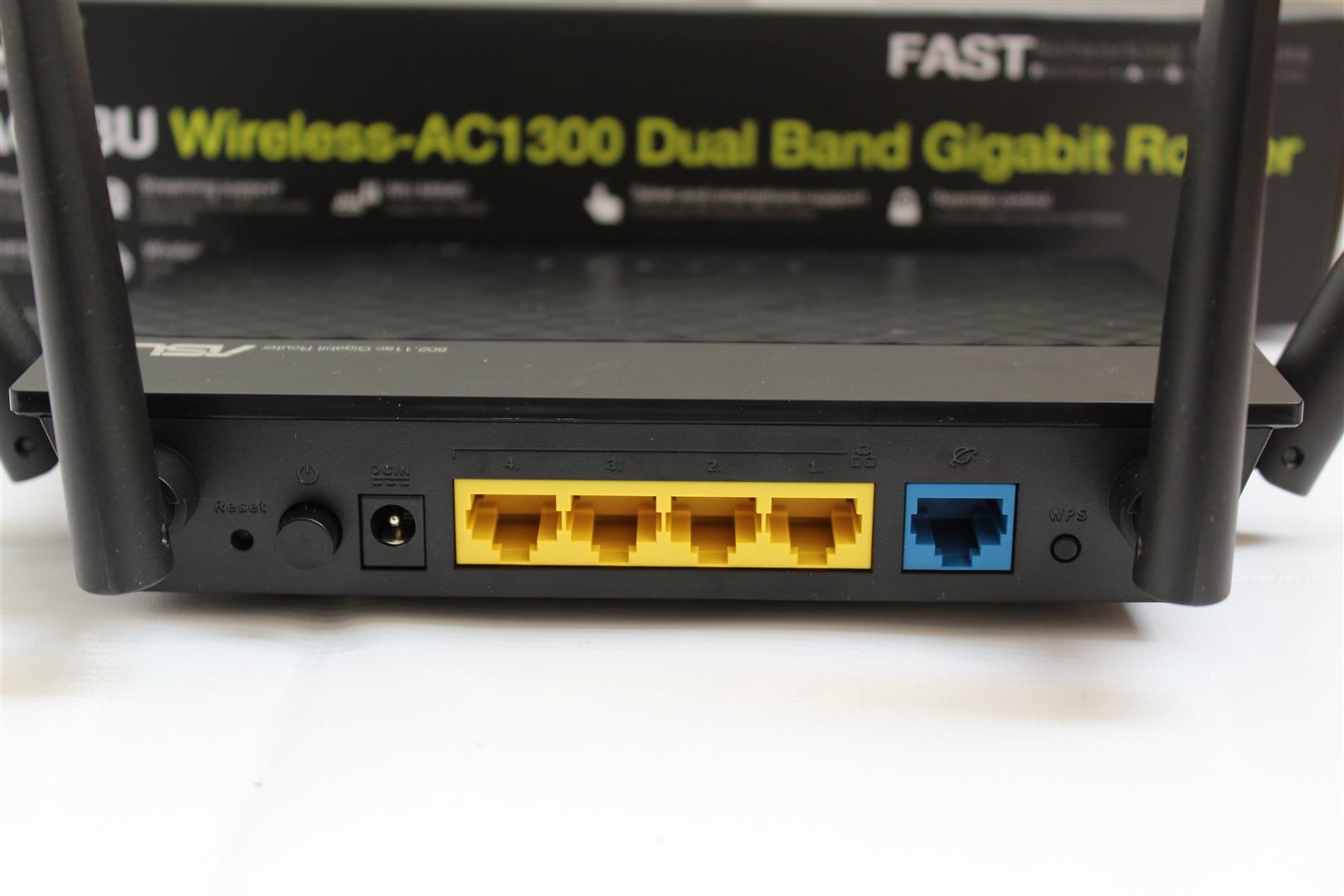 Both side and bottom of router have lot of air vents for proper cooling of the router.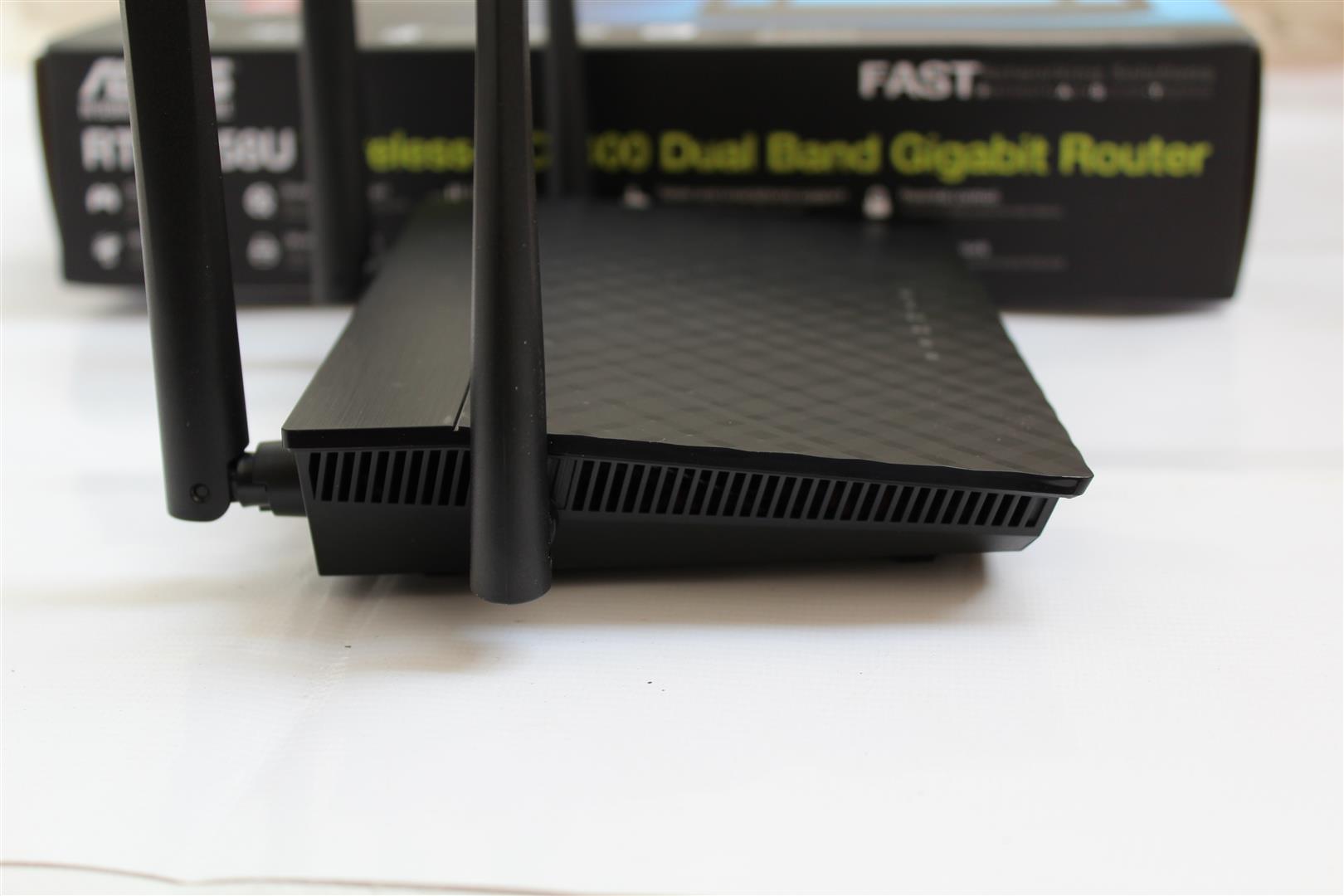 Connection
Wired connection
Wireless connection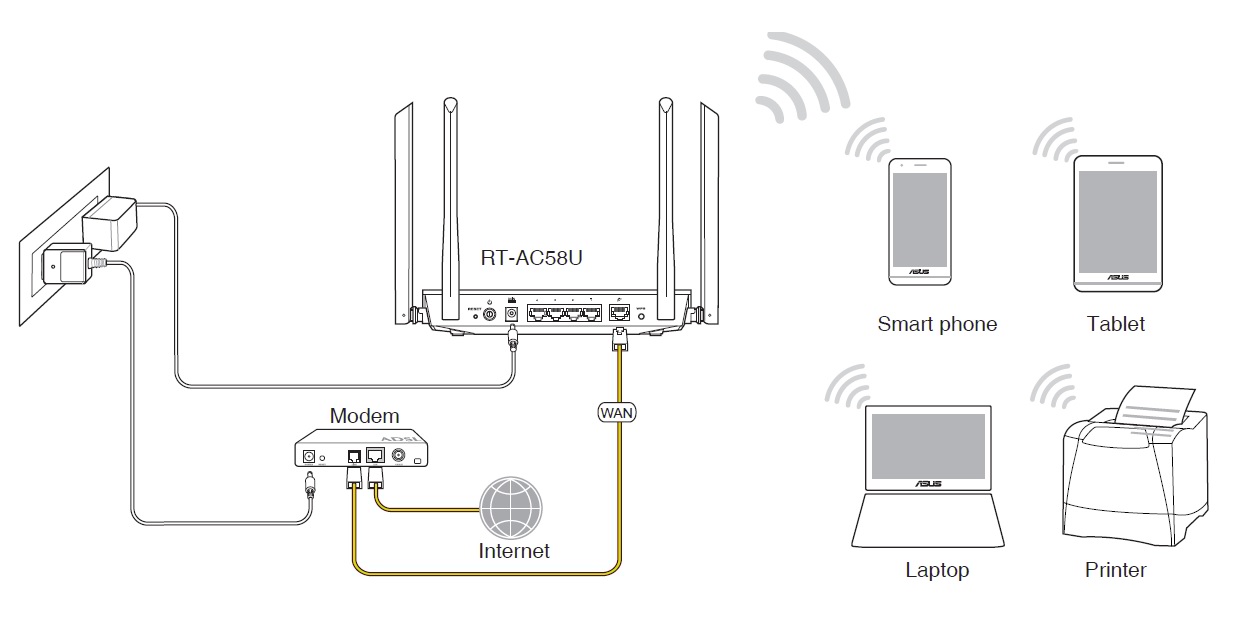 Testing
For testing this router I am using my desktop PC with ASUS Maximus VIII Formula motherboards which is having onboard Wi-Fi 802.11 a/b/g/n/ac connectivity. Supports dual band frequency 2.4/5 GHz and WD My Passport 1TB USB 3 drive.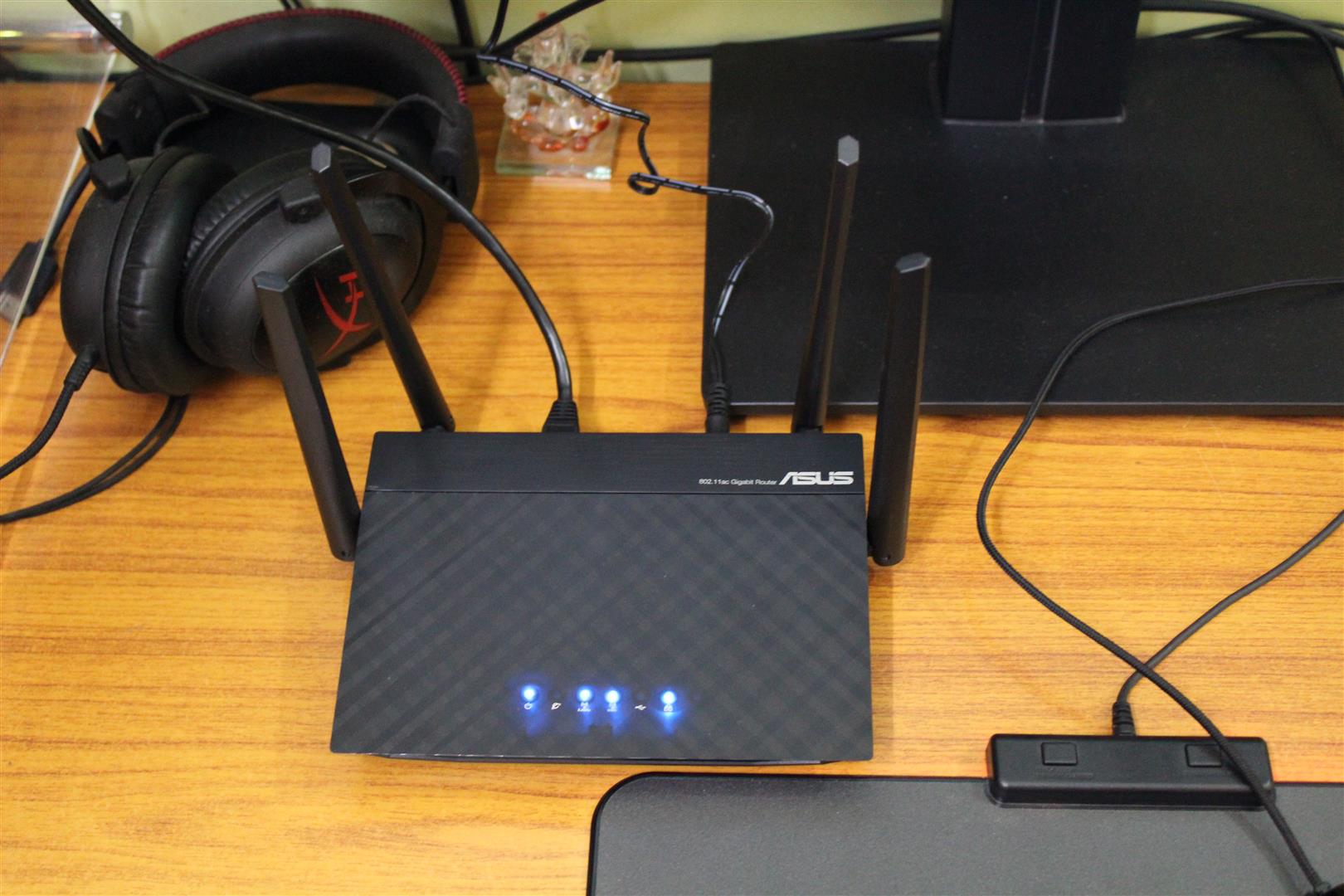 Software / Interface
ASUS RT-AC58U Web Interface that allows you to easily configure its various features through a easy web browser url
http://router.asus.com
.
Network Map - Network Map allows you to configure your network's security settings, manage your network clients, and monitor your USB device.
Guest Network - The Guest Network provides temporary visitors with Internet connectivity via access to separate SSIDs or networks without providing access to your private network.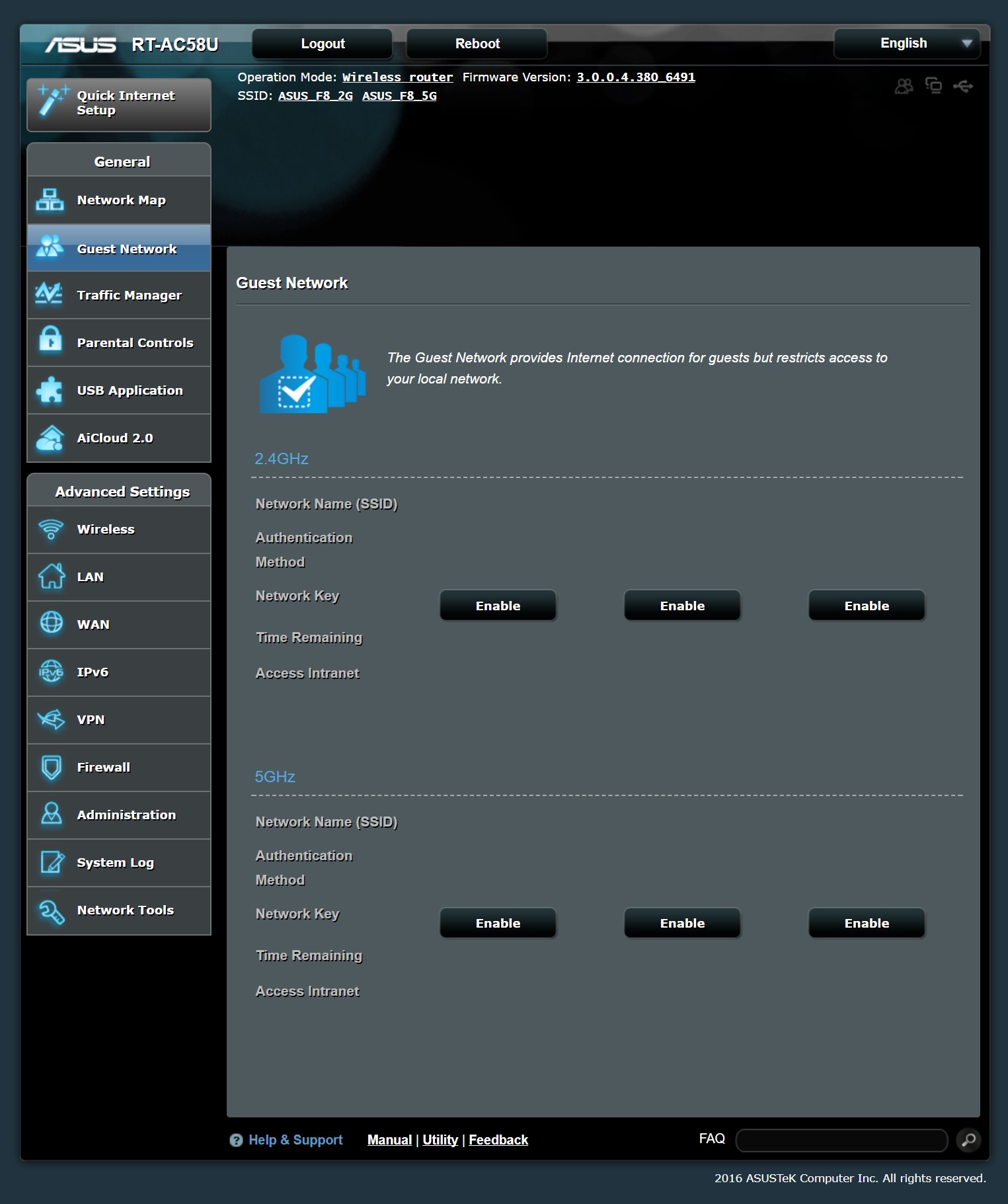 Traffic Manager - Traffic Manager Quality of Service (QoS) allows you to set the bandwidth priority and manage network traffic.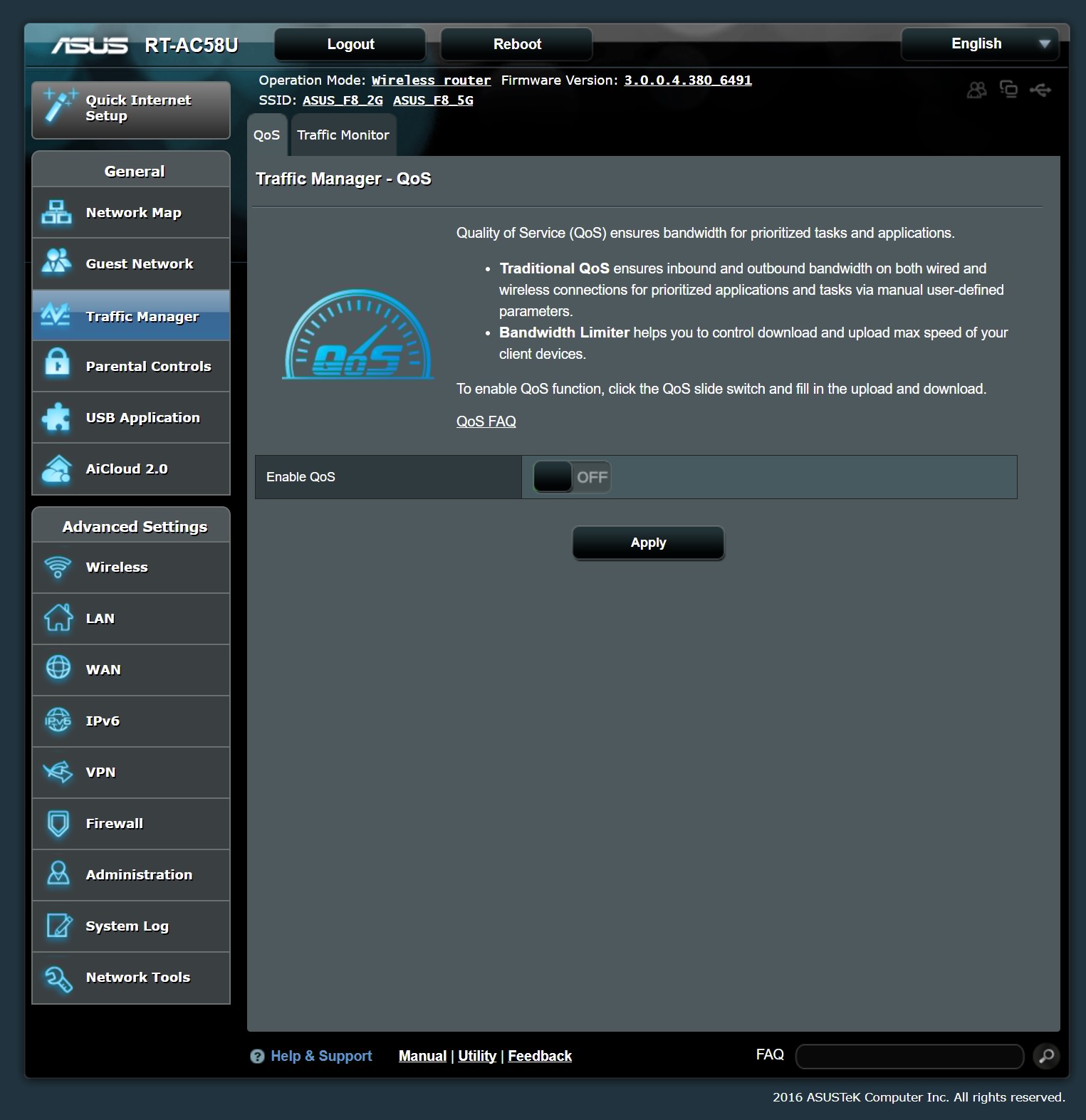 Parental Control - Parental Control allows you to control the Internet access time. Users can set the time limit for a client's network usage.
USB Application - The USB Applications function provides AiDisk, Servers Center, Network Printer Server and Download Master submenus.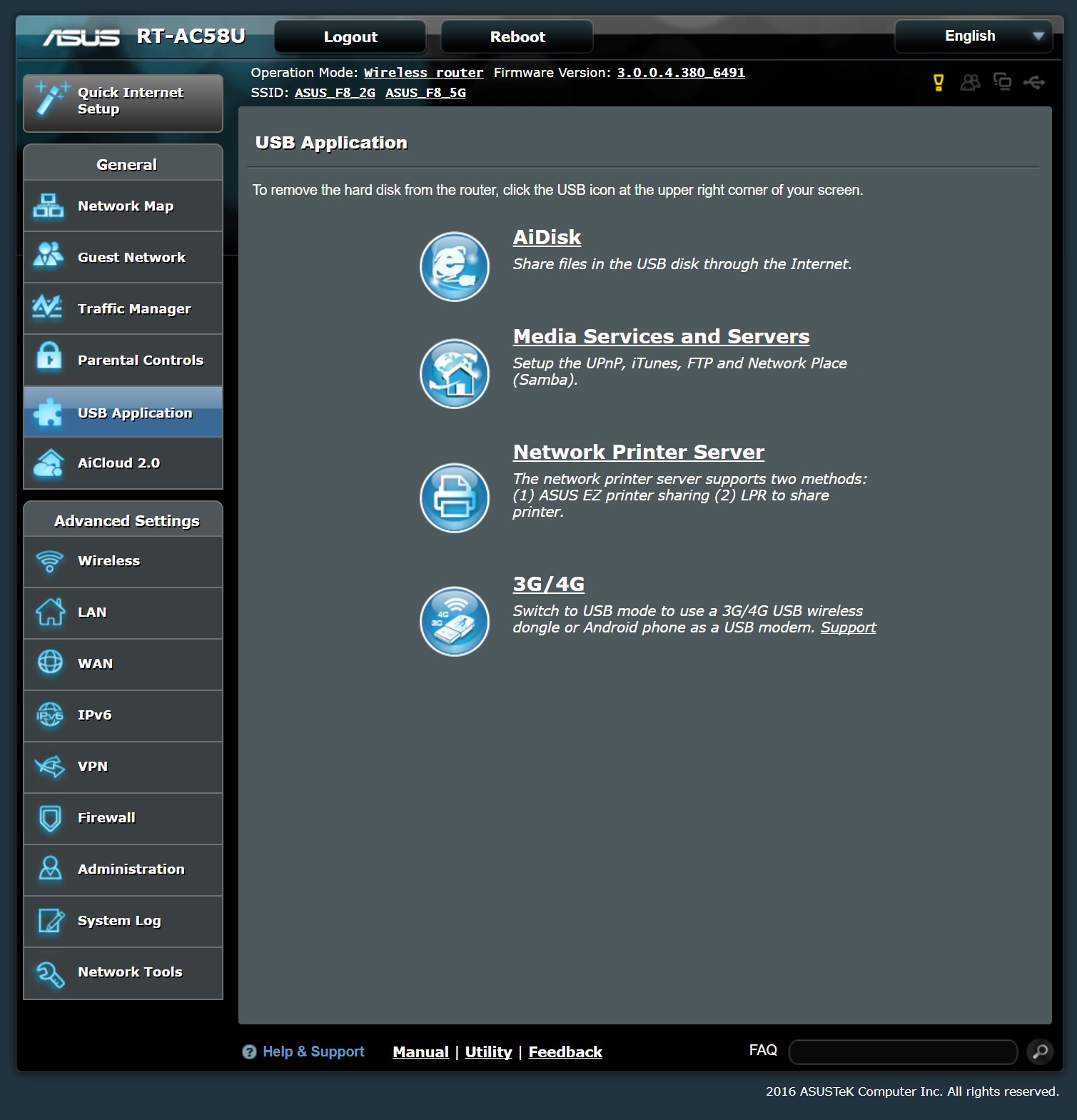 AiCloud 2.0 - AiCloud is a cloud service application that allows you to save, sync, share, and access your files.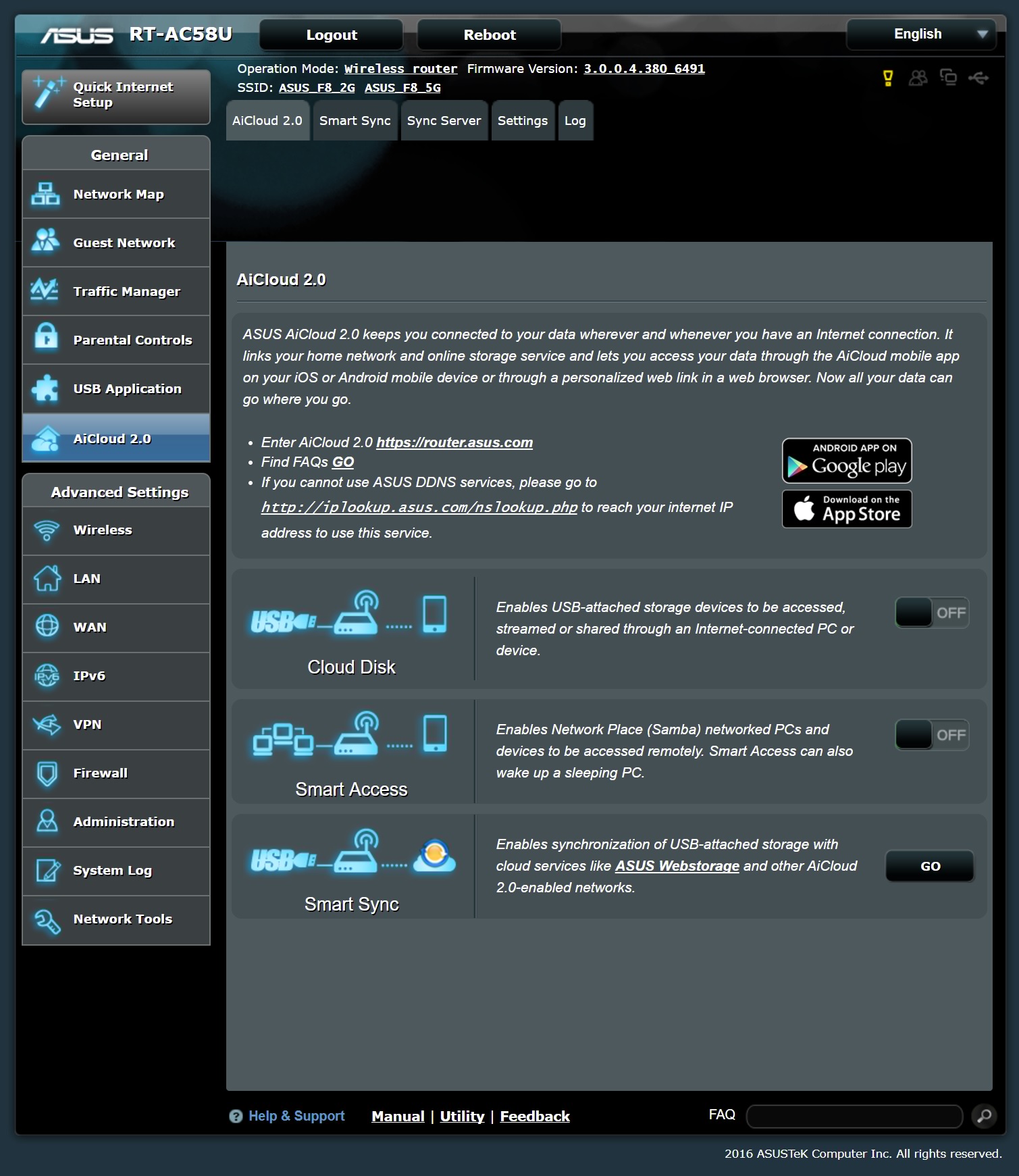 Wirelss – General Settings
LAN IP Configuration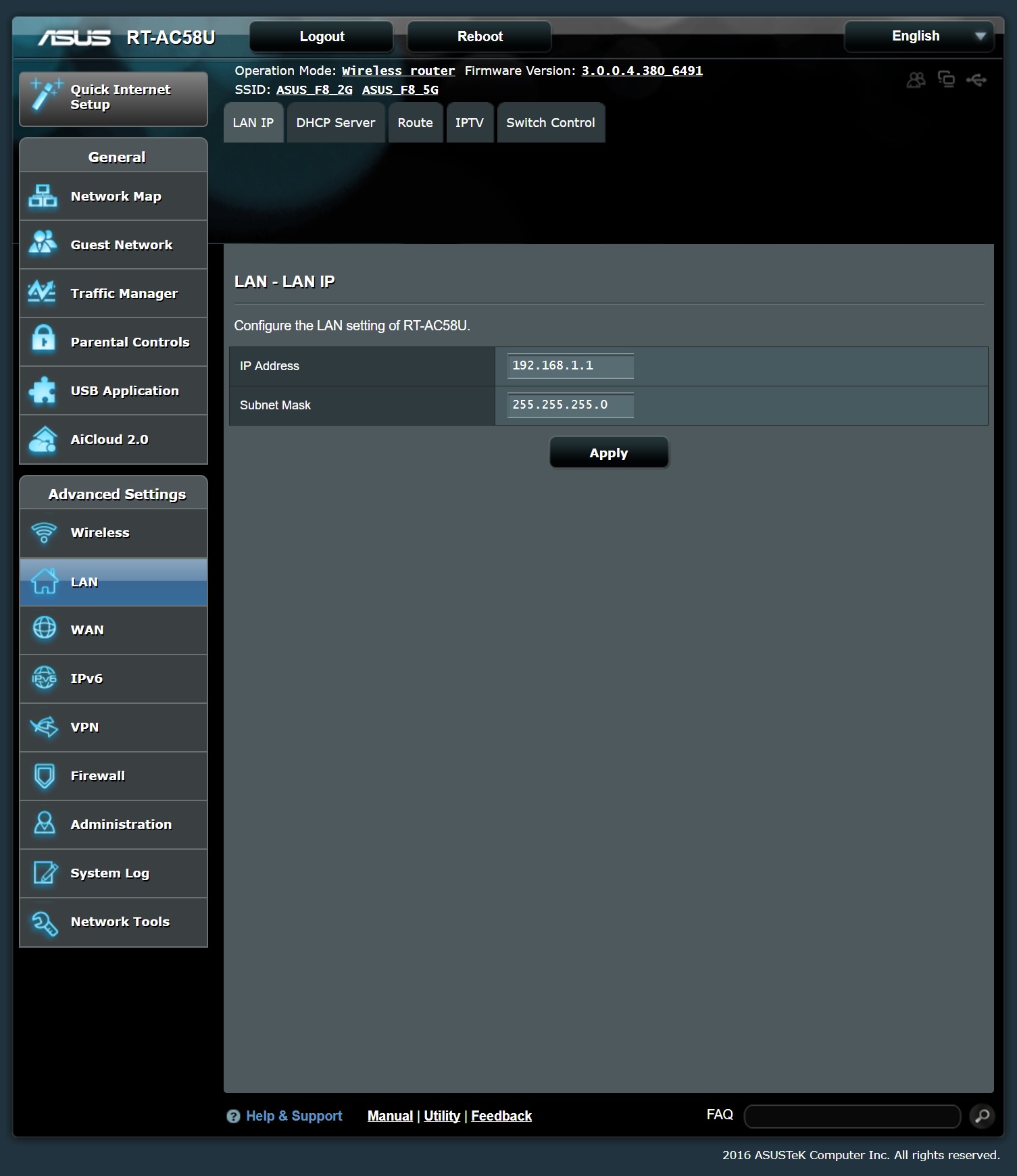 WAN – Internet Connection
IPv6
VPN Server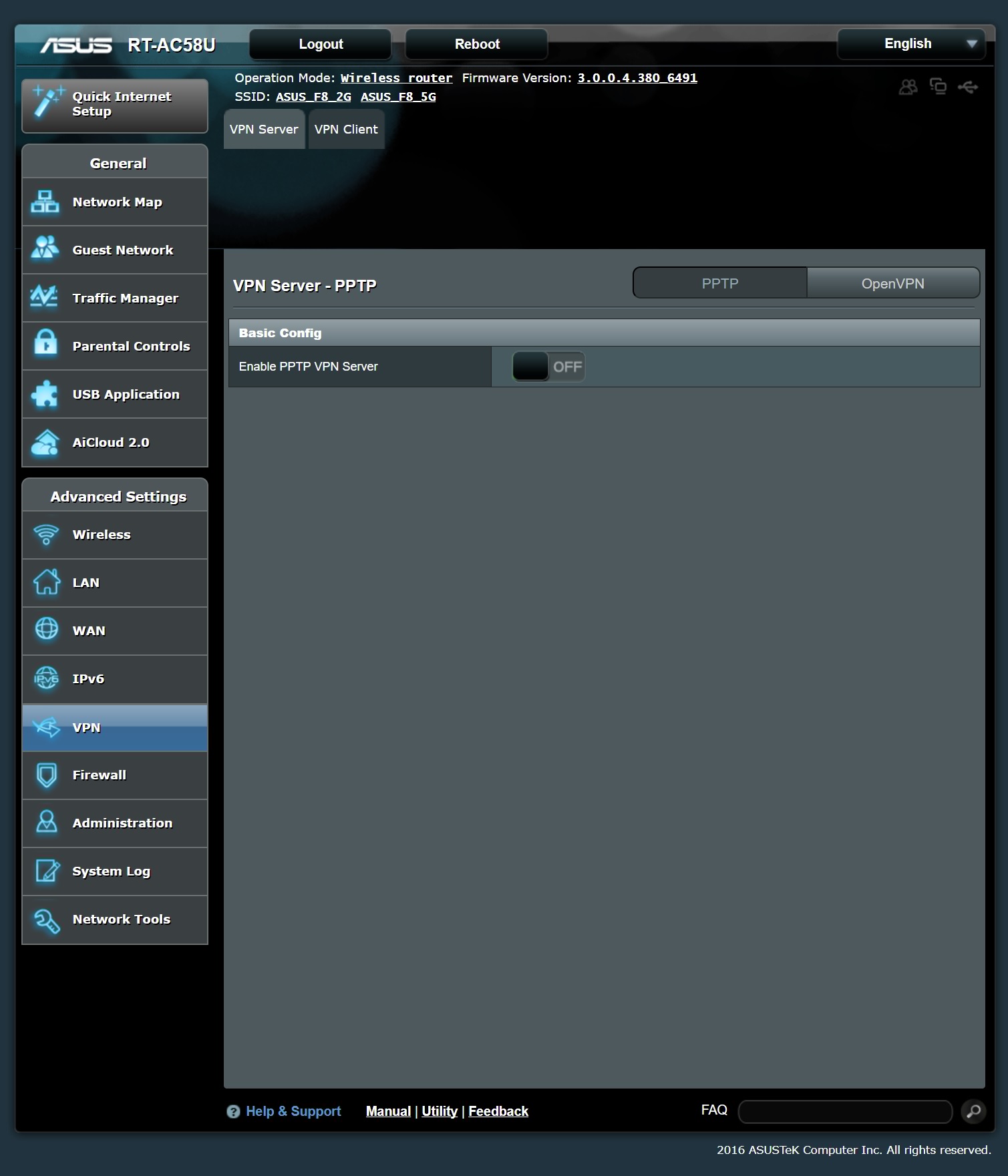 Firewall – General Settings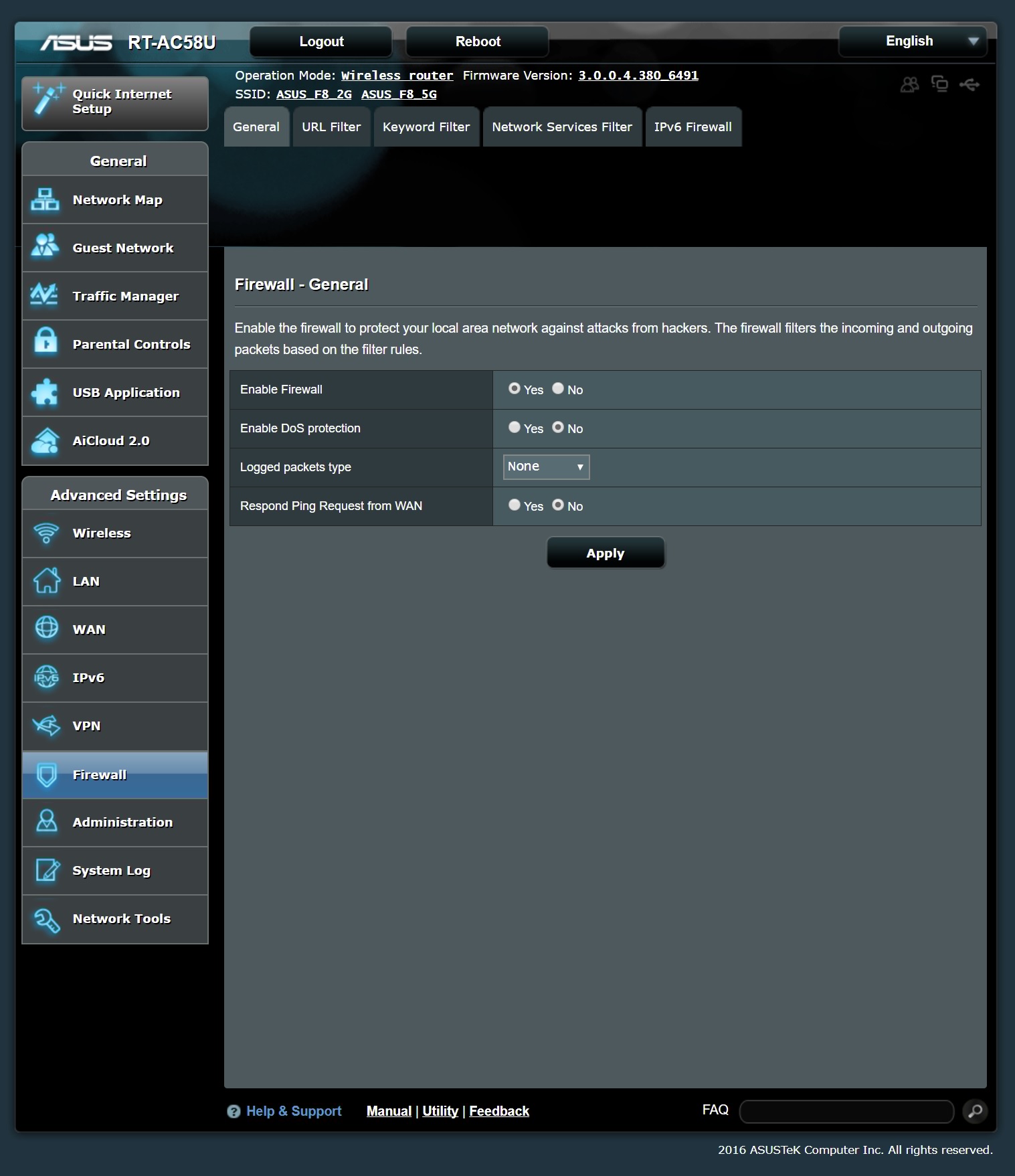 Administration – Operation Mode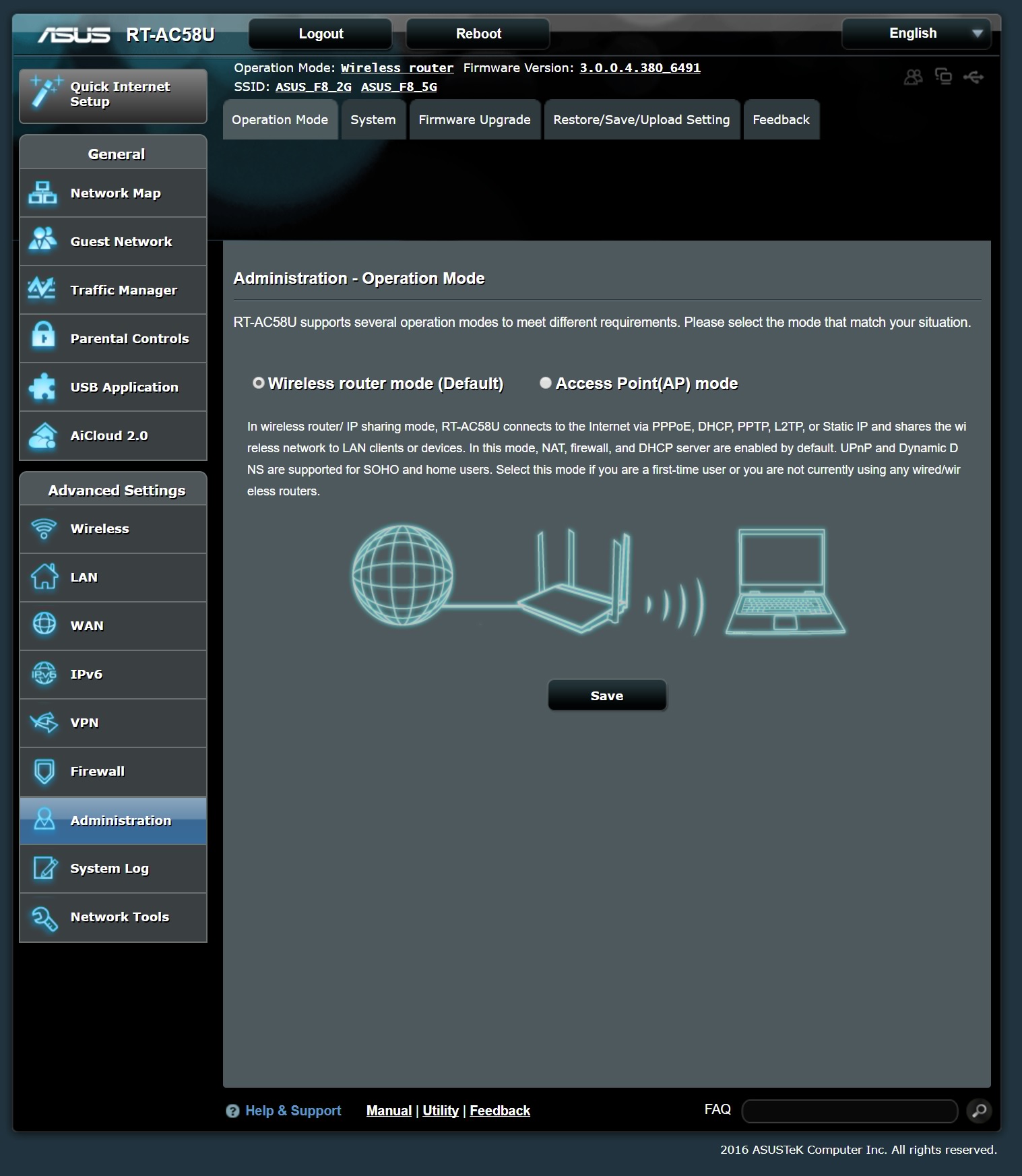 System Log
Network Tools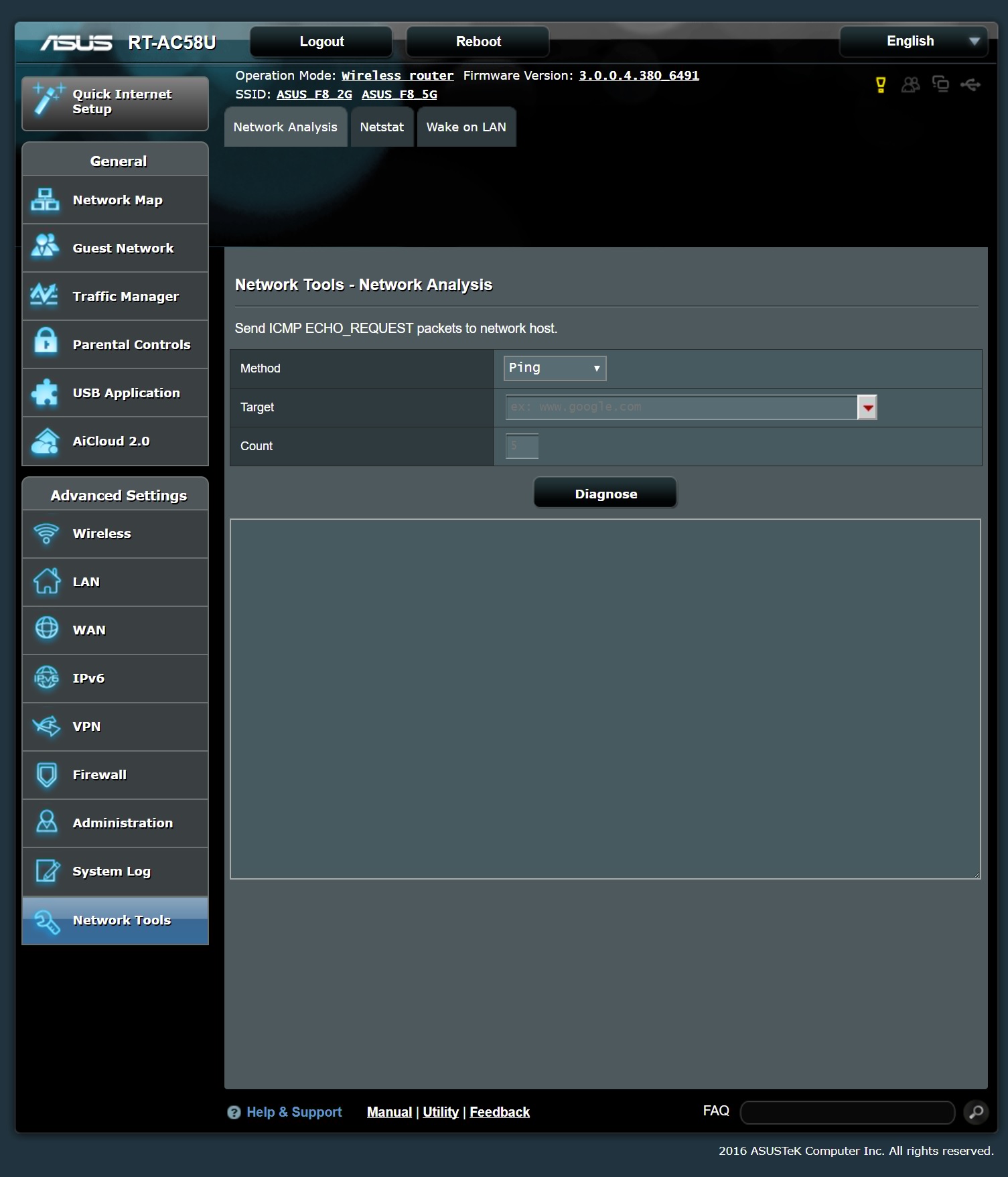 Benchmarks
To test the WIFI Performance of ASUS RT-AC58U we used LAN Speed Test. This testing was done on the 2.4GHz and 5GHz bands at approx. 10m distance between Router and desktop. And USB files sharing at 5GHz connection.
USB file sharing speed
2.4GHz bands
5GHz bands
Power Consumption
Wattage reading as per displayed by APC Pro 1000VA (Model no. BR1000G-IN) UPS.
At Idle no device Wired or WiFi is connected with router.
For load, a large file is transferred from Desktop via WiFi 5GHz connection to the USB 3.0 drive attached to the router as well as a 40MB online file was downloaded on a mobile device which was also connected with router.
Pros
Great Price
5GHz + 2.4GHz Dual-band
Great looks
Easy Setup
Low power consumption
Nice Interface with lot of features for home or small office need.
Cons
Conclusion
ASUS RT-AC58U is a nice feature packed router offering dual band wireless and Gigabit connectivity along with USB file and printer sharing. All that for a super good price tag of just INR 4450/-.
With some antenna adjustment and proper placement of router in my 2500 + sq ft. home, the wireless network reaches every corner of my home. The performance of the router is absolutely best in this price segment and the features offered are that what other brands high-end products offers.
For last month or so this router (as a part of WiFi upgrade at home) is working 24/7 with no problem what to ever. And I am totally satisfied with this little feature packed router.
At the conclusion I found ASUS RT-AC58U is a nice-performance Dual-Band Wireless-AC1300 Gigabit Route and at a very decent low budget price tag.
Manufacturers Info
Site Link
Source / More info
Thanks.