Product Name: Asus Xonar Essence STX PCIe x1 Audio/Sound Card (Used)
Expected Price: Rs.5,000/- Rs.4,800/- Rs.4,500/- Rs.4,000/-

Shipping charges: Excluded. At actuals.

Manufacturer page URL: Asus Xonar Essence STX
Description: The sound card is in perfect working condition. My PC is well ventilated and cleaned properly. Listened to plenty of FLACS and HQ mp3s with a Beyerdynamic DT990 Pro 250ohm headphones (open back). While I'm no audiophile the difference between the audio from this sound card vs the onboard one was night and day. Especially Battlefield 4 with 'Hi-Fi' sound option or 7.1 sound option both were stellar gaming audio experience even without choosing the 'Dolby Headphone' option for surround sound. PC usage is usual - general browsing/music/videos/games (mostly CSGO, TF2, Battlefield 3/4 with Asus GTX 670 graphics card). Never had any problem with the stock Asus drivers. Though some people prefer the unixonar drivers I have never installed them.
Reason for Sale: Going for an external DAC/AMP setup as I have built a new Coffeelake M-ATX PC.

Product condition: 8 out of 10 (usage, slight rusting in PCI bracket)
Purchase Date: 13th April 2013
Purchased From: ProAudioHome.com (PristineNote TE Dealer)
RMA/Servicing History: Never serviced/RMA'd
Remaining Manufacturer Warranty: 0 months. (Will provide 5 days Testing Warranty from the date of delivery.)

Warranty available in: India
Invoice Available: Yes. Email invoice only.
Included:

Asus Xonar Essence STX PCIe Audio/Sound Card
Original Carton/Box
All Accessories (RCA to 3.5mm Y cable, 6.3mm to 3.5mm adapter, S/PDIF TOSLINK optical adapter)
Driver CD/Quick Start Guide/Audio Precision Test Report/Two Posters.
Invoice Email.
Shipping from: Chennai
Shipping to: All over India.
Preferred courier: Professional, Fedex or anything available near my house and also preferable for buyer.
Payment options: Bank Transfer (NEFT/IMPS) only.
Product Photos: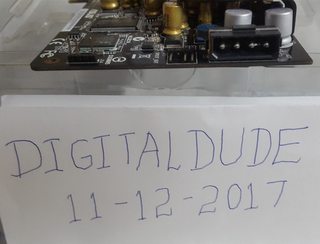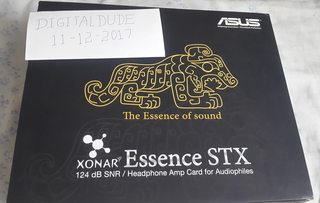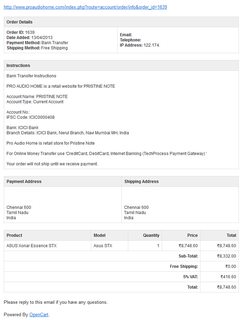 Please allow 3 days for shipping and handling after payment reflects in my account.
My previous closed sales threads: (copying them here so I can refer to in future without searching)
Dell UltraSharp U2311H - IPS LCD Display
Western Digital 1TB Black HDD WD1002FAEX (Used) (Warranty till August 2015)
Western Digital 1TB Green HDD WD10EARS (Used) (Warranty till January 2015)
Western Digital 1TB Black HDD WD1001FAES (Very Sparingly Used) (Recertified) (Warranty till 9-2015)
MSI GTX 460 HAWK 1GB Graphics Card (Talon Attack Version) (Used) (Warranty till September 2013)
Corsair Vengeance M60 Laser Gaming Mouse (New) (RMA'd) (Warranty till December 2014)
_
Last edited: