I was in search of dishwasher reviews for the past couple of years, specially from Indian users.
I couldn't find much except for a review or two on YouTube, but they were not in detail for me to take the plunge.
Finally I bit the bullet and bought a Bosch SMS60L12IN from Amazon for 31.5k.
I'd summarize few points which might be useful for prospective buyers.
This review applies to all dishwashers in general since all the models from different brands sold in India are more or less with similar specs.
Which Brand?
AFAIK Bosch, IFB, Siemens, LG & Samsung sell dishwashers in India.


Bosch has only one model in two colors with different model numbers.
People quoted that the silver model is an upgraded one with water saving features blah blah blah.
But I verified the specs and both are in fact color variants of same model.

Siemens has a model or two IIRC, but they are priced higher and share 90% of the components with Bosch. Both are sold and serviced by same channels too.


IFB has 5-6 models, out of which all the models have 12 place holders except the top of the line Neptune SX1, which has 15 place holders. This particular model has extra pullout basket for small cutlery, which is of practical use. I later found out how significant this feature is (More on this later).


LG and Samsung sell one model each, which are priced higher and I doubt their after sales service w.r.t dishwashers.


I found build quality to be better in Bosch.


In terms of service I heard/found Bosch to be better, can't comment on the spares availability/cost of spares at this moment. There are many horror stories about IFB service, so I stayed out of this brand.
Purchase and Installation
For months, I pestered almost all major stores for a demo and no one gave a positive reply. Croma, Bajaj electronics have a Bosch demo dishwasher with transparent window to see how the dishwasher works etc, but they never showed interest in showing a demo as well.


All of them were offering a discount of 1-2 k, so I chose Amazon as I was getting it for almost 8k discount on MRP. These store guys were selling very old stocks, but the one I ordered from Amazon was imported in Dec 2016. I think all Bosch dishwashers sold in India are made in Turkey.


I got a installation request acknowledgement from Bosch on the very next day I ordered on Amazon. They had been following up for installation even before it was delivered from Amazon and installation was done within hours of delivery. Satisfied with the overall purchase and installation experience.


There is nothing complicated about installation, just connecting the inlet hose and proper drainage for drain pipe. The purpose of waiting for installation is more or less to verify damage and to avail warranty.


Also ours is a free standing unit, if you want to integrate this into kitchen, you might need to get some additional work done to mount the machine into place.
What are these three cleaning agents?
A dishwasher needs a combination of three cleaning agents. Using all three( Salt+Detergent+Rinse Aid ) is the key to perfectly washed dishes. You can use any brand of dishwasher cleaning agents, as long as they are dishwasher compatible.

Bosch recommends "Finish" products, which are imported and cost a bomb when compared to other brands. IFB sells their own brand of cleaning agents.

We personally use & recommend Fortune Products >> http://fortunedishwashing.com/
They are cheaper compared to imported brands.
I compared the wash quality with Finish and I couldn't find any difference.
Many Bosch/IFB users gave similar feedback about Fortune products.
They are not easily available in super markets, but you can order from their website or their Amazon store.


What are these three cleaning agents anyway?
Stacking the dishes and Usage
You need to dump all left over food particles from the utensils. Soaking is not necessary for normal utensils. Wok's on which deep fries are done, would wash well with soaking.


Plates go into plate holders and large dishes go on bottom rack.
Small plates, cups, small utensils go into the top rack. There is a free standing basket for cutlery into which you place all the ladles, forks & spoons. But using this basket is tricky, as it can be placed only on bottom basket and is difficult to fit in if the bottom layer is full. This is where extra basket in IFB Neptune SX1 comes handy. Otherwise you are forced to use the assorted holder in the top rack for placing spoons and forks.


All dishes should be facing downwards on the racks and should not be stacked on top of other.
Stacking the dishes is tricky and time taking for the first few runs till you get the hang of it.


Once you are done stacking, check for the refill indicators. Only for the first use you need to fill the salt and rinse aid. Post that you need to fill them only if the respective refill indicator is lit.
As I had mentioned earlier, refill cycle is roughly once a month for salt and once every 10 - 15 washes for Rinse Aid (100-150ml per refill).


Now comes the wash options, depending on the model there will be Auto, Eco and Intense modes.
We normally use Eco and Auto modes and are yet to use Intense kadai mode.
Since water temperature goes to around 70 degrees, we never risked using that mode owing to plastic boxes in the wash.

Auto/Eco modes usually take 1.5 hrs for the cycle to finish.

Unlike a washing machine, there is no lock for the door, no sound indicators for the wash completion.
You can open the door in the middle of wash, it automatically pauses and resumes once the door is shut. But avoid opening the door as the vapor that spews out is very hot.

Once the wash cycle is done, machine turns itself off without any buzzer.
Wash Quality
Aluminium, Wood and plastics which are not dishwasher compatible should not be used in dishwasher according to manual. I tried aluminium dishes, they got cleaned properly, but are slightly discolored and have white stains even after rinse aid is used. So I won't recommend using aluminium utensils.
I've used wooden spatula's and wash is fine.

Silverware, steel, glass and food grade plastics are washed perfectly. Shine on the utensils and the squeaky noise from the clean dishes is so satisfying.


Specially if you are using Tupperware boxes for carrying lunch, the difference in wash quality is reason enough for you to buy a dishwasher. Even those sticky oil stains are washed perfectly, leaving the boxes squeaky clean. When we used to wash the dishes manually, getting the oil stains from plastic boxes is a nightmare and oil stains never used to go off.
Power Consumption
This particular model is rated at 1.5KW, but I guess that rating is only for the heating element.
Never calculated the actual usage, but should be on par with any washing machine if not less.
There is no significant spike in electricity bill, so I never bothered to check the power usage in detail.
I will add a few pictures later today, of the dishwasher and utensils before/after wash.
My parents were reluctant to get rid of the maid and get a dishwasher instead. They were apprehensive about the performance earlier, but after looking at the wash quality, even they are on the scout for a dishwasher. Since I know the practical advantages of an extra rack, I'm pushing for IFB Neptune SX1 and will update this review accordingly if we end up buying that.
This is how dishwasher was delivered by Amazon. Luckily no damages.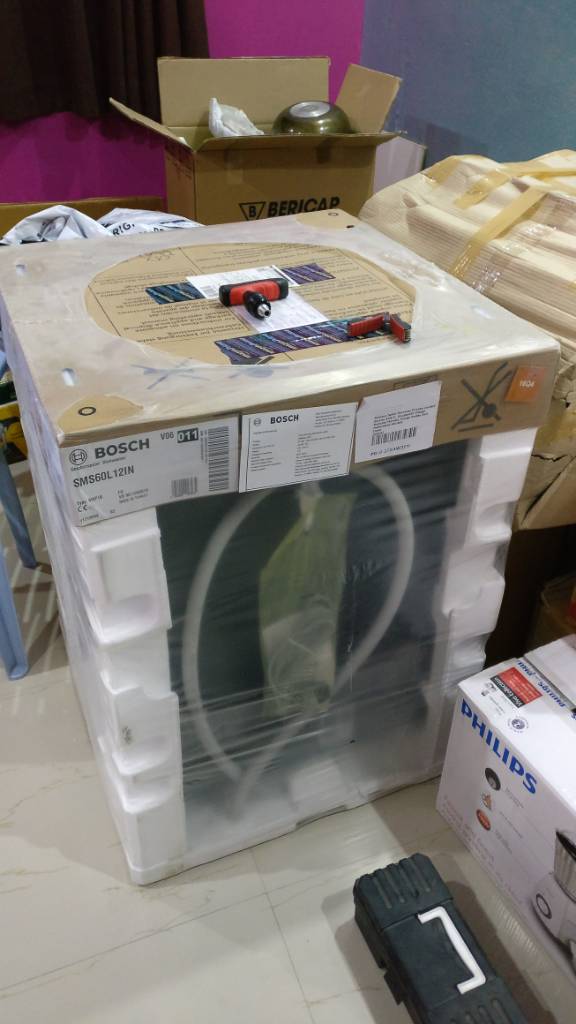 A few pics from yesterday's wash cycle.
Notice that refill rinse aid indicator is lit. It's been almost 3 weeks since last refill.
After refill, with the indicator off.
After the wash cycle.
Those plastic flap like things you see at the bottom of the pic is where you add the detergent and the rinse aid.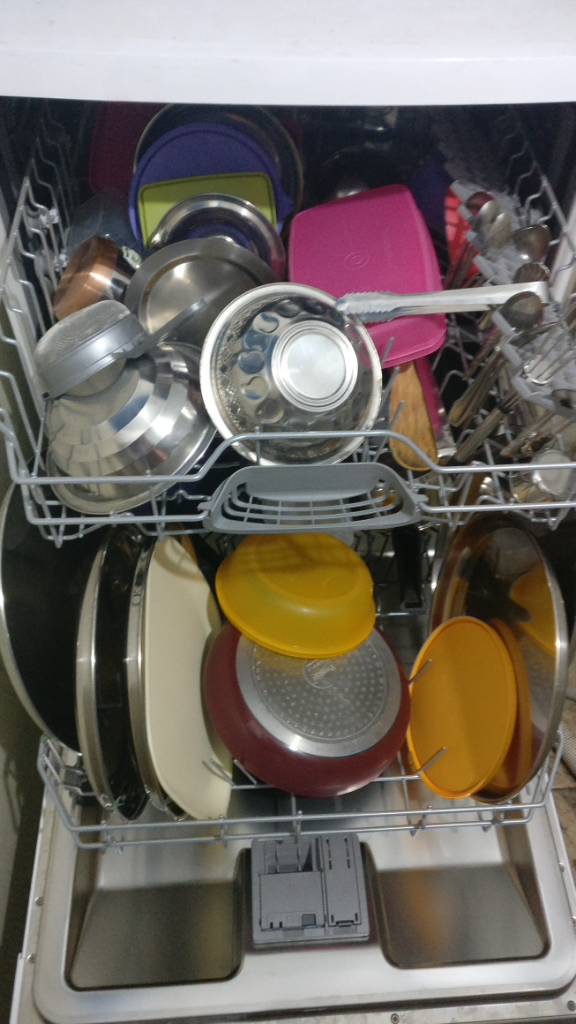 Bottom rack, where plates and large utensils usually go.
Top rack. Since the bottom rack is full and we couldn't fit the small cutlery basket, We had to improvise and use the Etagere for small cutlery.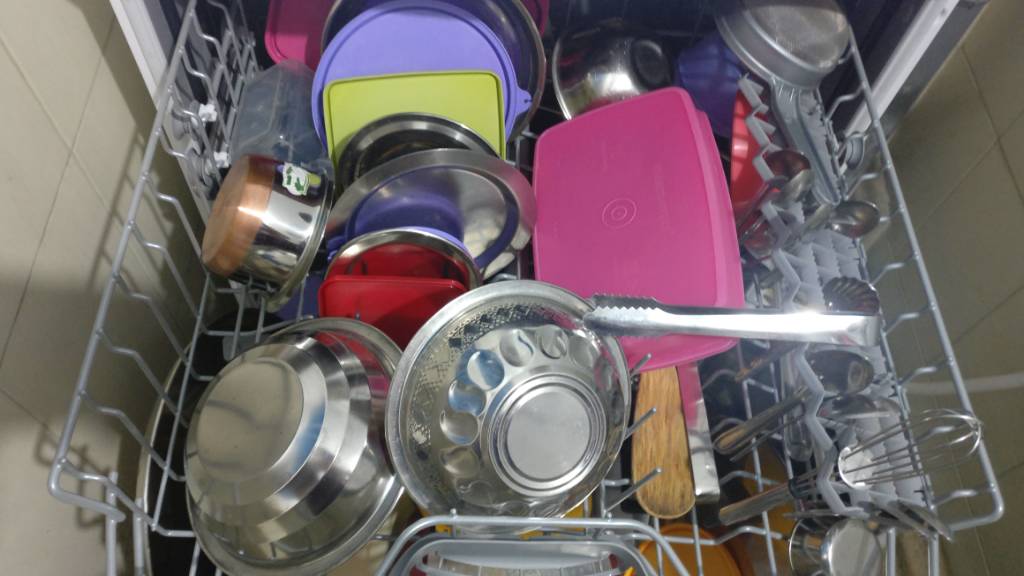 Notice how the stainless steel utensils are shiny. If you don't use rinse aid, there will be a cloudy layer of water droplet marks over them.
I'll do a set of before/after wash pics of dishes, once I get some time over the weekend.
Last edited: