BRAND NEW ROCCAT Kone Pure 8200dpi USB Wired Laser Gaming Mouse
Purchase Date:
22nd March, 2013
Source of Purchase:
Local Dealer
Warranty Details:
National Warranty Remaining Till 22nd March, 2014
Reason for Sale:
Too heavy for me.
Cost of New:
Rs. 4100
Bill, Box & All Accessories Included
Selling Price:
Rs. 3200 Shipped
Ebay Listing: http://cgi.ebay.in/ws/eBayISAPI.dll?ViewItem&item=190857871049
Pictures: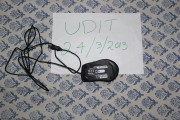 Purchase Invoice Available:
Yes.
Product Condition:
BRAND NEW.
Product Location:
Kolkata, West Bengal.
Preferred Courier:
DTDC
Payment Options:
Bank transfer
Click here to Send a Private Message to me and Buy.
Click here to view my iTrust Profile.
Do not post your e-mail address or phone number here for your own safety.
Any phone numbers or e-mail addresses will be deleted
.