I recently bought the Jabra Elite 65t TWS Bluetooth Earphones on a whim when I saw the price was good (relatively) at 3.3K with some discounts and such. These were launched for more than 10K-12K. I didn't do much research (very much unlike me) before buying this. My requirement only stem from my newfound usage of my iPad on bed to read magazines, watch youtube videos or netflix and such for an hour before sleeping.
I was initially wanting to go only with non in ear ones but choices are limited for them. I also contemplated Airpods but their price does put me off. But I may definitely try Airpods in future. So when I saw one thread on TE and while casually checking desidime I saw this deal and just ordered it as it was from a reputed brand. I am not an audiophile by any means but do understand difference between crappy sounding earphones and decent ones.
So few points about these earbuds, mentioned as Pros and Cons and these are very subjective and only my personal opinion...
Pros
Sound Quality is very nice. Enough Bass and good for my youtube videos and music, netflix etc.
Fit (for me) is good. They are big in size but will only look large if your ears are small, not applicable in my case.
Hear Through Feature (which apple calls transparency) is nice feature and works great for me. It picks up sound from outside using mic and beams in ears. Great to use on street etc. when not listening to anything and want to talk to someone person to person.
Did not test this but it has some 4 mics etc for noise cancellation and all for better call audio.
Multi Point feature - Didn't know they have multipoint and was pleasantly surprised to see this. Other Bluetooth earphones I use (LG HBS-A100 and Samsung Level U) also have multi point and I very much value this feature.
Volume Controls on earbuds itself is nice, not many feature this I guess.
App allows more customization of sound and also provides 2 years warranty.
Automatic Pause of Music / Video if one of the earbuds is removed from ears and automatic resume when you put them back in ear.
Cons
No Magnetic connection anywhere, be it securing earbuds in the case or closing of case itself. Due to this we have to make sure we keep them properly so the pins connect and charge the earbuds.
Due to no magnetic way to close the case, opening it with one hand is very difficult.
When they are connected to 2 devices simultaneously, and we are listening music / watching video on another device, the audio will randomly cut off for 2-3 seconds.
Big in size relatively so if you have small head / ears, they will stick out.
MicroUSB connection - Not a con for me but people tend to prefer USB C and when it was launched for 10K-12k, it should have had USB C.
The automatic pause is little finicky.
I am attaching couple of pics to compare the size with Airpods Pro (the ones in pic are 1:1 clones and not real apple airpods, sound crappy fyi).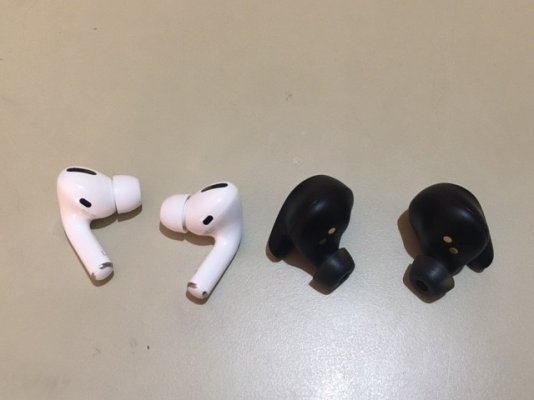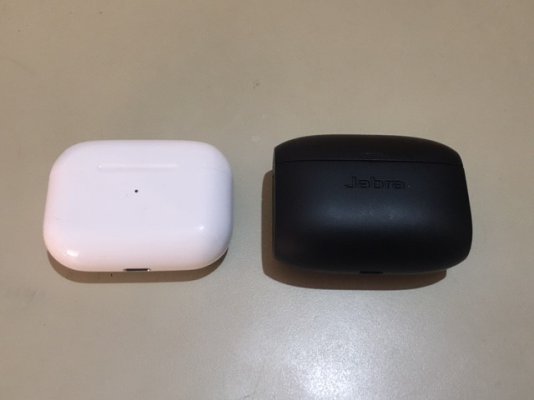 Last edited: