Microsoft has launched its new Surface 3 tablet today which features a larger 12 inch display and is powered by 4th gen Intel Core i3/ i5 / i7 processors with up to 8GB of RAM. The Surface 3 Pro runs Windows 8.1 Pro operating system.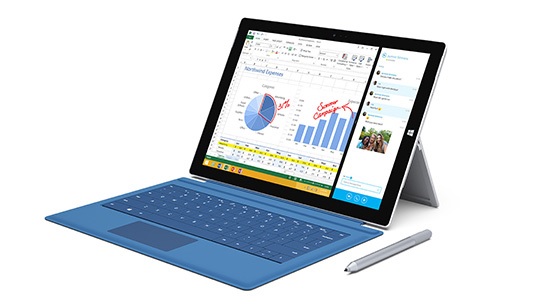 The new Surface Pro 3 is thinner and lighter , just .36 inch thick and weighs 1.79 pounds. It comes with new multi-position kickstand and new Surface Pen which has the feel of a fountain pen. The Surface Pen has pressure sensitivity and can open a fresh page of OneNote in a click. The Surface Pro Type Cover is optional accessory which will turn the tablet into a laptop.
The Surface Pro 3 has 12 inch ClearType display with 2160 x 1440 resolution and 3:2 aspect ratio. For entertainment, it has front facing stereo speakers with Dolby sound, 5MP front and rear facing cameras with 1080p video. Connectivity features include ,Full-size USB 3.0,microSD card reader, Headset jack ,Mini DisplayPort, Wi-Fi a/b/g/n/ac, Bluetooth 4.0. It offers up to 9 hours of web browsing battery life.
Microsoft is touting the Surface Pro 3 as a replacement for laptop. It is much lighter and thinner than most laptops, with slightly smaller display and almost equals the performance of mainstream laptops. It also fares well against the Macbook Air , being 30% lighter and offering full Windows experience.
Pricing and various configurations for Surface Pro 3
:-
Intel® Core i3, 64 GB and 4 GB of RAM $799
Intel® Core i5, 128 GB and 4 GB of RAM $999
Intel® Core i5, 256 GB and 8 GB of RAM $1,299
Intel® Core i7, 256 GB and 8 GB of RAM $1,549
Intel® Core™ i7, 512 GB and 8 GB of RAM $1,949
So do you think it can replace laptop or the Macbook Air?