Hi all,
Here's a
MSI N560GTX TI Twin Frozr II/Over-clocked Edition
card for sale.
It was purchased on 20th Nov 2011. Selling because he has got a 6970 HD.

Warranty Began/Begins from December 2011, Will be applicable till December 2014!

It's in spot-less condition I would give it 9.9/10. It has been hardly used (less than few hours).
I have just put it in to test it now. Works absolutely fantastic.
Idle temps are 34, At load 64. Noise is inaudible.

Here's whats included:

1x MSI N560GTX TI Twin Frozr II/Over-clocked Edition card
2X 4-Pin dual Molex to 6-pin Power adapters
1x Mini HDMI to HDMI converter
1x Quick Start Guide
1x Installation Manual

Bill will be delivered via E-mail to the buyer.

CARD SOLD


Here are the Pics: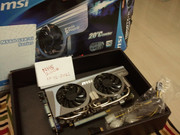 Please buy soon, Its very hard to not be able to put this beast in my PC! (Currently with Radeon HD4200 on-board!)
CAN GET:
Cards are in pristine condition!
MSI Twin Frozr III 6950 HD PE/OC 2GB
Sapphire 6950 HD Dirt 3 Edition 2GB
Asus N560GTX Direct Cu II
P.M. for more info.