This is going to be long post. It is about build log of my rig I built in August, 2019 and still evolving it. Specs are;
CPU: AMD Ryzen 3 3200G
Mobo: MSI B450i Gaming Plus AC ITX mobo
RAM: Crucial Ballistix Sports LT 2 * 8GB DDR4 3000MHz CL15
GPU: Gigabyte RX570 Gaming 4 GB (upgraded from IGP while I originally build)
PSU: Corsair SF450 80+ Gold SFX PSU
OS drive: Samsung EVO 970+ NVMe 250GB (upgraded from Crucial MX100 250GB while I originally build)
Data drive: WD Red 2TB
Case: Silverstone SG13
Case fan: Thermalright 120mm PWM fan (adjusted from Arctic 140mm fan while I originally build)
Keyboard: Rapoo Wireless Bluetooth and 2.4G keyboard
Mouse: Rapoo Wireless mouse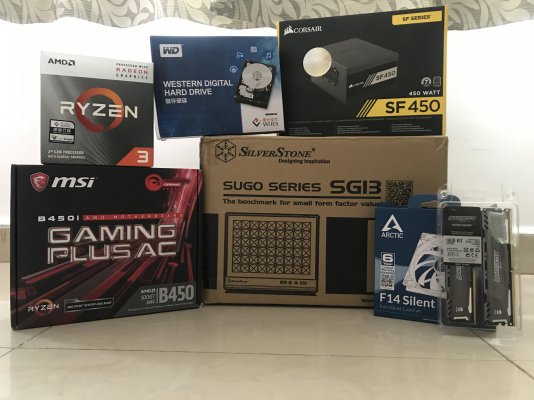 I was using my HP Envy laptop for about 2.5 years with capable enough specs but it IGP on it was utter crap. It was with i7-6700HQ, 8GB RAM and 256GB SSD with IGP being Intel HD530. Before this laptop, I had few desktop builds since 2005. First being Intel Pentium 4, moving to some Dual Core Intel with AGP GPU which could not run GTA VC. My first proper desktop built myself was in 2008. C2D E6550, 4GB RAM and XFX 8600GT as backup till 8800GT was to launch. Gaming was great fun on this; you throw a game at this and it will chug through it. My journey evolved from this build to my last desktop with Phenom II X4 955, 8GB DDR3 and HD6950 which could be unlocked to HD6970. Before final hoorah to this build, I got amazing deal for GTX 960 on Amazon. That's it; life progressed, I got introduced to consoles and landed on the HP laptop mentioned above.
This laptop was again scored in epic deal from USA but keyboard gave up and I had to use external keyboard as keyboard was mounted on lower body using rivets. So no easy replacement for it. Coupled with this keyboard nuisance which I think I lived with for about 1-1.5 years, I wanted to have a desktop once again but in a different way! I would use my TV as display, I would build a compact one. This is because I moved to city with convenient but expensive shoebox sized apartments where space worth each tile is asset.
Few pointers:
Idea behind this build is to start and evolve gradually – add things as need feels.
Being in HK, I have great flexibility to source parts. This would mean that some parts are easily available here and are cheaper too. If not available, Amazon USA, Taobao (China) are great sources.
Because of point 2, cost of my build is in multi-currencies viz HK$, US$ and RMB.
Few things were decided, compact SFF case, ITX mobo and Ryzen APU to start with.
About case first, I had my eyes set on Thermaltake Core V1; it got great front mesh panel, plenty of space for PSU to reside in bottom with all long wires and hide them behind transparent panel extending only till mobo compartment. I was all set on this case but then I was introduced to Silverstone SG13 by
@prabs
Initially, I thought this case is very small and would be difficult to build in to but as I read web and saw videos, I was convinced that this is the one. Next was to hunt down one, locally this was not available and required 2-4 weeks lead time with cost around HK$400. Turning to Taobao, this was ready in stock for ~RMB 250 with shipping from seller to my doorstep (this type of shipping is expensive on Taobao. Generally it is club all your orders from various sellers at a warehouse in Guangzhou and consolidate it to one parcel to be delivered at your doorstep. This turns out way cheaper.) Some pictures of this beauty. Mi A1 for size reference.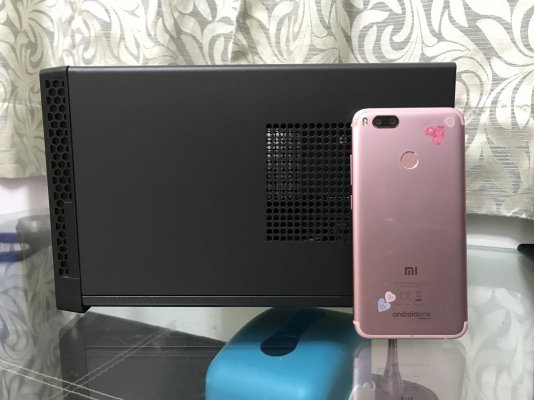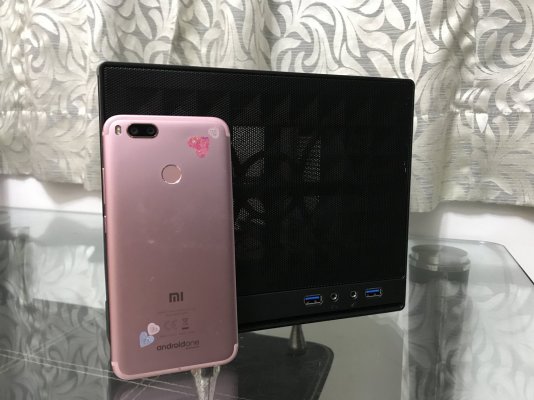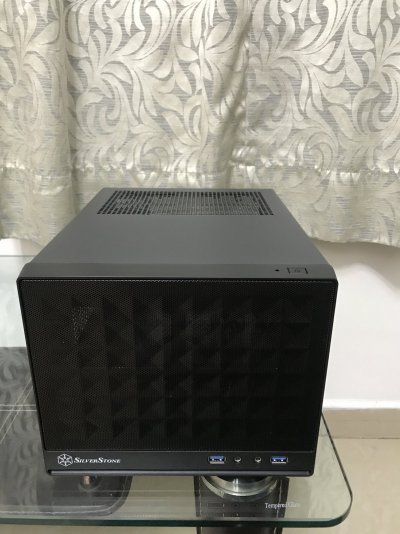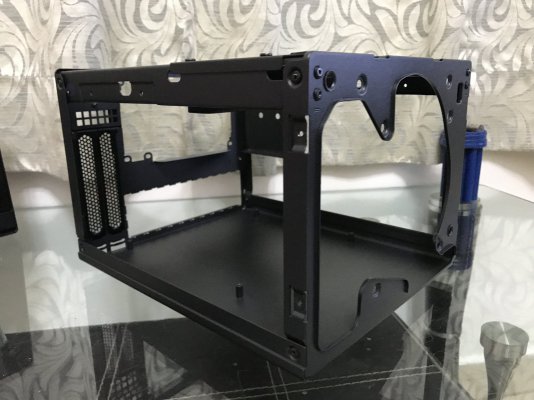 Next is motherboard; having decided on Ryzen APU, my research led me to MSI B450i Gaming Plus AC ITX motherboard. It is praised for good VRM design. Sourced mobo locally for about HK$800.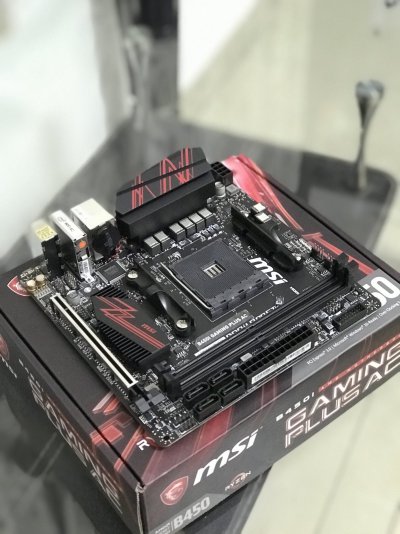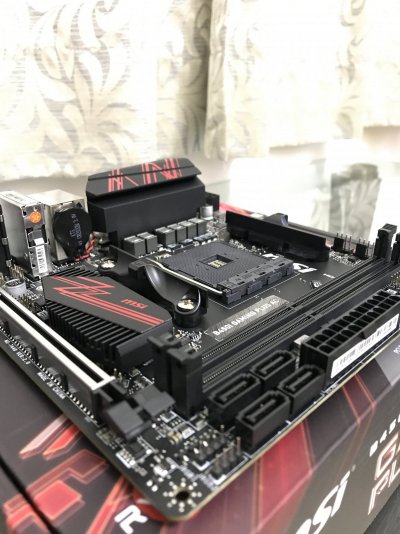 Coming to proccy; I was in between of Ryzen 5 2400G and Ryzen 3 3200G. Various online comparisons and reviews favored to Ryzen 3 3200G for VFM aspect. At this time, it felt that this should be good starting point, hold good for my needs and suffice till final series of AM4 proccies are out – after all AMD would support AM4 socket only till 2020, anything beyond is bonus actually. Proccy was bought locally for HK$770.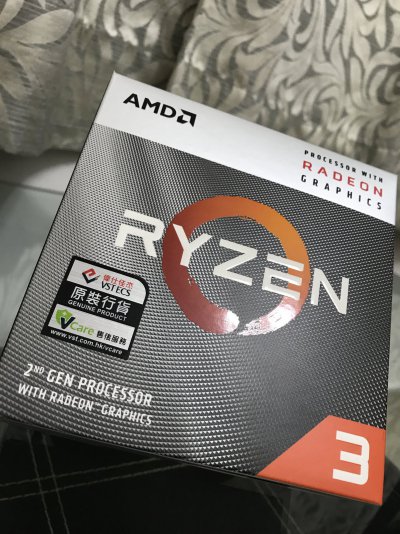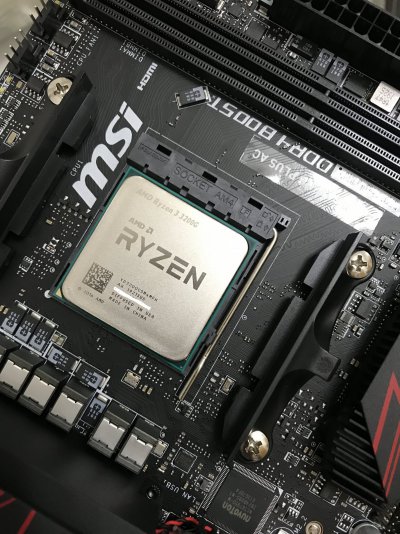 Ryzen generally loves fast memory and initial build without dedicated GPU would rely on Vega 8 IGP which definitely needs fast bandwidth. Sweet spot for RAM's price-performance ratio was talked about at 3600MHz. Beyond this memory prices were not proportionate to performance improvement and beyond 3733MHz AMD's infinity fabric would switch to 1:2 ratio – again detrimental for performance. Reading about B-die memory and their effects but being pricey, made me read more on web and on scouting, I found gem of RAM in Crucial Ballistix Sport LT. These are E-die memories and excellent overclockers. These were neither available in HK locally nor on Taobao. Turning to Amazon USA, I found them for about US$70 shipped. I added a 140mm fan along with this for cooling my setup for US$8.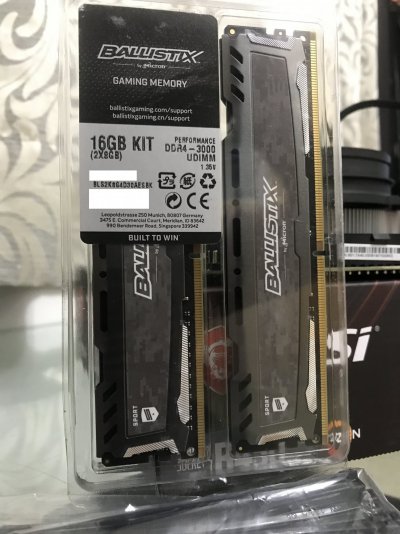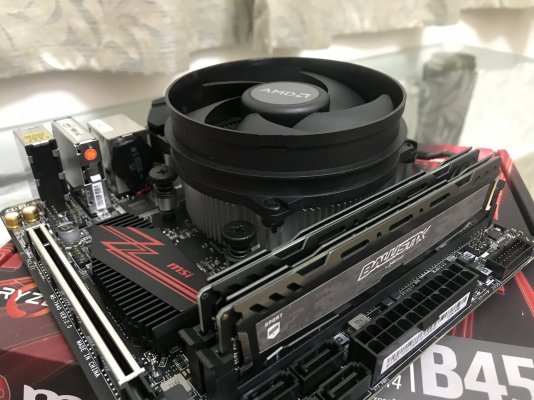 I repurposed SSD from my existing laptop. It was Crucial MX100 250GB serving me nicely since years. For storage, I got WD Red 2TB 3.5" drive.
Now to PSU, I required about 450-500W PSU for current build + future headroom for any addition of hardware. Again reading extensively on web, I decided on using either SFX-L or SFX sized PSU. This is because cabinet has less volume and using ATX size PSU is doable but maintaining thermals, cables was nightmare. Having narrowed down size, my options were Silverstone ST455F and Corsair SF450. While Corsair one is greatly reviewed, it was expensive, modular and required me to buy mounting bracket required to mount SFX/SFX-L sized PSUs separately. Former was comparatively cheaper, non-modular and came with mounting bracket required to mount SFX/SFX-L sized PSUs. It also had two versions – v2.0 with 80mm fan and v3.0 with 92mm fan. V3.0 was desirable and in search of it, I called quite many retailers locally but all they had was v2.0. With no other option I went with Corsair SF450 for HK$720 including mounting bracket. At that time, it exceeded my budget but it is a solid tiny beast. I have compared size of it against 140mm fan.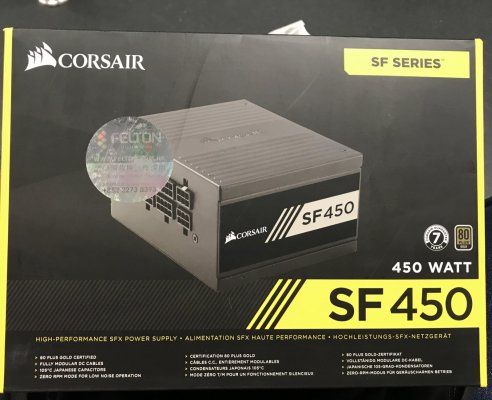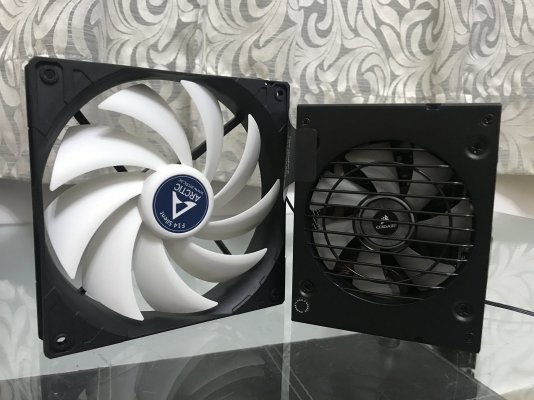 About GPU, initially I planned to rely on IGP and stayed for like 2-3 months but all the time I felt, a VFM dedicated GPU would be more useful and provide satisfactory experience. This is the only component I did not want to spend much, kept my budget strict to HK$500 and explored pre-owned options. One more round of reading web, comparing benchmarks, finding sweet spots and options available led me to RX 570. I could find Gigabyte RX570 Gaming 4GB in my budget from used market with 1 year warranty remaining. I happily got it and realized, GPU, 3.5" HDD in upper tray and 140mm fan are too cramped. I had to adjust fan from 140mm to 120mm in order to make comfortable room for wires and ports of HDD and GPU – so as both do not 'clash' with each other. In this adjustment, I moved from Arctic 140mm fan to Thermalright 120mm PWM fan. Thankfully, this did not cost me anything extra as I could set-off cost by selling 140mm fan.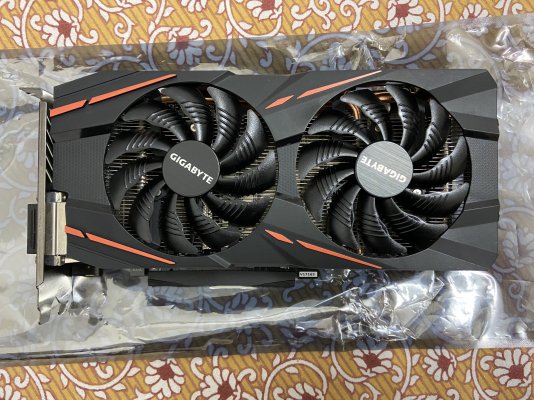 Finally, for peripherals, I got wireless offerings from Rapoo. These were sourced from Taobao for about 200 Yuans. Keyboard was selected specifically for it's feature to operate on Bluetooth as well as 2.4 GHz channel. Another must was full sized arrow buttons. All this in compact form factor !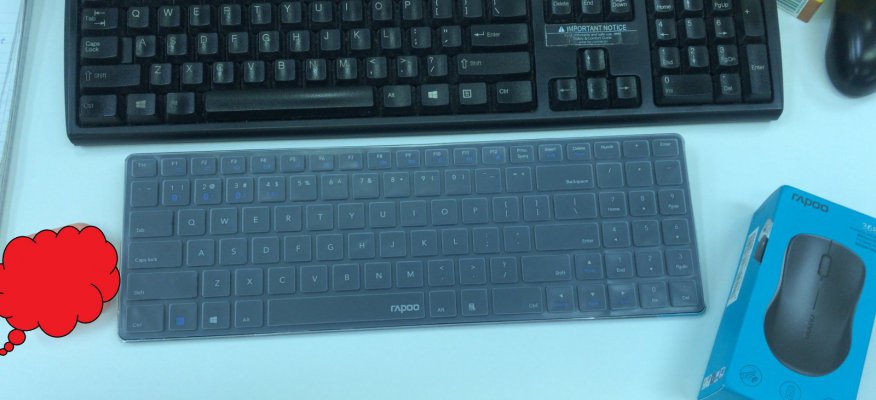 It took about 1 week to source and receive all parts. It was great fun building in limited space. I had watched plenty videos and made myself acquainted to case and build processes. Till the time, I did not had GPU, it looked neat but kind-a empty as well. But after GPU, it is still neat but no longer empty! Thermals are good in this case. Idles are in 40ies and load varies from 60-70ies. Noise levels are non-audible unless it is late night with no fan or air-con running. Overall happy and satisfied with build.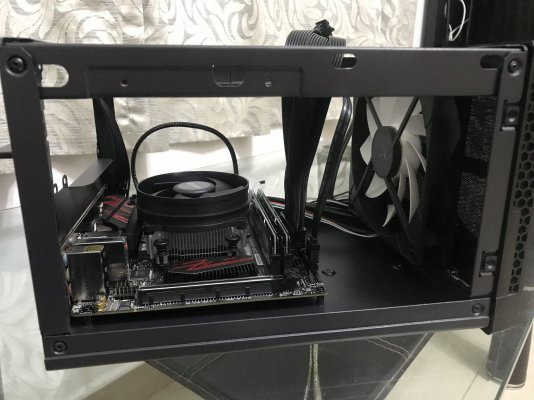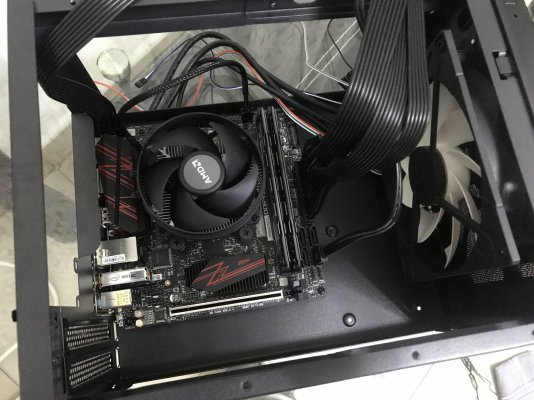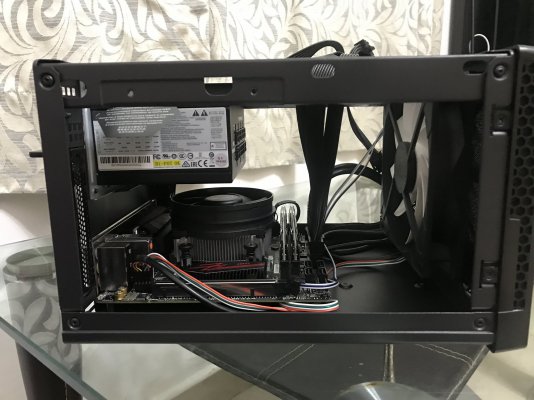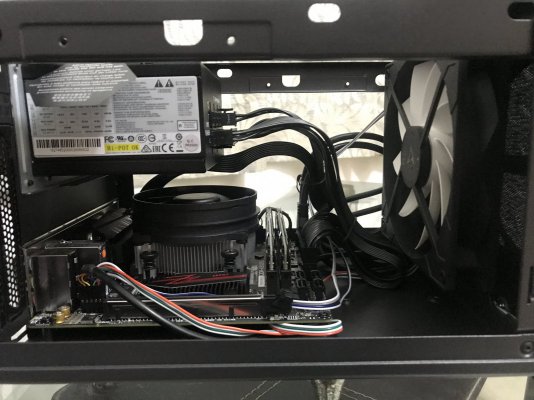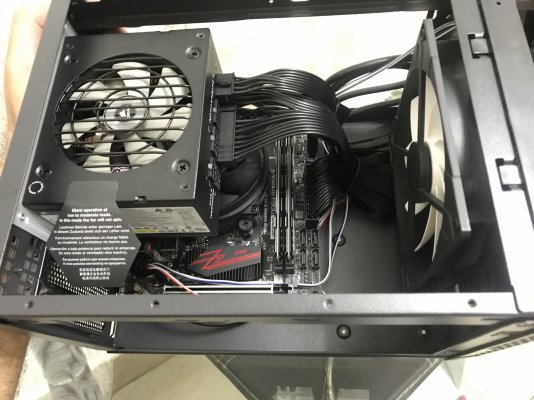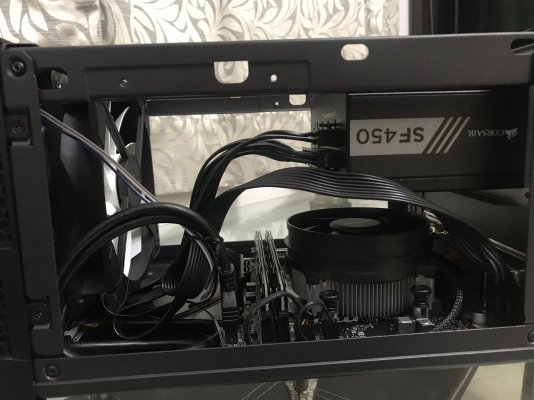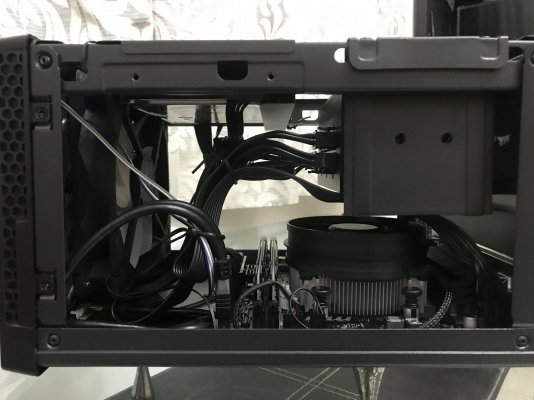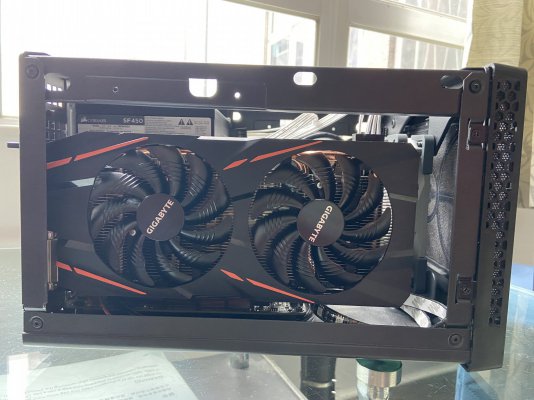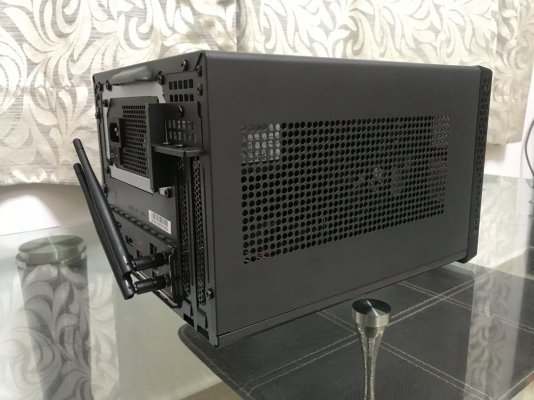 Since this is evolving build, I would upgrade CPU in future. I would like to get something VFM from last series AMD's AM4 socket processors. On GPU side, only if need arises and I have enough time to devote on all those games, I would think of something – unless there are some circumstances which need to change GPU altogether.
PS: This log also has a sneak peak into upcoming overhaul to my this build !
Last edited: