Product Name: Nokia Lumia 920
Expected Price: Rs 25000
Shipping charges: Negotiable depending on courier, Bangalore pickup preferred.
Manufacturer page URL: http://www.nokia.com/global/products/phone/lumia920/
Description if any: Comes with all accessories, charger, cable, headset, box. Good condition. Screen is scratchless. Back has some wear from keeping on table etc. One corner is slightly worn, see image.
Reason for Sale: Moved back to android.
Product condition: 8.5 out of 10
Purchase Date: 7th March 2013
Remaining Warranty period: 7 months remaining
Warranty available in: India
Invoice Available: Yes. Invoice is currently in Delhi. Pic posted. Original Invoice will be shipped to buyer as well.
Enter these basic information about yourself

Shipping from: Bangalore
Shipping to: All over India, Local buyers preferred
Preferred courier: Any
Payment options: Cash/bank transfer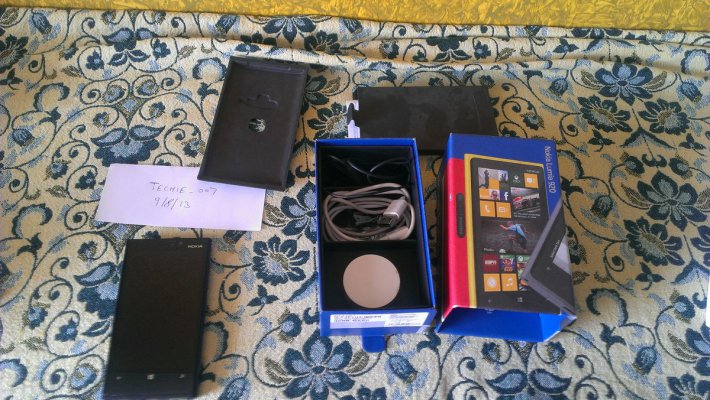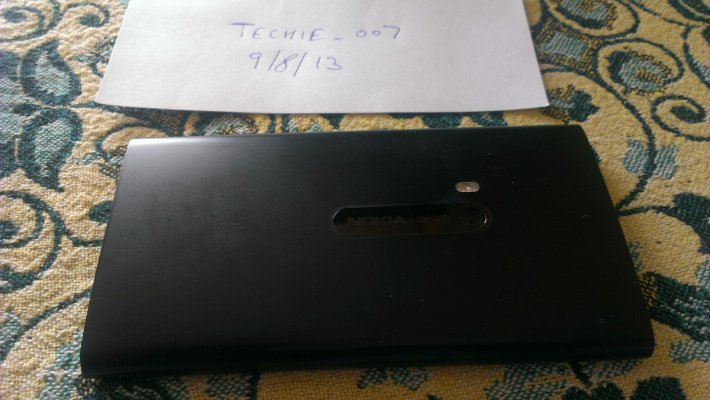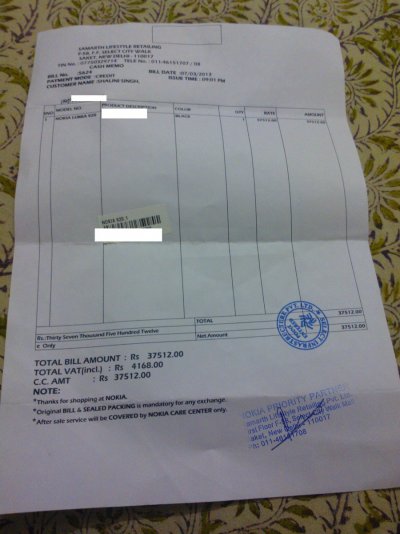 More full size pictures:
https://dl.dropboxusercontent.com/u/10138153/Lumia/2013-08-09 12.23.42.jpg
https://dl.dropboxusercontent.com/u/10138153/Lumia/2013-08-09 12.23.45.jpg
https://dl.dropboxusercontent.com/u/10138153/Lumia/2013-08-09 12.23.55.jpg
https://dl.dropboxusercontent.com/u/10138153/Lumia/2013-08-09 12.24.32.jpg
https://dl.dropboxusercontent.com/u/10138153/Lumia/2013-08-09 12.24.43.jpg
https://dl.dropboxusercontent.com/u/10138153/Lumia/2013-08-09 12.39.25.jpg
https://dl.dropboxusercontent.com/u/10138153/Lumia/2013-08-09 12.39.33.jpg
https://dl.dropboxusercontent.com/u/10138153/Lumia/WP_000040.jpg