Hi guys,
On Sale:
Palit Sonic GTX 260 Core 216 (Only card, no accessories or bundle)
Warranty:
NO WARRANTY, I'll give 10 days personal testing waranty.
Reason for sale:
Need money for some reason.
Price:
Rs. 6200 + shipping at actuals (approx Rs. 300)
This card comes pre overclocked with clock speeds of 625MHz on the GPU core, 1348MHz on the 216 shader cores and 1100MHz on the 896MB of GDDR3 memory. Performance is close to GTX 275, 4890. The cooling solution is a custom designed piece that works quite well. The maximum temperatures I saw under a heavy GPU load was 70 degrees Celsius.
Mandatory Pictures: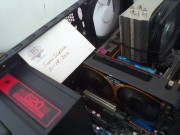 Punjab, Delhi/NCR Buyers preferred.
Interested folks drop me a PM, and please no low balling.