Branch Manager
Staff member
Patron
A good friend gave me this keyboard a year ago as he wasn't using it. I soon realised it had some problems - mainly sticky keys. I assumed it would be easy to fix and worst case I can get some replacement keys to change them and start using the keyboard. Oh how wrong I was!
The keyboard at first - The venerable TVS Gold with Cherry MX Blue switches. The case looked grey and keycaps have wear marks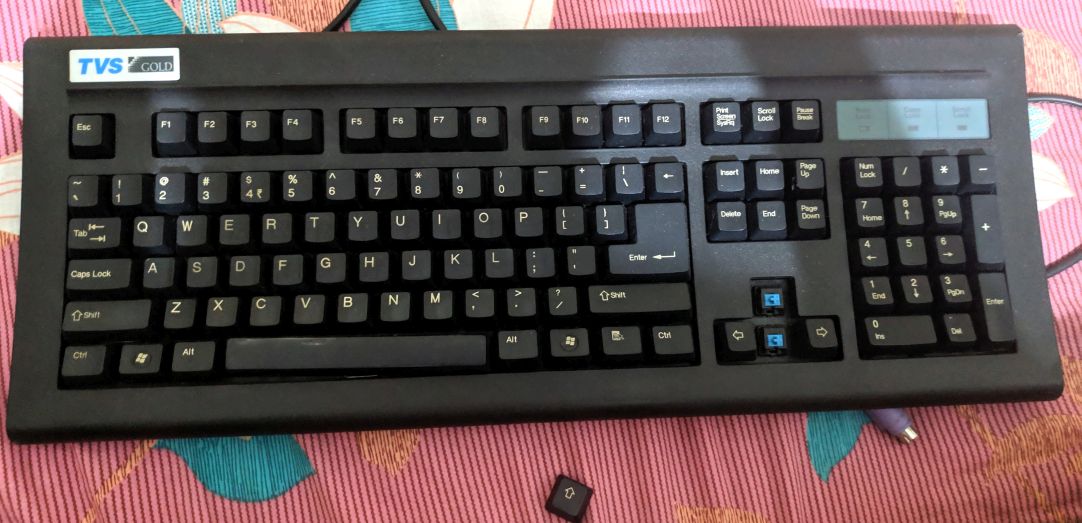 First order of business - start the teardown! Bagged different section of keycaps in different bags so I dont get confused.
The surprises that lay beneath the case
Everything cleaned thoroughly
I assembled everything back together and I saw the main problem - the switches were sticking. They'd press inside and get stuck, the key registers as pressed all the time. AT this point I felt I should just get a bag of 10 new switches from Ali express, change them and call it a day. So I went to Ali Express and ordered a new bag of 10 Cherry MX Blue switches.
I got the switches just over a month later and started checking rest of the switches. Al this point I realised I needed a lot more than 10 - over 20 in fact. Sigh
Sticky keys :
This is when I started doing some research and checking if the old switches can be fixed. I got a few leads on how to make a tool and open the keys without having to desolder the switches themselves. I made tools from a small binder clip, they did not work as the black plastic tray was stopping the switches from being opened.
I grew frustrated at this point and went full retard - sprayed the keys with WD40 hoping they'd fix it. Long story short, they didn't. Ugh. It made the keys feel heavy and weird.
Right now I felt super frustrated and one with this keyboard. I went online and bought myself a Monoprice MP810 and called it a day.
A year later and thanks to the Pandemic I had some free time and finally decided to take up fixing the TVS for good. I read around and made a list of things I needed : Lube/Grease and a small paintbrush. Small paintbrush was easy to get, went our usual stationary shop and asked for the smallest brush they had. The lube was a difficult choice. Everyone online recommends the Krytox 205 which in itself is crazy expensive, not to mention it is not available in India.
I looked around amazon and found this :
Petrelplus SYG-2755 PTFE Teflon Grease(100 gm) : Amazon.in: Car & Motorbike
I hoped this would work, 295rs for 100 grams isn't bad considering I had other uses for the remaining lube. So I ordered and waited. I got it a week later and initial impressions were that it was very slick and it should work well.
Took out the keyboard, broke it down, used a Dsol wik to soak up solder and take out some bad keys
I had to soak the keys first in IPA to get rid of WD40 residue, it was everywhere!
Lube of Choice
Switches opened up and lubed, ready to be put back together.
Initial results were promising - 4 out of 5 stopped sticking and that was a good percentage! I had 10 spare switches and even if there are 10 bad ones it wouldn't be a problem. This is the cue I needed to start with the whole keyboard. Right now I realised I needed something else to help with desoldering, perhaps a desoldering pump? I went to the electronics shop and got myself a desoldering pump, not knowing how to use it or how effective it will be.
Get home and start using. It was useless and super frustrating. Back to DSol wik. It was difficult even with the DSol wik because I had never attempted desoldering in this scale. Destroyed a few traces but slowly got the hang of it and started Motoring.
Eventually I got bored of desoldering these many keys and started with opening cleaning and lubing switches
One big batch done woohoo!
Off to remove rest of the switches. All out except these 6 and I run out of DSol wik!
Aargh, with this being a saturday, I had to wait another 2 days before I can get more from the shop. Rummaged around the garage and found something that might work, Speaker wire! Made of copper with thin strands, this might just work. Hallelujah, it did!
The IPA would turn yellow/orange after soaking around 10-15 switches, All this is the WD40 residue. Some switches even had those dirt balls in them, thankfully all of them are out.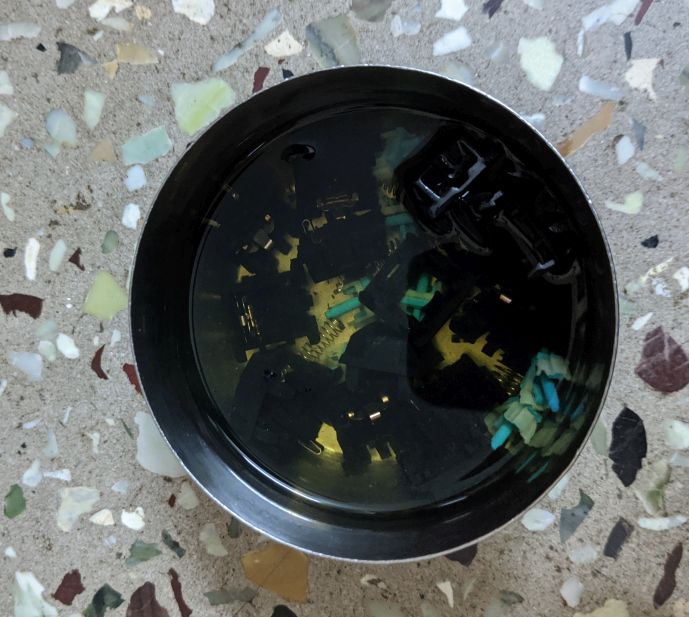 After a long day - started at 12.30PM and finished with desoldering, cleaning and lubing 104 switches by 10.30PM with no break or anything to eat.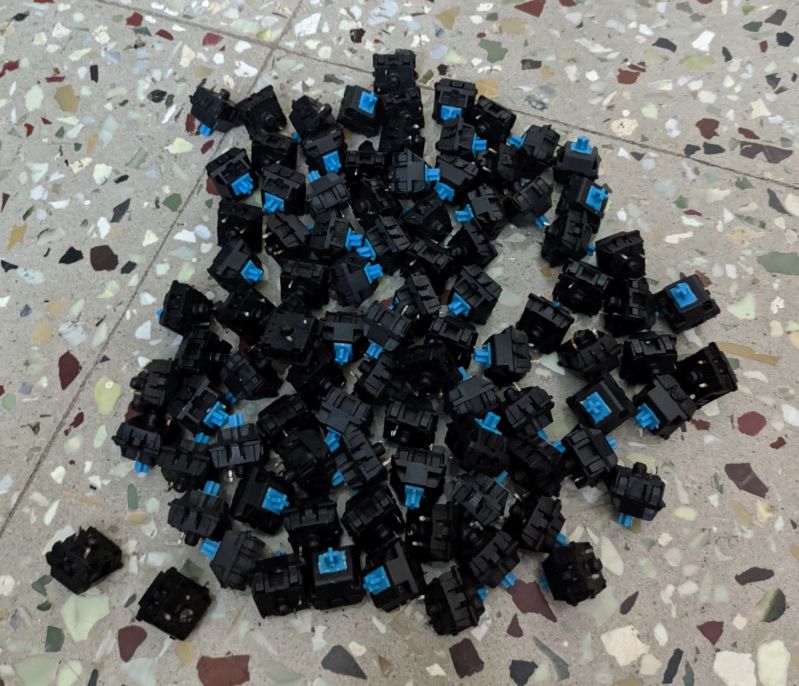 I never expected this project to take so much time or effort. By the end of the day, my arms, palms, back and legs were all aching, so much that I forewent dinner, took some pain meds and slept off.
Come next day, it was time to finish off everything. I decided to give the keyboard a full ceramic coat to bring back the deep black colour.
Start wiping down everything with IPA. Wiping down all 104 keys made me decide to forego coating the keys - its just too much effort.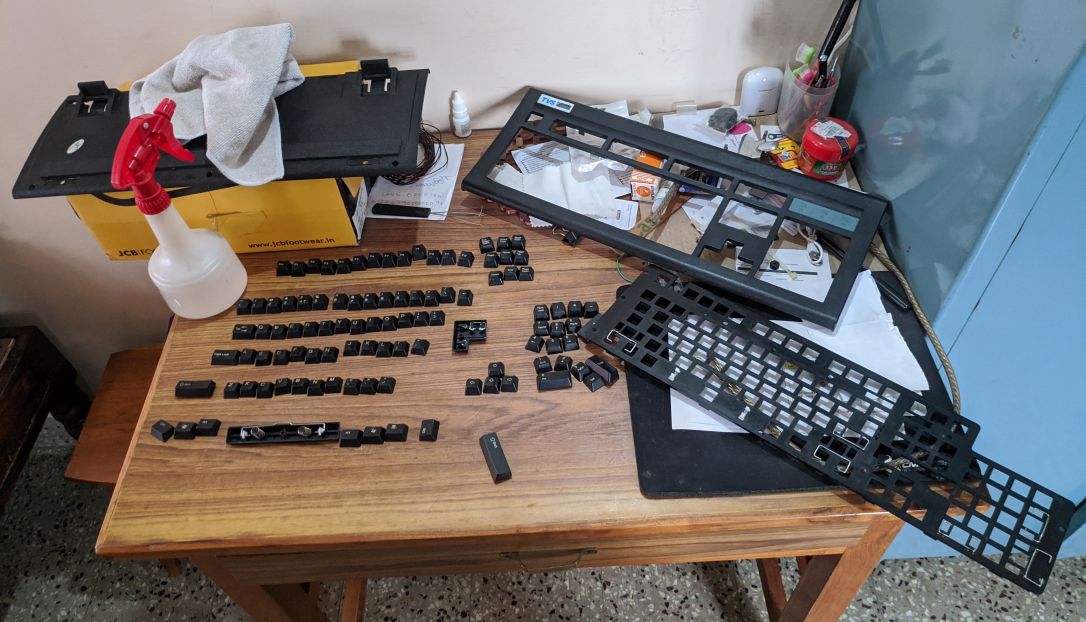 Cases and PCB plate coated. It should make maintaining keyboard easier since dust will not stick readily to coated surfaces.
Once the coating on the plate cured, it was time to assemble the keys

Since I mothered some traces, I had to put in wires to make them work.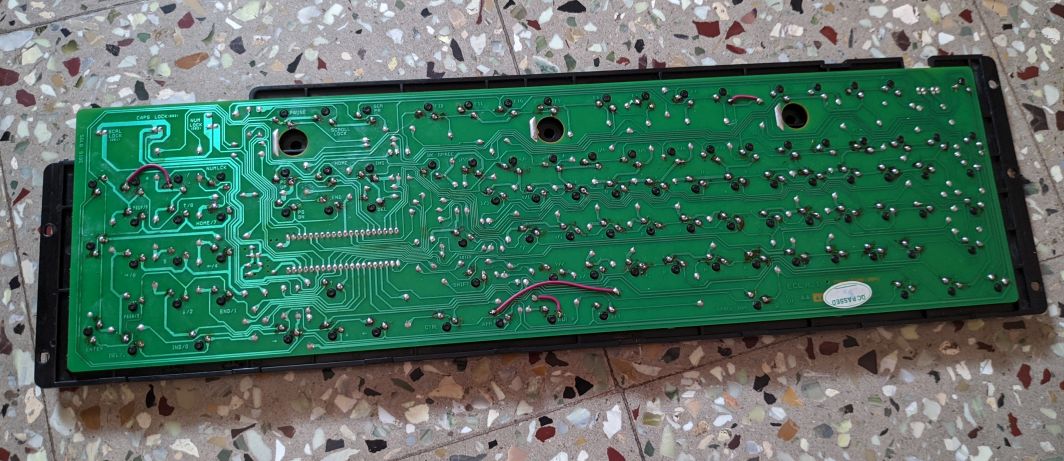 Tried my hand at putting some heatshrink on the stabilisers to quieten them.
Testing 1-2-3
Turns out key for 6 wasn't working. Checked with a multimeter and the key was stuck closed even with the key not pressed. Desoldered and opened up the key, the contacts were still closed. At this point I junked the key and replaced it with a new lubed key from the 10 spare switch set.
And finally, everything is assembled!
Here's a video of how the switches sound - They are super silent unlike MX Blues, more like browns right now, probably because of the heavy/thick lube Ive used. I anyways like a silent keyboard more and this is just what the doctor ordered!