I have long been a fan of the Galaxy Note line. All my phones (barring a impulse purchase Galaxy S6 - Topaz Blue... that colour...) have been Notes (since the OG Note).
Besides that I have had almost every Note Tablet ever launched. All with cellular connectivity.
The Cast of Tablets



1. Note 8.0 (with Cellular Connectivity - 3G at the time) ❤❤❤❤❤❤❤
2. Note 10.1 (ditto) ❤❤❤❤
3. Note 12.2 (ditto) ❤❤❤❤
4. Galaxy Tab S3 (bought here) With LTE ❤❤❤❤
5. Galaxy Tab S4 LTE ❤❤❤❤
6. Galaxy Tab S6 LTE (one I am least satisfied with) ❤❤
7. Galaxy Tab S2 LTE ❤❤❤❤❤

(The note phones are another story)
I love the two 8 inch tablets because for me, they fell in the right space - an 8 inch screen, and an earpiece. The Note 8.0 remains my true love because it was fairly sleek, I could take calls, and I could make use of all the Note features there were. And boy... those were the days when you could write down the phone number with the pen, and the Snote app would recognise it and you could directly call by tapping on the phone number!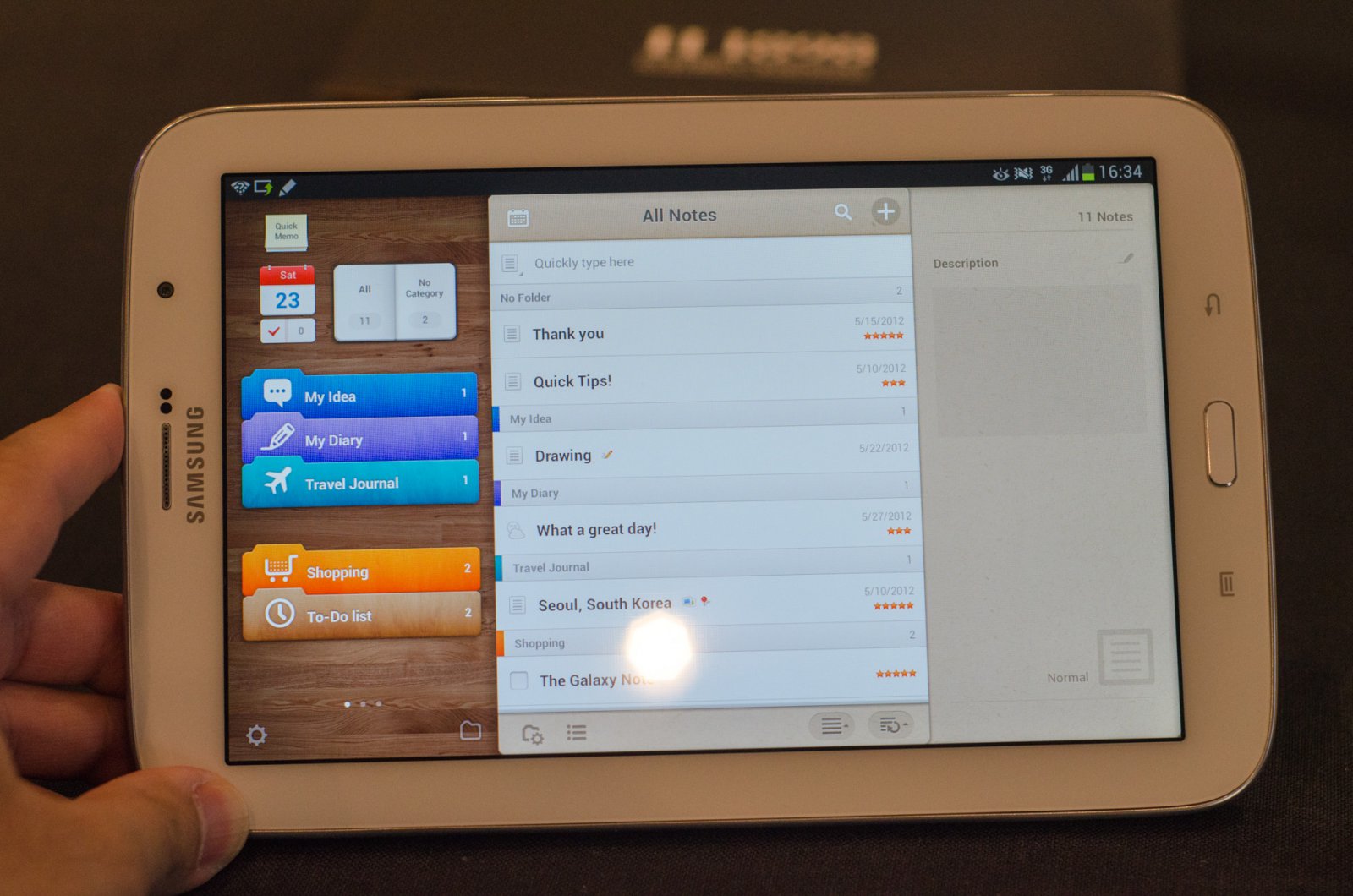 This picture is courtesy AnandTech. The device I wish I still had with me. More details in the story that follows..
Now Back to Business.
After I could no longer use the Note 8.0 (Was with the ex, had a break-up. She refused to return it. She is an artist, and I reckoned it would find more love there), I switched to the Note 10.1 and used that for almost a three years along side the 12.2 which came in a year after I purchased the 10.1 (The 12.1 was largely used for work - to mark-up PDFs and annotate photos and the like..)
Then there was period without tablets before I found the glorious Tab S2. I bought it in Dubai, and used it for a year or so when, some idiot at my work place put a load of books on it while it was lying against a pen. There was crack on the screen (I put it up for sale here - no takers), but it was fully functional. Yet, it pained me to see the much loved device that way and I decided to keep it aside. (It is still with me, carefully preserved in a vault, fully functional with a proper glass screen guard).
Tab S4
That was when I decided to take the plunge and get myself a Tab S4. I was not sure at first, but as days went by, I began to love it. Though not as much as my earlier note devices because there was no away to easily store the pen in a built in silo. But the more proper sized pen started to make its difference felt, and along with SNote and OneNote, the tablet became my primary work driver and device (even relegating my phone to the second spot). With LTE and a headphone jack, it was just as easy to take calls (I do not receive or make that many) on that.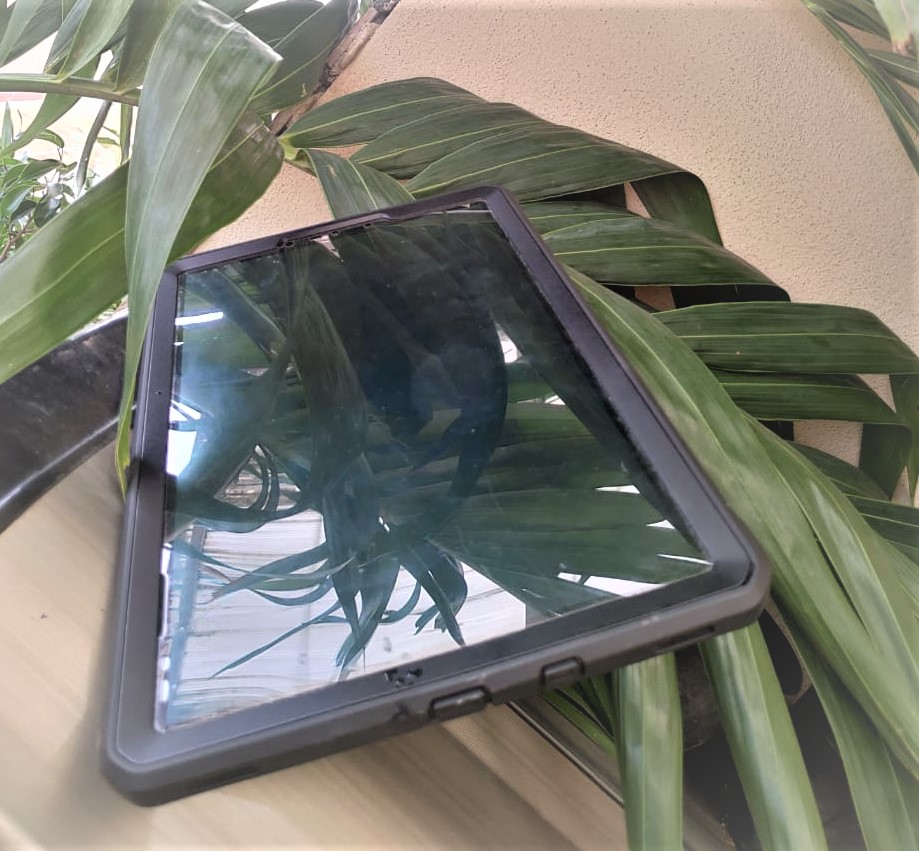 The Tab S4 is in a Unicorn Beetle case because it is used in places like the kind you see it in. In unforgiving office spaces where idiots abound and garden spaces with flowers, leaves, and copious mud.
Bigger keyboard, more screen real estate, Samsung account and Sync and the strangely much loathed Samsung UI (which I shamelessly love) made the device an absolute pleasure. At a pinch, I could also edit documents, and make some minor edits to videos and pictures on that (though, I am a desktop junkie for stuff like that). I could also read the occasional magazine (regular books are paperbacks or read on the kindle) while making notes on OneNote and getting on with my job of being a part-time author.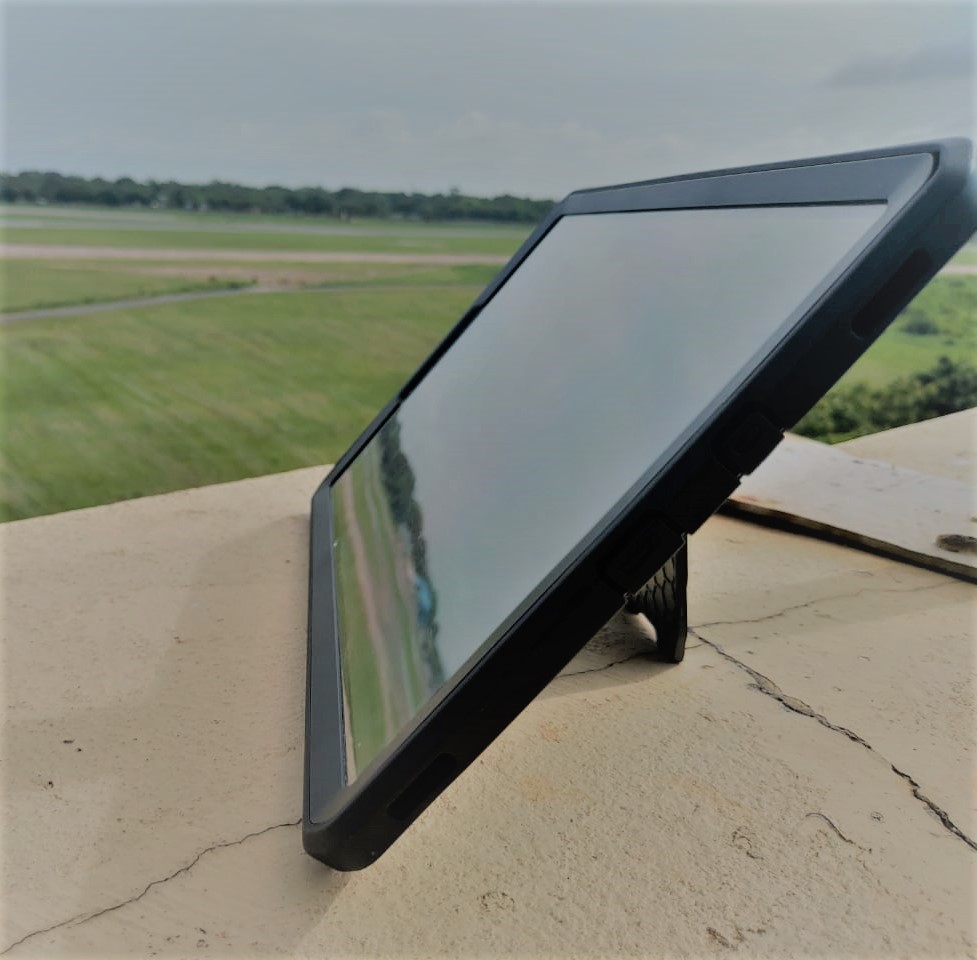 This thing lasts pretty long, and we usually charge it once or twice a week depending on the use. It is about a year and a few months old
The battery life was and still is fantastic. And I never had a problem with it lasting a full day. The four speakers which are fantastic, meant that I could annoy people around me when I wanted. Since I usually buy devices with cellular connectivity, using Maps on the go, accessing 4 different emails, and generally using my work portal to annotate PDFs and take the occasional skype call was dispatched with utter ease. Thanks to the updated Canva app, I could also post some social media content (work related), update the twitter feed, and write some SEO friendly blogs (with a mechanical keyboard, of course) while on the go.
The SD card slot meant If I needed it, I could load-up some movies without worrying about running out of the 64GB storage on offer. But for the most part, with very slight bit of diligence, the 64Gb is still plenty, and the tab is still being used daily and is yet to worry us in terms of storage space.
The pen that came with it is something that I like, but I still prefer the design of the SPen that came with the Tab S3. As for the Tab S6 and that SPen, we will come to that in a while.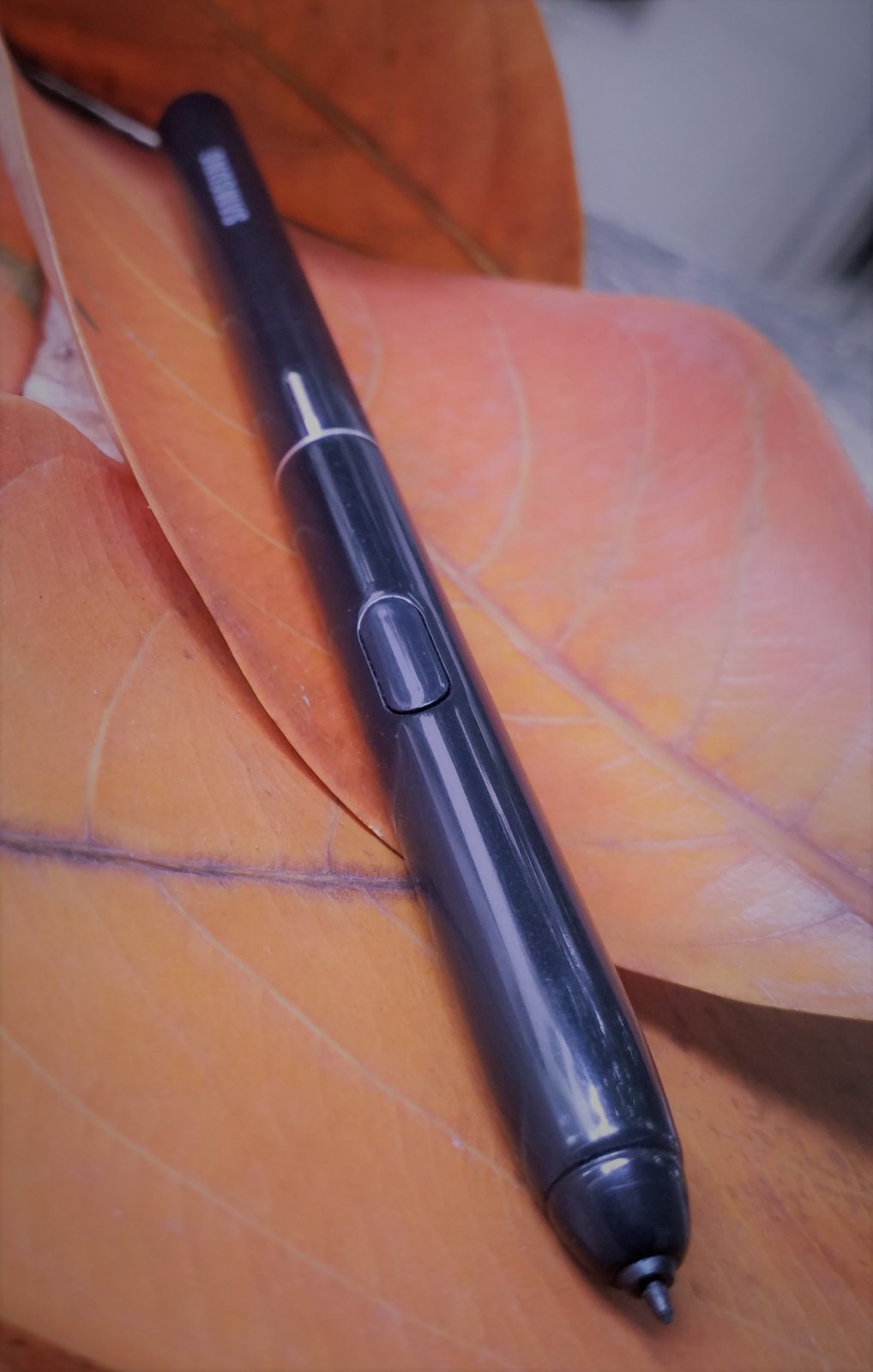 My biggest grip is with the design. First, there is no place where the pen may be stored. That itself is a bummer. Second, there is no way to secure the pen either. The earlier version of the SPen came with at least a clip like normal click-pens do. To add to that, it had a flat design, this however is a rolling prone barrel design with a slight nub that rarely, if ever, does its job of preventing the pen from rolling to where it wants to!
Here on the left you see the SPEN in jackfruit-leaf litter.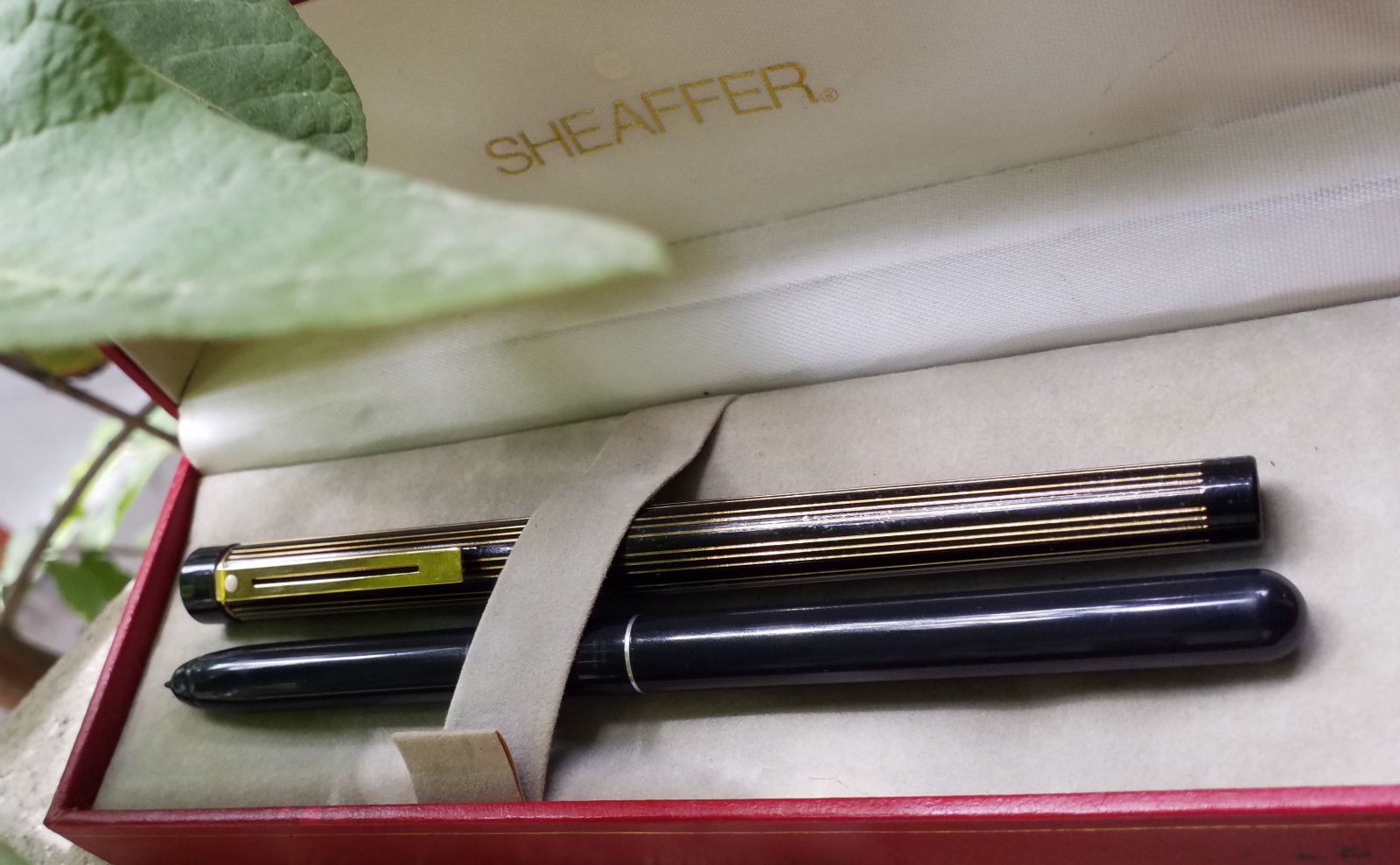 The size, the performance, the nib smoothness and the two kinds of nibs they provide are all great as usual, but the design gets to me every time! Why does Samsung have to do this every time? First they tried it with the Note 5 (removing external storage), then with Note 10, with the damned low-res screen and axing of the headphone jack (both devices, I did not buy).
On the right is the SPen lying with a 1972 Sheaffer fountain pen, in the shade of guava leaves.
They are perfectly matched for size. As for the design, you already know what I think! Once again, no points docked for performance. Also, the pens till the S4 do not have any connected features. And for that reason, easier and cheaper to source if they decide to lose themselves.
But, then, Tablets are a bad habit, and the Note line of tablets and phablets are, like @mh09ad5578 put it, an addiction. And to quote some advertisement of whatever potato fritters they were, no one can have just one....
and neither do I....​
Battery Life: 7hrs SOT
VoLTE: Yes
Works as a phone: Yes (but no earpiece)
Any Caveats: Not Samsung Pay compatible
Software: Android 10 with One UI (I personally love it)
App Crashes: None Experienced
Banking Apps: Tested ICICI, SBI, HDFC - All recognise it as a phone
Whatsapp: Works as it does on a phone
.... Coming up whenever I have the time Tab S6 and S3 and S2
Last edited: