Hi,
Up for sale is my beloved Sennheiser HD580 with HD600 grilles and HD650 cable.
It is practically a HD600 with an upgraded cable since the HD580 has the same drivers as HD600.
A New HD600 retails for 23k so I think it is an excellent deal.
You can read the reviews online. It is considered one of the finest dynamic headphone & a true classic.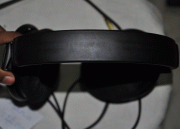 They are in perfect working condition. The Sennheiser logo paint on the headband was getting flaky & was removed completely by previous owner.

Lowballers shall not be entertained.