Sony has launched the new NEX range of cameras its supports the new E mount lenses and with optional adaptor regular alpha ,carl ziess and minolta lenses.
the NEX5 and NEX3 both have a APS-C size 14mega pixel HD Exmor sensor
They both can shoot HD videos NEX3 720p and NEX5 1080i but has a magnesium alloy body.
Sony NEX-5 Preview: 1. Introduction: Digital Photography Review
size comparision
http://cache.gawker.com/assets/images/comment/4/2010/05/5d9b3aea747da366f08b35954d2c953f/340x.jpg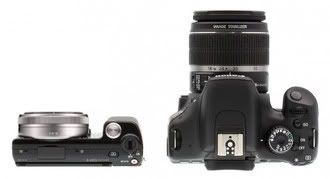 its competitors are olympus and panasonic with the micro 4/3d lens mount based cameras such as GH1 ,GF1,EPL1 etc which currently are priced on the higher side compared to the new sony NEX cameras.
as far as performance goes the below pictues speak for themself(note the image from sony is a pre production model).
http://daten-lager.net/files/file1273566574NEX5-EPL1-GF1-GH1.jpg
looks like sony have got themself a winner,considering the more expensive panasonic /olympus compact cameras with interchangeable lens sell like hot cakes.Sony with much better marketing and cheaper price should do well.
Sony will also soon be launching camcorders/Handycam with the same sensors and interchangeable lenses.
[youtube]O2gfQ8nxTBs[/youtube] [youtube]zARQij5ZSLE[/youtube]