God of War Ascension (Special Edition)
- Sold
Purchase Date - 5th March, 2013
Note - DLC Codes Used
Selling Price - Rs. 1800 Shipped
The Last of Us (Standard Edition)
- Sold
Purchase Date - 17th June 2013
Selling Price - Rs. 1900 Shipped
Pictures -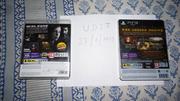 Purchase Invoice Available:
No.
Product Condition:
Used.
Product Location:
Kolkata, West Bengal.
Preferred Courier:
DTDC
Payment Options:
Bank transfer
Click here to Send a Private Message to me and Buy.
Click here to view my iTrust Profile.
Do not post your e-mail address or phone number here for your own safety.
Any phone numbers or e-mail addresses will be deleted
.
Last edited: