Update
:
The new Ryzen 9 3950X will top the stack of new Zen 2 based AMD consumer processors, and is built for the AM4 socket along with the range of X570 motherboards. It will have 16 cores with simultaneous multi-threading, enabling 32 threads, with a base frequency of 3.5 GHz and a turbo frequency of 4.7 GHz. All of this will be provided in a 105W TDP.
AMD has said that the processor will be coming in September 2019, about two months after the initial Ryzen 3rd Gen processors, due to extra validation requirements. The chip uses two of the Zen 2 eight-core chiplets, paired with an IO die that provides 24 total PCIe 4.0 lanes. By using the AM4 socket, AMD recommends pairing the Ryzen 9 3950X with one of the new X570 motherboards launched at Computex.
The Ryzen 3000 series will debut a new product tier for AMD: Ryzen 9. In this case, the Ryzen 9 3900X will be AMD's first mainstream desktop 12-core processor. The processor is the only one of the group that uses two chiplets, in a 6+6 configuration. The 3900X will have a base frequency of 3.8 GHz, a turbo frequency of 4.6 GHz, and line up with 6 MB of L2 cache and 64 MB of L3 cache. This confirms that each chiplet has 32 MB of L3 cache, doubling what we saw on the first generation of the Zen microarchitecture. This CPU has a TDP of 105W, which for AMD processors is usually a good measure of all-core power consumption, and will be enabled with 24 PCIe 4.0 lanes (16 for GPU, 4 for storage, 4 for the chipset)
The Ryzen 9 3900X will have a suggested e-tail price of $499, and it will come with a cooler (more details in the coming weeks). AMD compared this processor in its presentations to Intel's 12-core HEDT processor, the Core i9-9920X, which has an MSRP of $1199 and doesn't come with a cooler.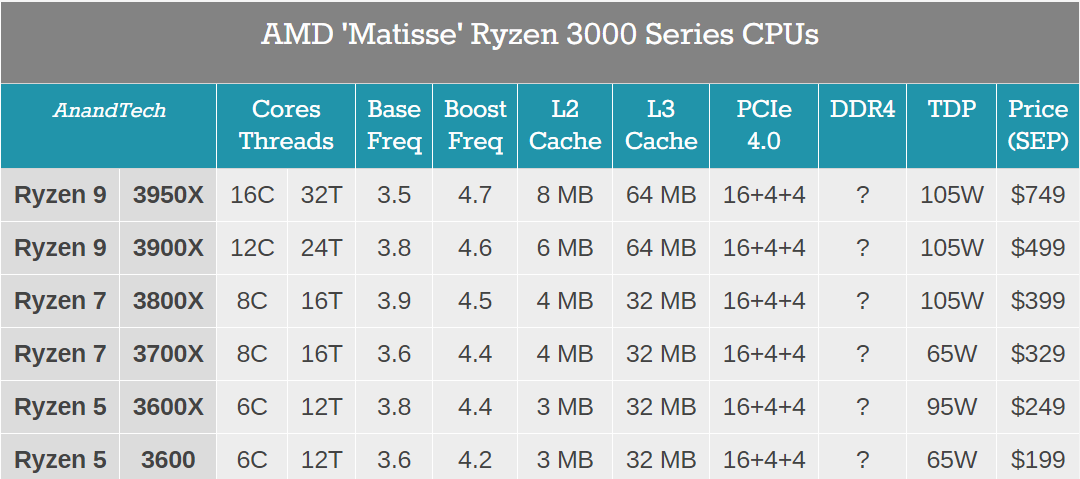 => Looks like 3700x is at a sweet spot. 8C/16T at 65W TDP at $329
Ryzen 3950x geekbench score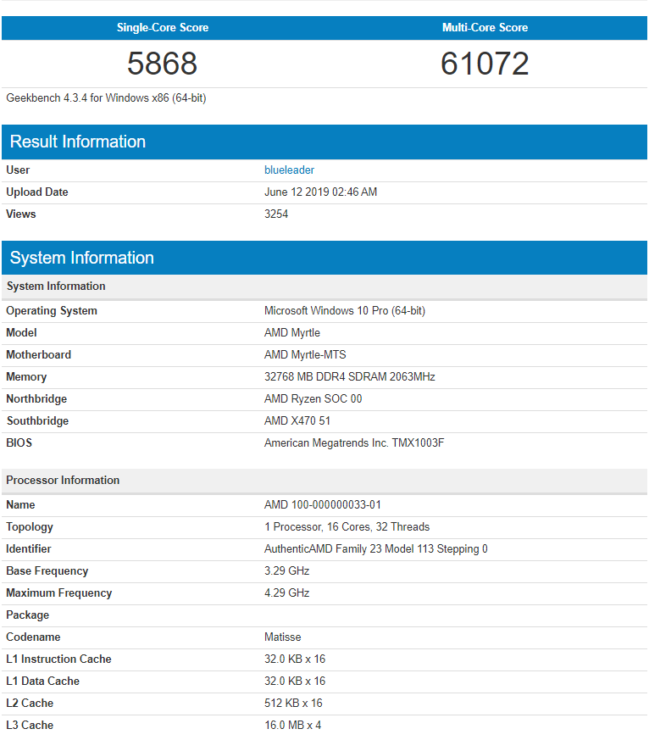 Reference :
https://www.anandtech.com/show/1440...-cores-for-499-up-to-46-ghz-pcie-40-coming-77
https://www.anandtech.com/show/14516/amd-16-core-ryzen-9-3950x-up-to-4-7-ghz-105w-coming-september
https://wccftech.com/amd-ryzen-9-3950x-16-core-cpu-benchmark-leak-crushes-intel-core-i9-9980xe/
Last edited: