Product - Transcend 2x1GB DDR2 667MHz CL5 200 Pin SODIMM Laptop Ram (Lifetime Warranty)

Condition - Used (Excellent)

Price - SOLD

Remaining Warranty - Yes

Reason for Sale - Upgraded to Crucial 4GB Kit

NOTE : -

1)I will Provide DOA Warranty to the Buyer + One Week Personal Warranty from my Side.Apart from that Transcend Lifetime Warranty is there.

2)I will provide the original bill to buyer.

3)Original Packing is available.

4)Looking to sell this as a Kit as it would be easy for me to provide bill to the buyer but most importantly the buyer will have a matched pair of Modules.

Here are the Pics -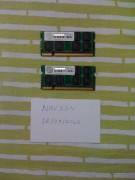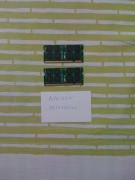 IF YOU HAVE GOT ANY QUERIES THEN PM ME.

PRODUCT WILL BE SHIPPED VIA SPEED POST (EMS).

PRODUCT WILL BE SHIPPED WITHIN 2 DAYS AFTER I RECEIVE THE PAYMENT.