Vinayak Gupta (name changed) bought a Vu brand television (TV) in May 2016 from Chembur-based Kohinoor Televideo Pvt Ltd, with a one-year warranty from the manufacturer. While buying the TV, the dealer told Mr Gupta that he could get an extended warranty for the television just by paying Rs4,523 as onetime payment. Mr Gupta bought the TV with the extended warranty, but shortly after, he realised that the so-called warranty was in fact an insurance cover to pay for any claims during the warranty period.
He says, "We were surprised to see the name of Bajaj Allianz on the final invoice received from Kohinoor but we were assured that this was the normal procedure and any problem in the TV would be taken care of during the period of four years or up to May 2020. We paid for a three year extended warranty (EW) for a sum insured of Rs32,990, applicable from 2 May 2017 till 1 May 2020." As it happens, Mr Gupta did need to make a claim, but more about that later.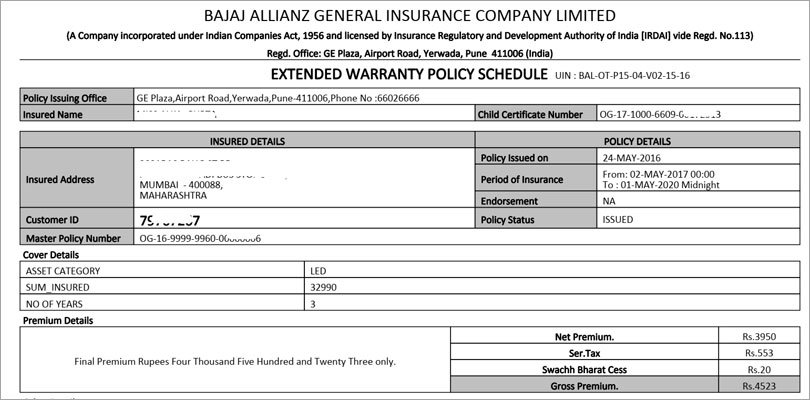 An extended warranty is coverage for electrical or mechanical breakdown. It may or may not cover peripheral items, wear and tear. The indemnity is to cover the cost of repair and may include replacement if deemed uneconomic to repair. However, it is important for consumers to read and understand the terms and conditions offered at the point of sale. In retail consumer electronics, extended warranties cost 20% to 30% of the price, and give sales associates up to 15% commission at some retailers,
says a report from WarrantyWeek.com
.
Talking about its
extended warranty policy, Bajaj Allianz says
, "Any product that you buy comes with a manufacturer's warranty of one or two years, which covers you for any manufacturing defects of that product. Bajaj Allianz's extended warranty insurance policy lets you cover the expenses of repair or replacement of your product even after the expiration of manufacturer's warranty."
Coming back to the Guptas, the TV worked fine till January 2019 when its screen went blank. Mr Gupta registered a complaint on the number provided by Bajaj Allianz on the policy document. He was assured that his TV would be repaired within three days and in case it could not be repaired, then Mr Gupta would get a new TV as replacement.
Next day, someone called Sarfaraz visited Mr Gupta's home. "This person claiming to be an technician from Bajaj Allianz did not show any ID. He checked the TV, and took some photos with his mobile. He left our house without giving us any copy of his report or even an acknowledgement. When asked later, Sarfraz told that he had prepared a job sheet and sent it to the insurer," Mr Gupta says.
On the very next day, Mr Gupta received three calls from same mobile number informing him that his complaint was forwarded to Vu. The callers who identified themselves as Nilesh, Sagar and Sonali, told Mr Gupta not to inform the TV company about the EW from Bajaj Allianz else they will not repair the TV. They also told him to pay visiting charges for the Vu technician, if asked that would be reimbursed.
Same day one Vinod from Vu TV visited Mr Gupta's home and checked the TV set. "He told us that he will inform his seniors and Bajaj Allianz and that he will come with some part to be replaced the next day. On 24 January 2019, he came with an electronic board. He opened the TV, replaced the board and switched it on. However the TV still did not work. He told us that he will inform his seniors and Bajaj Allianz by mail. He, however, did not give any concrete line of action or the next steps," Mr Gupta says.
When Mr Gupta called, he was told by Sonali that they have spoken with someone in Vu and the TV manufacturer is arranging for some parts to be replaced and would send a quotation. But nothing much was happening either with the insurer or the TV maker.
On 29 January 2019, Mr Gupta managed to speak with one Anil from Bajaj Allianz and Nilesh. He says, "In the afternoon, we were informed that a quotation of Rs38,000 given by Vu for the panel is very high and they can neither get the TV repaired nor they can replace it. He offered to give us Rs22,000 against the EW policy. He was not willing to give any concrete answer as to why Bajaj Allianz was unwilling to reimburse the entire insured amount. Meanwhile, Vu did not take any responsibility to get the TV in working condition."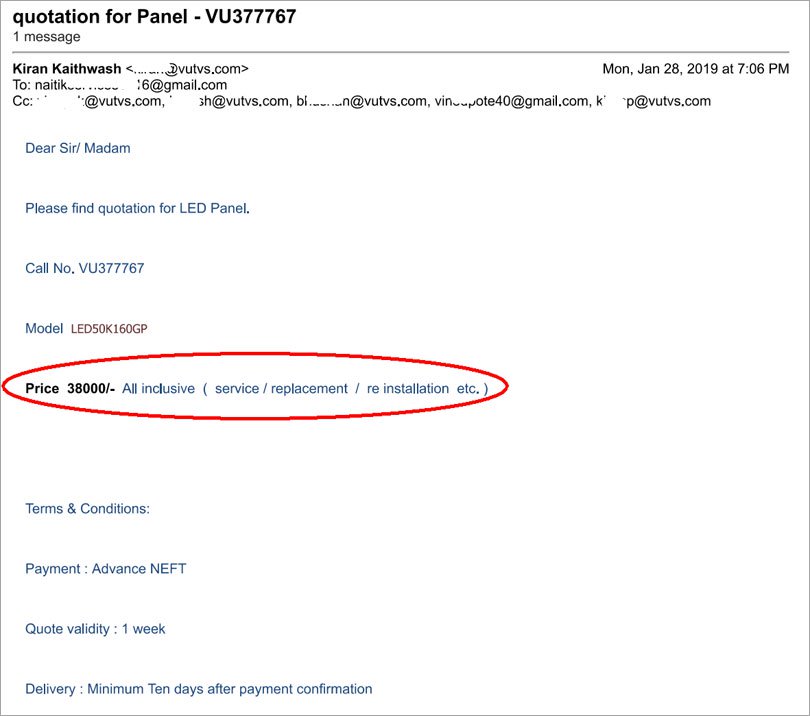 Mr Gupta also received claim summary cum claim form and a consent letter from Bajaj Allianz for settlement of his 'extended warranty' insurance policy. "The claim summary is filled partially and the consent letter is a completely one-sided document asking us to forgo all our rights and cancel the policy from the date of loss. The document offers a meagre amount of Rs22,267 as full and final settlement, which included the value of scrap value of the TV and close the issue forever. This would be the depreciated value of the TV," Mr Gupta says.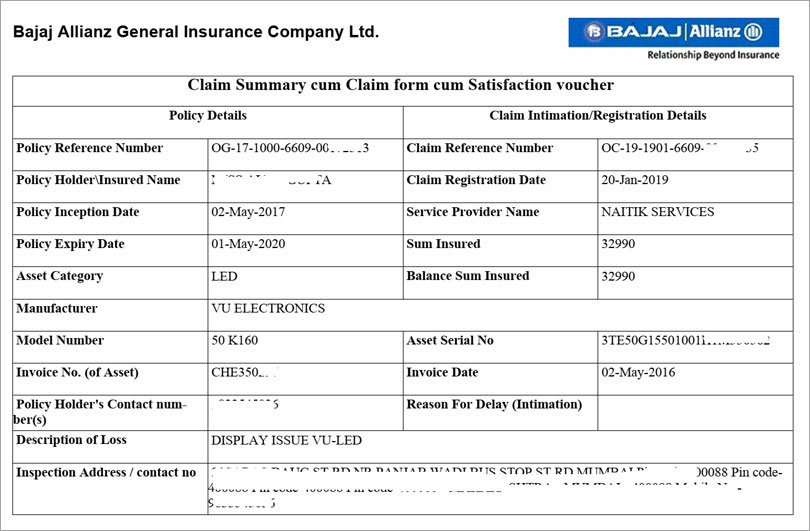 Mr Gupta wanted to file a case in district consumer forum against Vu TV, the dealer who sold him the extended warranty policy and Bajaj Allianz. He along with his wife visited
Moneylife Foundation's daily free guidance clinic for guidance
.
After discussion, Mr Gupta was given two choices, file a case in consumer forum or accept the offer from the insurer. Filing case in a consumer forum has become a time consuming issue as the first hearing may not take place for about three months and how many days it will take for final judgement. In addition, there is no guarantee that Mr Gupta would have received his entire claim amount of Rs32,990. There is also a cost for filing complaint in consumer forum, like drafting complaint, affidavits, attaching all proof and then making multiple sets of this complaint.
Since Mr Gupta had used the TV for about two years, and with prices of new sets falling day by day, it was suggested to him that in this exceptional situation, it may make better sense to use the proceeds received from Bajaj Allianz to buy a new TV from reputed company instead.
"We discussed your suggestion among our family members and found it was practical solution that would give us peace of mind. So we agreed to the claim settlement. Bajaj Allianz collected our non-working TV set and within three days paid Rs22,267 as agreed. We will be buying a new TV set and this time would check if the extended warranty is indeed provided by the manufacturer and not an insurance company," Mr Gupta concluded.
While Mr Gupta has got away with minimal damage from a bad deal, this may not necessarily be the case with other products, which do not depreciate as rapidly or where technology improvements do not lead to better products being available a lower rates every years.
Yet, most consumers who can afford it, happily pay up for an EW, which may often be hard-sold by an insurance company whose way of evaluating a claim is completely different from what should happen in a straight-forward EW purchase.
Matters like this ought to be adjudicated upon by court or have clear rules prescribed by the Ministry of Consumer Affairs. But that will be another battle for someone else to take up.
Source:
https://www.moneylife.in/article/wh...urance-policy-as-extended-warranty/56620.html