Well-Known Member
Veteran
Aug 8, 2009
2,296
2,017
327
37
Right, so I finally received my "11/11 AliExpress Sale" Shipment today. I had placed the order on the 12th of November. The item was a Headphone Amplifier.
The item got shipped on the 12th only and arrived in India on the 21st of November. On the 22nd it got sent for Customs Clearance at Kolkata Customs LCAO where it got stuck with the status "
CN 22/ 23 Missing or Inappropriate
" status on the 25th.
I emailed Kolkata Customs on the 27th with the following:
- A cover letter (email body)
- AliExpress Invoice showing the payment
- My Bank Details showing the exact amount of the transaction in INR.
- A screenshot of the tracking update clearly mentioning the Tracking Number of the shipment.
I sent that email at 10:47AM on the the 27th of November and immediately got a reply on email from Kolkata Customs Department at 11:55AM which read as follows:

I should mention here that I have emailed them before when my shipments have got stuck but never received a reply, this was a definite first! This email was sent to me by their site admin supposedly (not sharing his name here). So, it can be proven now that they do indeed check emails.
Following this, the shipment was released on the 4th of December and I received the shipment yesterday (05/12/2019). The complete Tracking Status is as follows:

I paid
Rs.2540.92/-
for the item on AliExpress and today had to to pay an additional
Rs.1099/- as Customs Duty
.
The local postman came with the shipment and collected the Duty after handing me the shipment.
The Customs Duty slip attached on the parcel is this: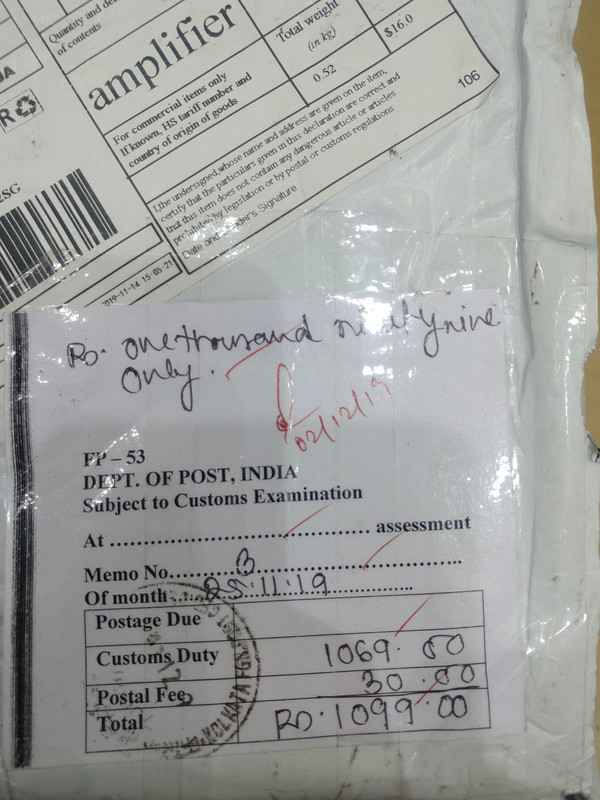 So, I paid approximately 44% Customs Duty.
As you can see below, the parcel clearly mentioned the contents being an "Amplifier" (bold letters) and this I'm sure made the Customs Babu's get very interested:
(Seller also undervalued shipment value to $16 as can be seen above).
The box was big as well, measuring:
Length - 10 inches
W: 8.5 inches
This was actually the only thing I ordered on the 11/11 Sale this year. I usually order a watch but skipped this year because I already got one a couple of months back while traveling. A Seagull 1963 Chronograph had caught my attention but I think I'm actually glad I didn't end up pulling the trigger on it because if that would have been held by Customs I would have had to easily shell out 5-6k as Duty. Next time maybe.
Cheers and I hope everyone here who ordered items on the 11/11 Sale receives them soon and prefererably without duties being slammed on!
Last edited: