Hi all again..one of my friend from singapore gave his cell phone to me to sell it as he doesnt need it. First of all lemme tell u guys he upgdated the phone to OS 4.01 and not able to use it lol...i guess he doesnt want to wait for some new unlock or jailbreak tool to come out hence wanna sell it . He got it from singapore and the phone is completly scratchless top bottom left right any angle u look at it. even the silver border is completly scratchless come on yaar 15 din aur hian.. and he hasnt used it alll and upar se he updated it . He already bought anyone Iphone as he doesnt need it any longer as he cant wait so decided to sell it off..
IMP Thing before u buy this phone
Os upated to 4.01 Box Not there as he didnt get Box kept it at his workplace in singapore.
Headset and charger unused completly.. u can look into the pic ..so if u buy the phone u get headset , charger and the phone of course
..Anyone interested let me know.
sorry for the bad pic clicked from BB 9700 :d
Price 22.5k Mumbai Buyersp refered. Wont be shipping to outside buyers unless they make any arrangement where they can pick it up thru some friend or so..
first of all Brand new phone and amazing price only problem is lock..which will def come .. so price kept is really low ...where do u get 3GS in brand new state anywhere
and just 20 days used my friends. so grab it
...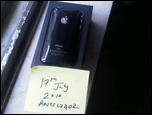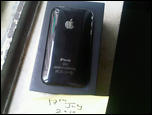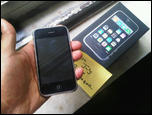 --- Updated Post - Automerged ---


PLease ignore the box..Its for Iphone 3G 8 GB just kept it to click pictures..


--- Updated Post - Automerged ---


Update Guys
i was able to downgrade the 4.0.1 TO 4.0 now trying to c if unlock works
Fingers crossed

PHONE IS UNLOCKED
[/COLOR]