I bought an AMD Sempron LE1200 a few days back for my second rig.I basically wanted the rig for basic net surfing and download.But of late, i've got some heavy work coming my way.And my first C2D rig is already working overtime.
So i guess, i need more power to handle the additional work on my new system.
Hence, i got the AMD X2 4600 to replace the sempron.
Now, I'm quite satisfied with the performance.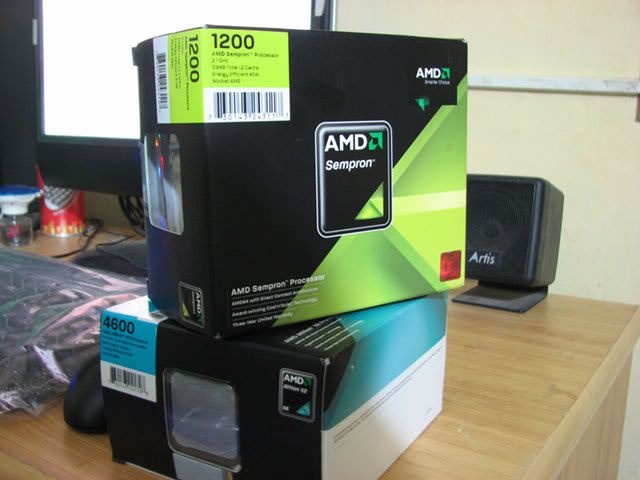 But mind you, the Sempron LE1200 is no slouch either. For basic home usage, including strategy games,net surfing,movies,music, basic photo editing and MS office related work, its performance is more than enough.
But expecting it to perform heavy rendering work on packages like 3dsmax, Maya, aftereffects etc. is a bit too much for the baby.:lol: So yeah, for normal usage, its more than enuf!!
N yeah, its only 20 days or so old. And i havent used it for more than 2-3 hours because i've been busy with my work. Its not OCed at all. Simply because, i'm using a basic powersafe 300 watts smps for the system. Didnt want to take any chances.:lol:
So you are actually getting a brand new processor with 99% of the warranty left.
Price :

900 bucks with shipping

.

Bought from : Prime ABGB,Mumbai
With Bill & Warranty
Original Price was Rs. 1600/- PS

: In case of cheque payment, i'll ship the proccy after realization of the cheque.