E8400,Asus P5QC,2x2GB DDR2 800MHz, CM690, ATi HD4850
Expected Price: [STRIKE][5K{Processor}+4K{MoBo}+3K{RAM}[/STRIKE]+2K{CM690}+[STRIKE]4K{ATi HD4850}[/STRIKE]
Time of Purchase: October 2008
Warranty valid/Remaining Warranty period: Yes/Yes | 12 Months
Reason for Sale: Shifting to Delhi, can't lug it around.
Purchase Invoice Available: Yes
Product Condition: Everything is in perfect condition except few dents and bends on the cabinet. Board and everything is perfectly fine, might have to dust it off a bit.
Product Location: Yamuna Nagar, Haryana, India.
Shipping Charges: Free for Delhi/NCR, Depends upon location for R.O.I
Payment Options:
Bank transfer, Credit card, Gold Coins. Strictly avoid IOU notes
Those who want to negotiate on the price, well there is no negotiation, PM me if u want to buy or else move on buddy. Don't crap my thread either by leaving ur Bawaseer (Shitty and Bloody) knowledge bytes.
First the pics: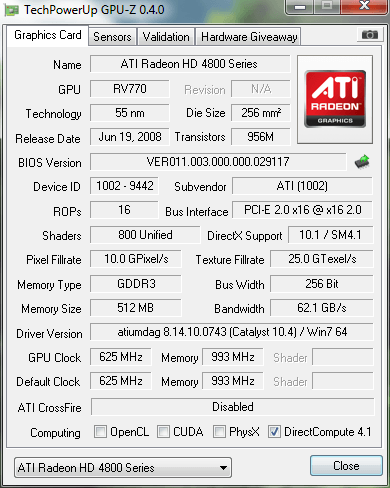 As the CPUz screenshots are self-explanatory, but still if u want more info then u can ask me or Google it out. :tongue:
As for non-negotiable prices, my price is fair and I always take care of my customers in way or the other
Like MoBo will come with the Bluetooth dongle complementary. Cabbby will come retro fitted with LED fans complementary etc. So u can expect lil surprise like such.
After deliberations and suggestions by various folks, I have revised the prices. So those who are still interested in the deal, do lemme know. The price for the overall package is still the same.
Shipping waived off on Processor,RAM, MoBo and the whole bundle. Only cabinet will require extra shipping charges. For rest of the products, shipping is free across India.
As I got all the original boxes brought to my place today from my village, I want all the interested parties to PM me for the details of my account and whoever is the first in the queue, can pay and get his product shipped same day.
Those who are in ahead and queue and don't respond till 9AM tomorrow about their bid, they'll forfeit their bid and will be out of the queue automatically thus bumping others behind them up in the queue.
Update
: Now the GPU, HD4850 is also up for sale, 4.5K (price non-negotiable) The GPU package includes, the HD4850 with 12 months warranty still left on it, its Single slot cooler, the Arctic Cooling Accelero S1 Rev 2 which is currently being used on it, AC Turbo Module. I will also include the Original Dirt game DVD in the bundle that came with it, if I can find it here in time. I think in 4.5K, the GPU bundle is sweet enough.
The pics are of the card in its both state, default state and the other after applying custom cooling solution to it.
Update:
RAM sold, GPU and MoBo price dropped. :hap2:
Update 2.0:
CPU+GPU+MoBo sold off to Demonic, now only CM690 remains. :hap2: