Product:
Hisense A56E 102cm (40 inch) Full HD LED Smart Android TV with 9.0 PIE (40A56E)
Official Link:
https://www.hisense-india.com/television/40a56e/
Purchase link:
https://www.flipkart.com/hisense-a5...VSFRMY2HWGZ9ZMD&lid=LSTTVSFRMY2HWGZ9ZMDKENALB
Purchase Price:
Rs.
₹17,499/-
after 10% ICICI discount
(Flipkart price 18999/-) (Box MRP 26990/-)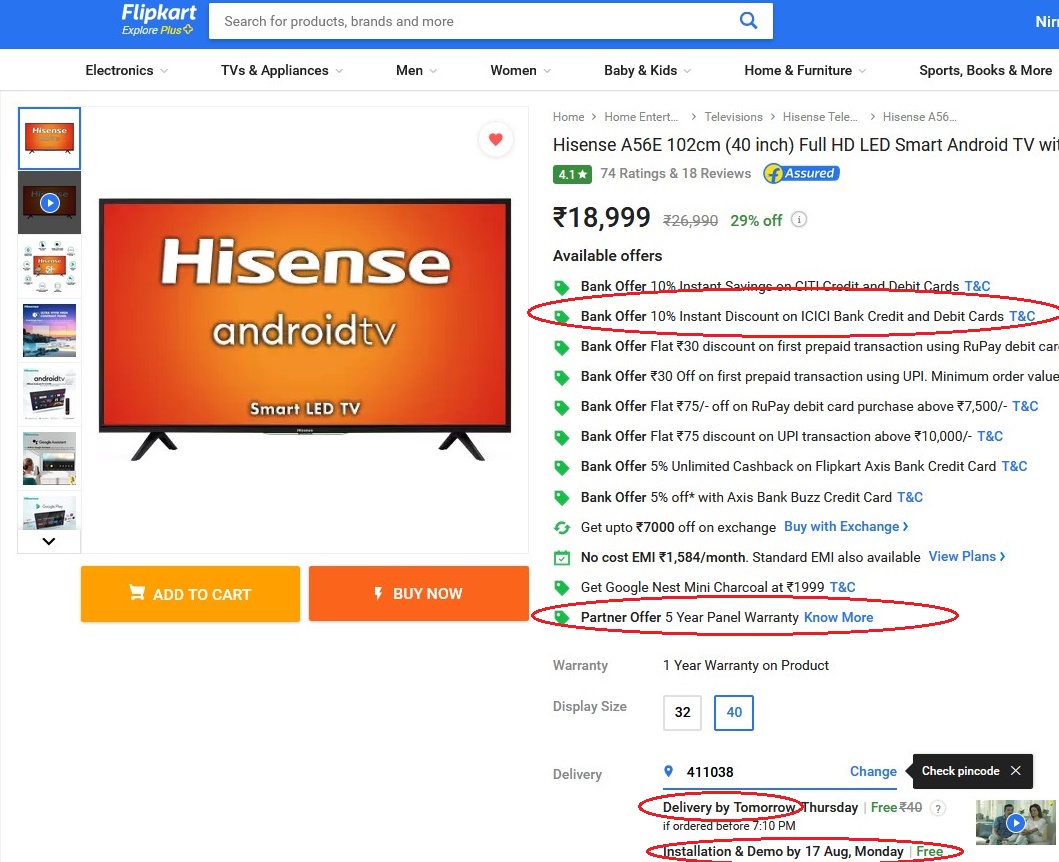 We were still using a good old CRT television set until it conked of this month itself.
While upgrading, an Android TV was always on my mind, I missed few great deals last Diwali and thereafter never found any tempting deals until this independence day when we actually got freedom from CRT to opt for something latest.
I always believed in one time long term investment, to get aio features in one box and this is it!-- Smart cum Android cum no need for that Mi box!

I went through lot of reviewing on budget brands like Xiaomi, tcl, iffalcon, onida, bpl, mi, vu etc. but they had mix negative reviews esp. compromising on viewing part and connectivity.

So here I'm reviewing my purchase of Hisense 40 inch 4TV after 15 days of rigorous usage.
Our requirement wasn't beyond 32in as anything big would have been an overkill wrt viewing distance. But in 32in size, no android features + no FHD options & my budget was 20k.
43in looked huge but a promising one time investment. The moment I went to order 43in model on Amazon it went oos and I kept checking for a day and it still was oos.
On Flipkart I luckily found this 40in model with ditto features and instantly booked it. So I must say whatever happens for something astonishing & with icici cc, I grabbed it for just 17.4k with 5yrs additional panel warranty...
What does one want beyond this? Its a plus bonus!
Ordered on 13th Aug, got delivered within 19hrs and got installed in next 12hrs. (it was scheduled for installation after 3 days (17th Aug) but Jeeves had option to reschedule and I made it for the next day)
TV was installed by Jeeves technicians.
--
Packaging:
Packaging was solid. Tv was secured solidly between strong thermocol packing from all 4 sides alongf with a nice thick plastic cover. No bubble wrap was found inside.
A huge plastic holding the manual and warranty card, another plastic had those tv stands, One tough plastic had the wall mounts and screws, and a small plastic with remote & batteries.
The tv arrived on a very rainy bad weather evening hence a bit wet on the corners but secured from inside.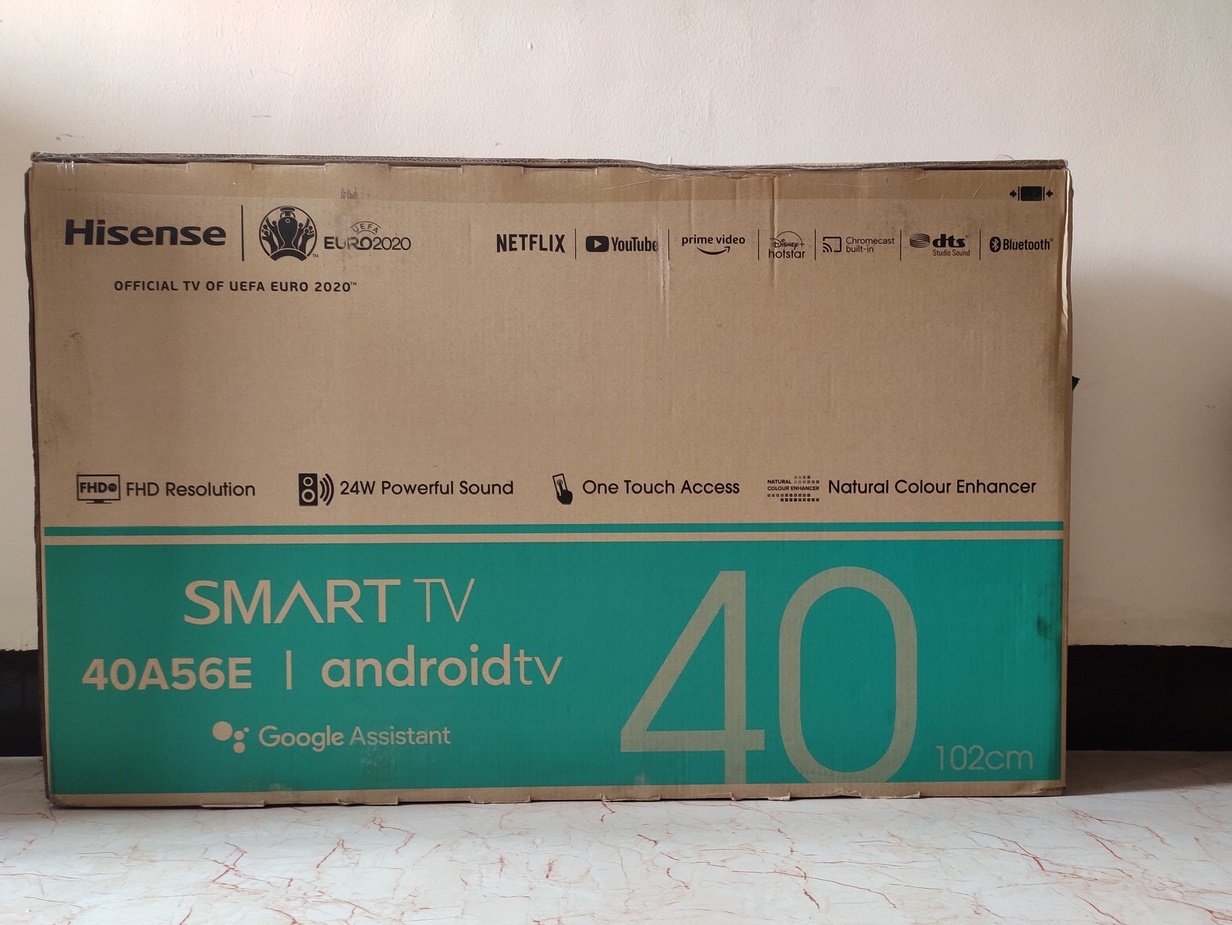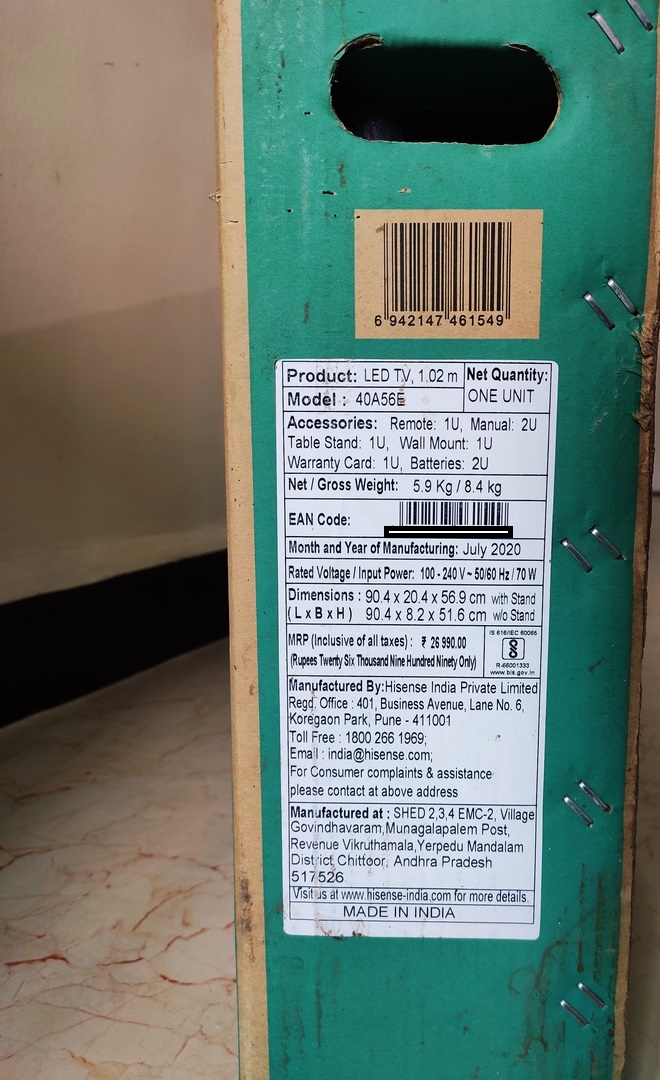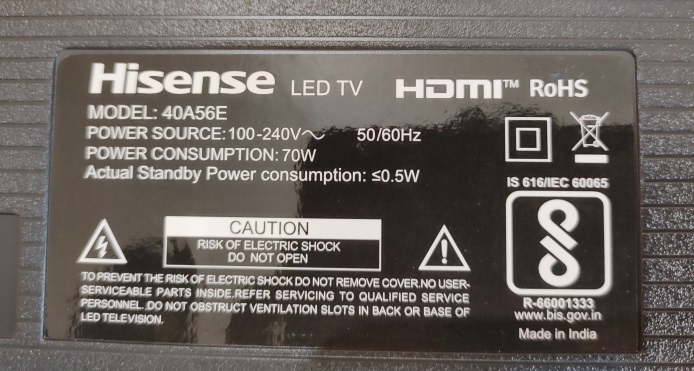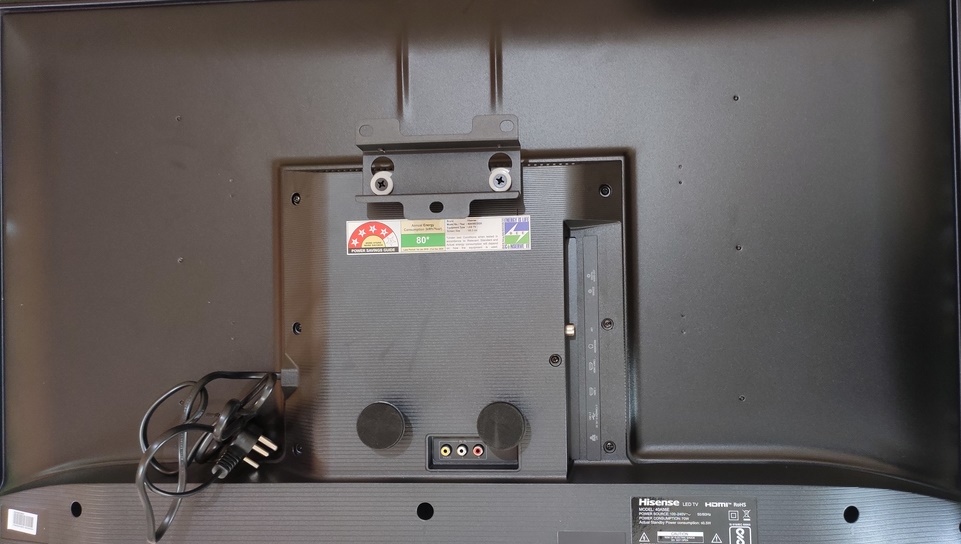 --Features to talk about..
Launch year 2020
4 star energy consumption rating

Android Smart TV running Pure Android Pie OS

Chrome-cast in-built
/ Built-in Google Assistant
Processor / GPU: Quad Core/ Mali470MP (they haven't mentioned what brand quad-core processor it is)
Ram 1gb/ ROM 8gb
Sound: Output: 24 W with DTS Studio Sound/Dolby Audio

Display: FHD with Dynamic Back-light Control/ Natural Color Enhancer/ High Contrast/ Digital Noise Filter/ Ultra Vivid High Contrast Panel
Refresh Rate: 60 Hz
Remote: Bluetooth/IR/Voice
HDMI ARC support
5 years Panel warranty

--Other specs:
Sports Mode/ Game Mode/ PC Mode
Power Consumption:
On mode: 70volts
Standby: <0.5
--Connectivity:
USB 2.0 * 2
HDMI * 2 ( HDMI ARC port + HDMI)
CEC (Consumer Electronics Control)
Ethernet Port
WiFi Built-in IEEE 802.11
Bluetooth v5
Optical digital audio output (SPDIF)
3.5mm Headphone/Earphone Jack
RF Input
AV Input

--
First impressions:
Chinese yeah! but Made in India
Oh yeah!

Well huge size! (now after these days of usage it looks normal) Glossy screen. Material was as expected fiber/plastic tone. Wasn't able to make out the bezel size until powered on. And its nor big or small but looks perfect.
Booting does takes few seconds.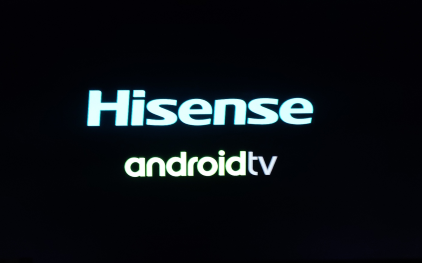 --
Display:
We haven't yet upgraded to HD channels but plain SD (thanks to CRT) and we thought we might see the usual blurry or not so clear pictures. But to our surprise the quality was Upped automatically and we were amazed as to how the display features handled even SD resolutions.
Of course not to the comparison of actual HD but yes very well reduced/managed noise reduction and color reproduction. I dropped upgrading to HD ftw.
A sample channel image.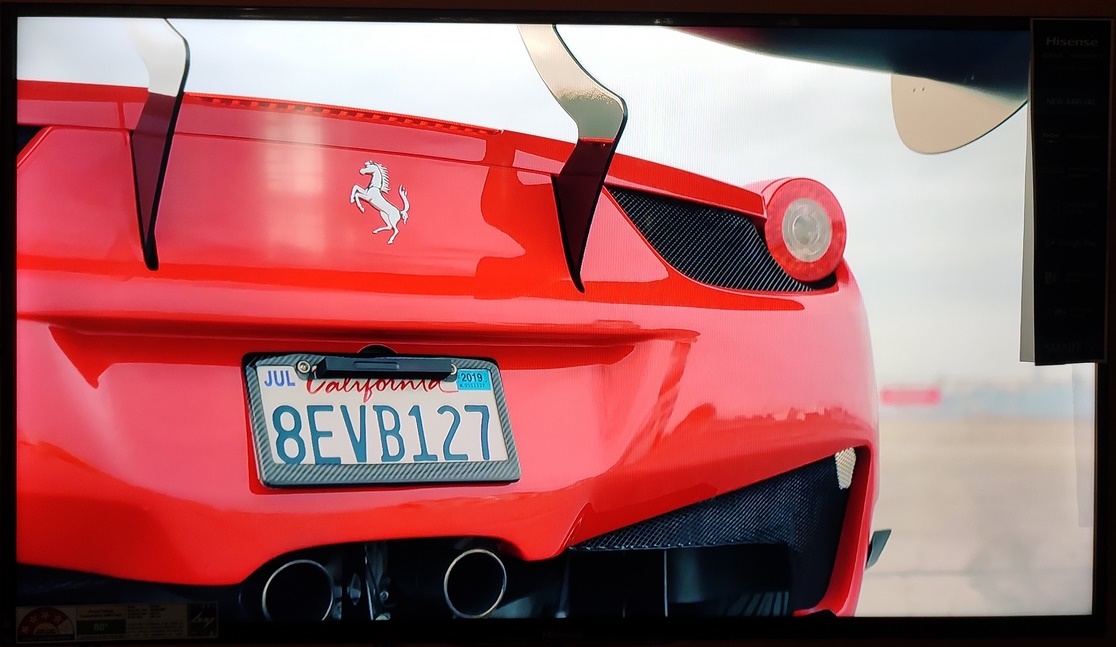 The colors appear natural there is no need to actually adjust any parameters but it is better to still calibrate for that AIO viewing exp. The details are awesome on HD, 1080p and 4K videos but on SD its great as well.
Blacks are pure blacks with occasional dark greys in some areas and thats fine in this range IMO.
Side viewing angles are good except images appear bit more bright but seems that's natural unless it is an IPS panel.
The video and pictures options have so much in-depth ample of parameters to customize. have never even heard or seen these features. We mostly only see those RGB, gamut, brightness and contrast thing.
But here its an array of customization...
Luma control/ rgb range/ DNR/ 11 point color bal
. etc. Have currently calibrated colors with User mode based to my likes for the perfect AIO viewing exp.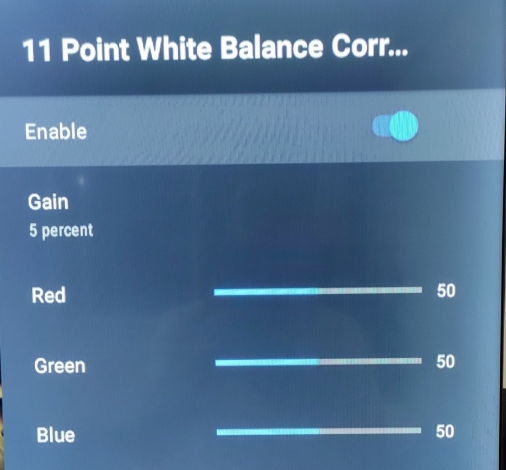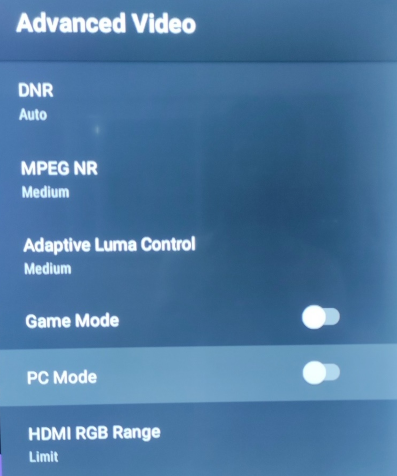 TV has a in-built program recording function (yet to test) as it detects my pen drive for recording and scheduling. This was discovered after plugging in the pen drive. Yet to try though.
You can even turn off the display while listening to songs on YT or any other apps.
--
Audio dept:
As for sound I have absolutely no complaints as getting 24w in this size and budget is an icing on cake. Playing with the settings, the surround and Dolby options works just superb. It doesn't tear even an inch even when the volume is on full and talking about full voice it does get really louder so we normally keep it around 40% which is sufficient for normal tv channel. Of course for a woofer effect one needs to at least plugin that 2.1 setup or a dedicated soundbar makes sense. So missing woofer effect ftw...
Twin speakers at the bottom of panel + On/Off cum Standby button at the center.

For movie we Upped the volume till 60% and viewed from a considerable distance and played with some audio presets. User mode is present with 5 Equalizer bands to adjust though it isn't actually required with so much of presets and relative settings.
We kept Auto volume enabled to normalize any low pitch or high pitch volume.
--Android performance:
I first thought it will be too slow on just 1gb ram and just 8gb of storage (cant help as we use phones worth 6gb ram and 128gb storage
) but later found that its much sufficient unless someone plans to load pubg or asphalt and expect gaming fps!
I installed quite a bunch of apps and the exp. is smooth sailing. No lags whatsoever. Except upon first boot it does takes 1-2 secs to refresh the cache and then its all smooth sailing.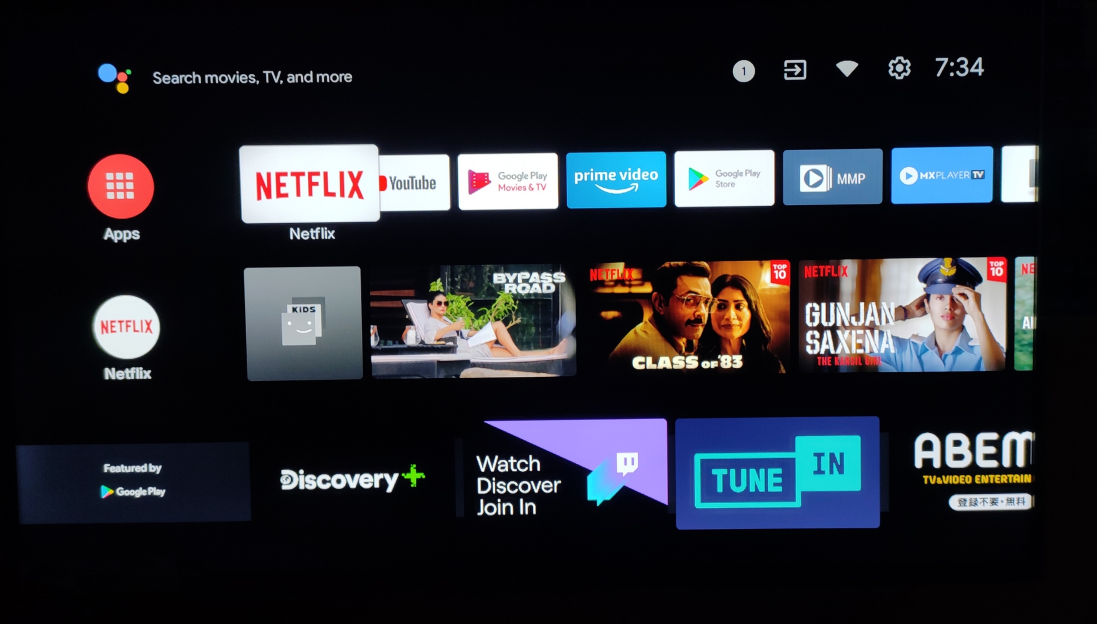 Tried side-loading apks like Smart YouTube TV which is a must if you want to enjoy YT without those ads, ES file explorer and few more and all went super cool as like phone.
Another thing I found is any
pen drive attached can be formatted to be used as an internal storage (clubbing with onboard storage)
So have added 8gb lying unused pen drive and currently using a total 16gb internal storage space. I think this is the usual android thing so nothing spl. to be talked about.
--Remote:
The remote is pretty long though I'm used to such remotes from Samsungs and Sonys at my primary home, I was expecting a short remote here which they have provided for their 4K models.
The remote is both IR/ BT and has to be calibrated and paired to be able to utilize voice/google assistant. Got hotkeys for YT, Netflix, Google play which is quite handy for a movie bluff person.
It got a blue led light, when you press the assistant button the led lits indicating that the system is ready to hear your voice. Neat!
Voice search works clear and flawless. No complaints.

Surprisingly, the
tv shows how much juice is left in the AAA battery cells
. This is rather eye popping! I'm sure many people might be unaware of this feature.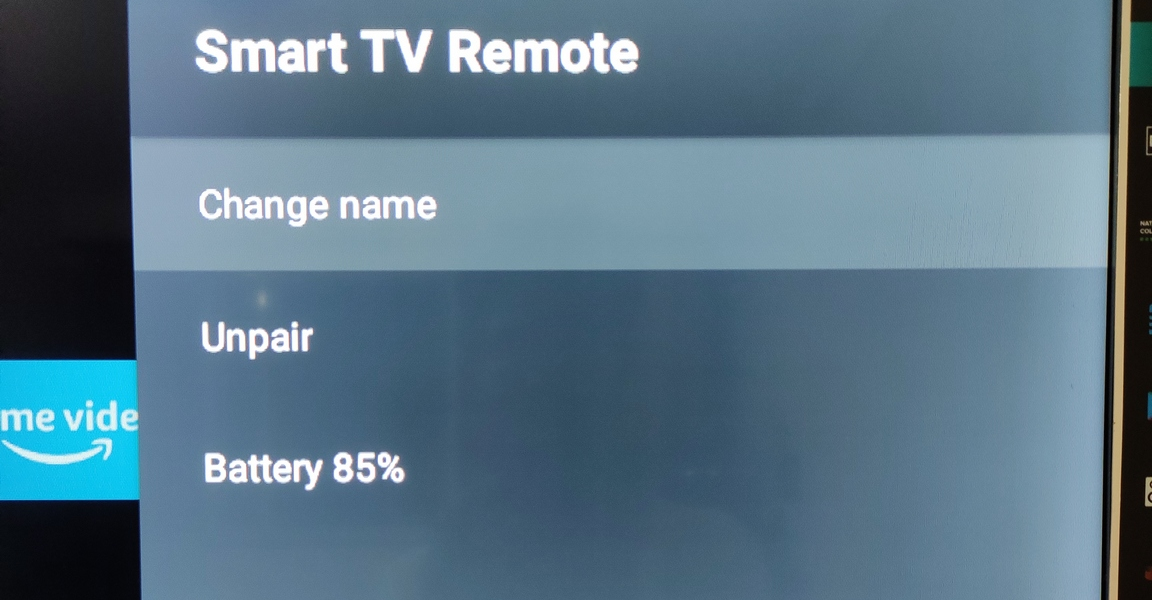 As after few months we keep banging the remote to make it work without actually knowing its battery %. This is a huge plus feature! Now how accurate is this reading need to check after few months though it has slipped to 85% from 100% in these 15 days.
Remote only has a dedicated Picture mode button which again don't work during app viewing. Sound key should have been provided. These are huge turn-offs.
--Connectivity:
Speaking of wireless connectivity, I didn't faced any issues I mean zer0!
Other budget TVs mostly face these issues of connectivity like lags, frequent connectivity loss, unresponsiveness, pairing etc. while casting, mirroring from phone/pc, BT devices.
But this one plays it just so well. Casting from phone is near to real-time while casting from pc results in a delay of just under 1.2 secs (measured precisely). The only issue (rather not an issue) I'm facing is that from a pc, I have to use google chrome browser casting opting option as nowhere in the pc it is showing casting even though in devices it does shows the tv name without any error. This issue is faced by many people globally across TY brands so seems right now I don't need to stress much on this factor as far as it works cool!
Casting from my PC:
(looks a bit off here due to light reflections and tv images not capturing properly on phone)
but trust me (being a gamer) you will surely feel as if using a monitor an not a tv.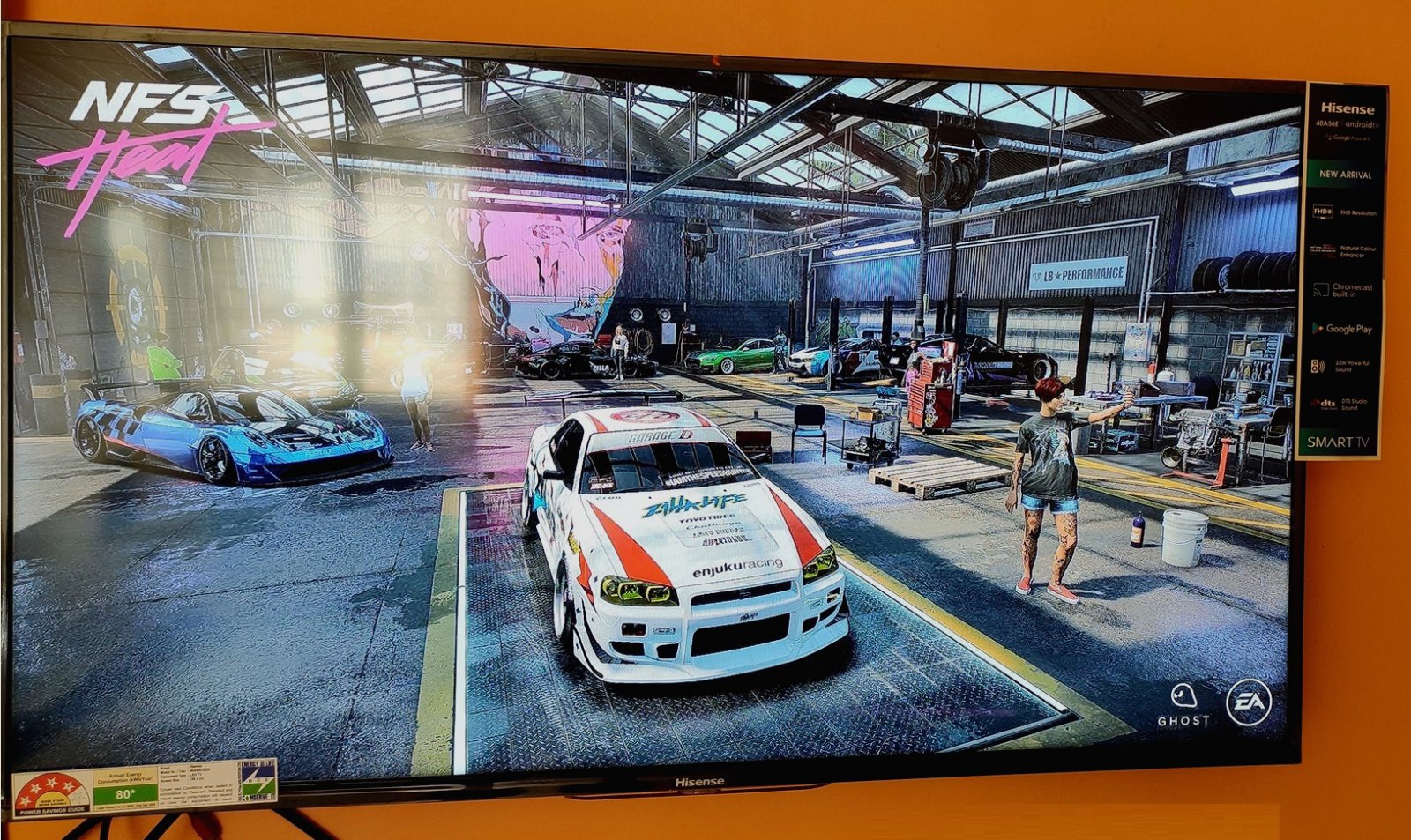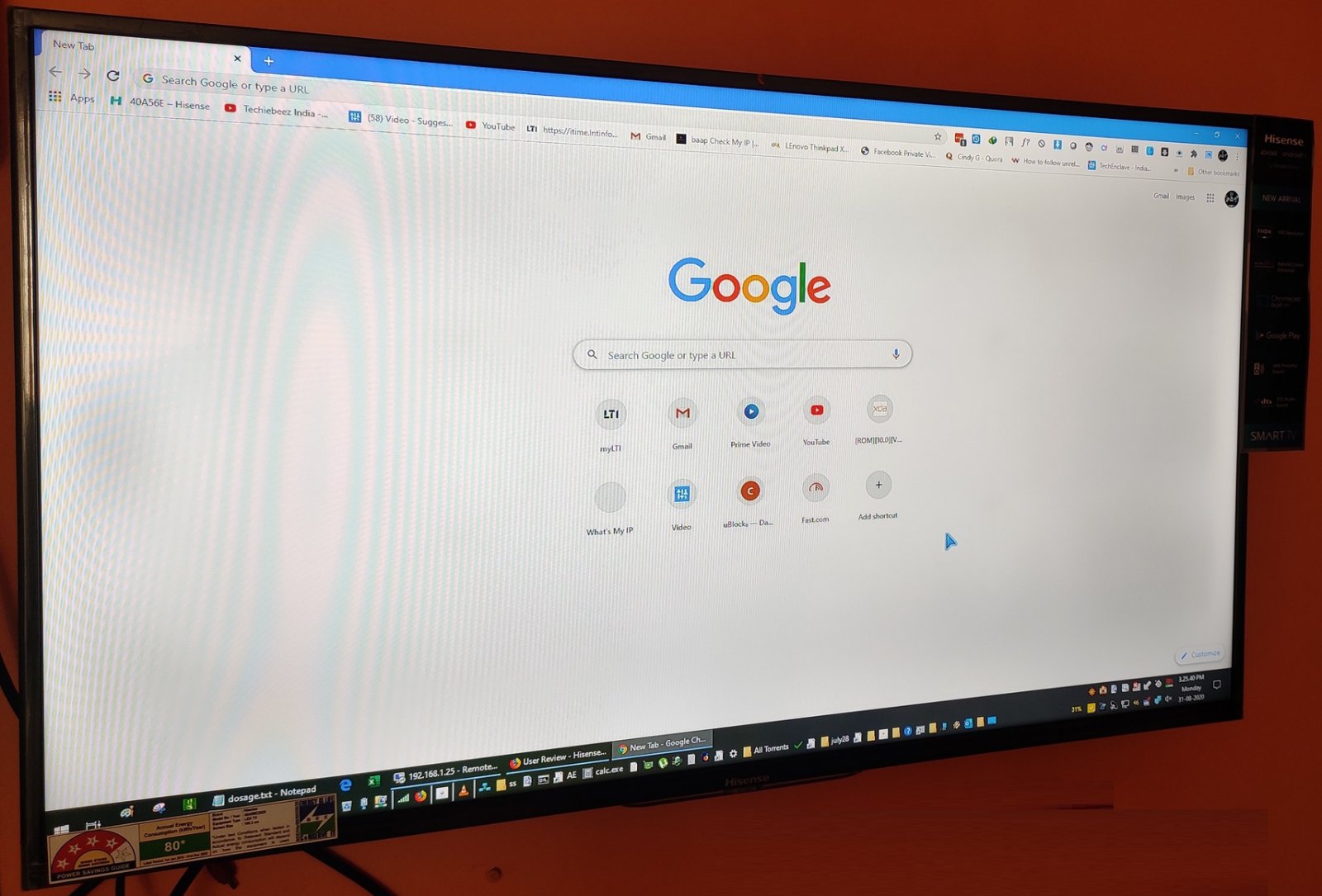 --
Pros:
Again, the USP of this brand is 5 yrs additional panel warranty.
Chrome-cast built-in is a huge boon imho in this budget.
Display is just tang!
24W sound with Dolby
Pure android is a freedom of apps and side loading
Remote battery life sensing
Smart features work really smart.. no ifs and buts.
--Cons:
Remote lacks dedicated Sound key and the Picture mode key present only works for TV viewing and not for apps. This is terrible. But no complaints though I hope the at least picture buttons function should be fixed in some firmware upgrade. But very irritating and spoils the fun!
NO 5ghz WiFi support is a huge turn off esp. this been a 2k20 tv common this should had been given..
Bezels could had been smaller.
They should have bundled 4k variant remote.
The tv manual is just so-so. They haven't actually covered all the functionalities. Strange! A noob will miss out on few features and someone hardcore will dig inside to discover the same.
--------------------------------------------------------------------------------------------------------------------------------------------------------------------------------------------------------------------------------------------------------------------------------------------------------------------------------------------------------------------
was in lots of queries and questions as this being a new brand here (globally it is very much trusted in US/UK regions), so cycled through lot of reviews until finally nailing down and must say I have no regrets but only praise!
I heard the service will be handled by VU tvs which again is good so overall its a feel good feeling. Anyways, if not Hisense I was anyways going to nail down on VU.
Final words..Breath taking experience.. A total paisa vasool. The looong wait was fully worthy every penny and not to forget the 5 yrs additional panel warranty.
I would have gone through a video review but given the pandemic, all members are always in the house and someone or the other keeps watching the tv so reviewing only in text with few snaps.
This isn't my first smart tv as I already own Samsung and and a Sony. But I'm praising for the features and quality this brand is offering as the very features come above 30k+ budget in big brands. Now need to look how well the brand performs as a service. Just hoping this one lasts for years to come..
Let me know your thoughts and suggestions... Any questions are always welcomed!
Some samples...excuse for such quality images, as on phone its difficult to capture perfect images and color accuracy. Signing off!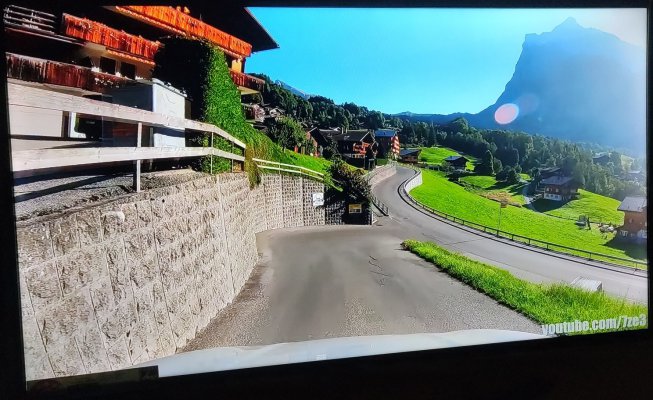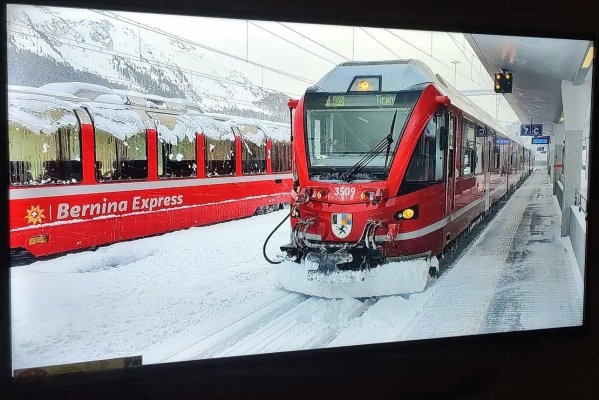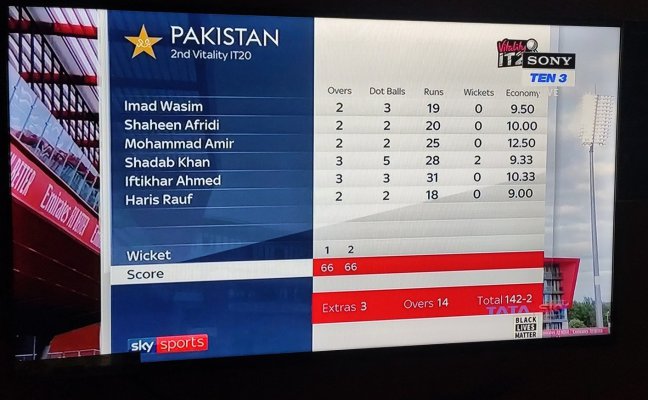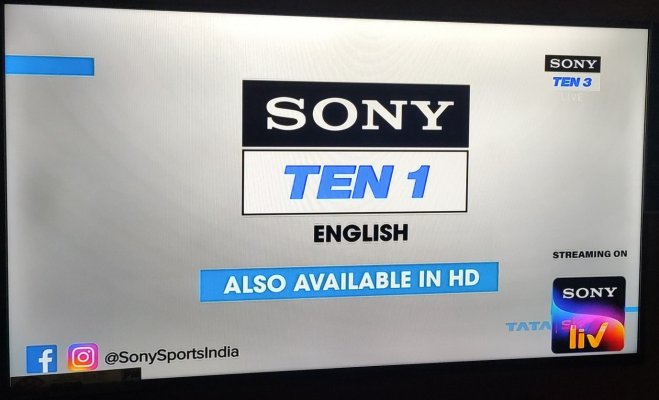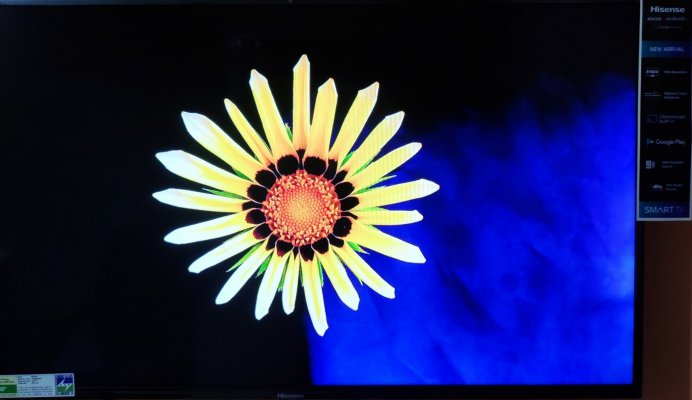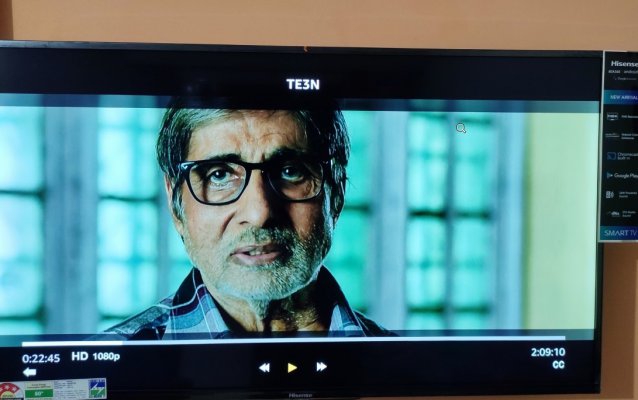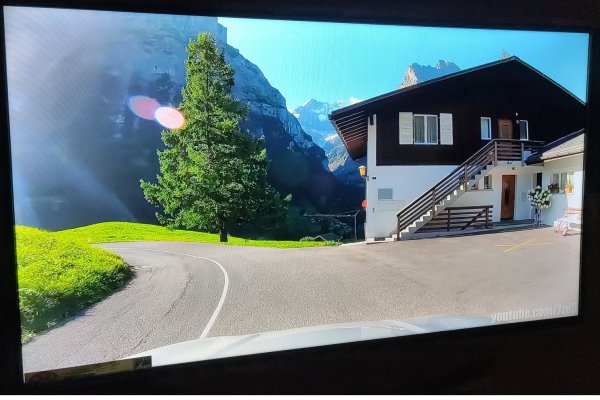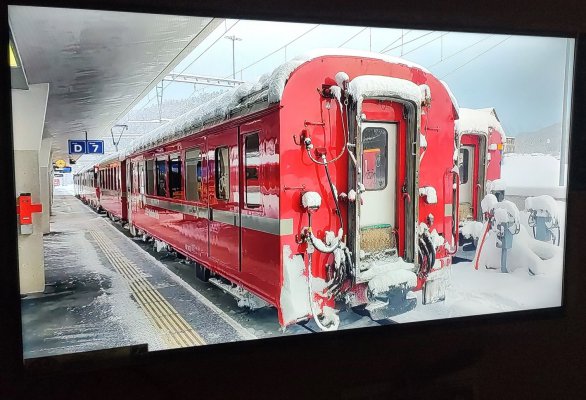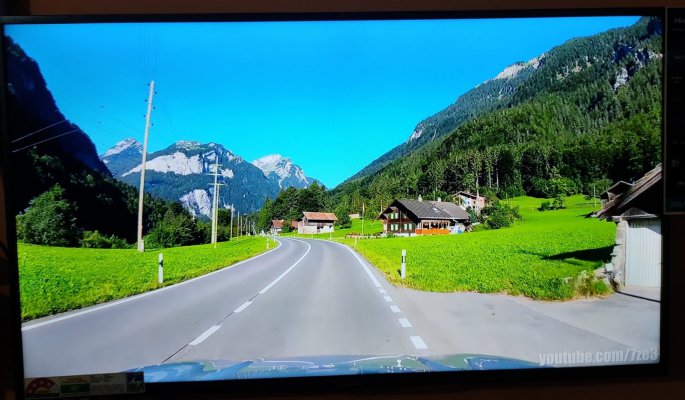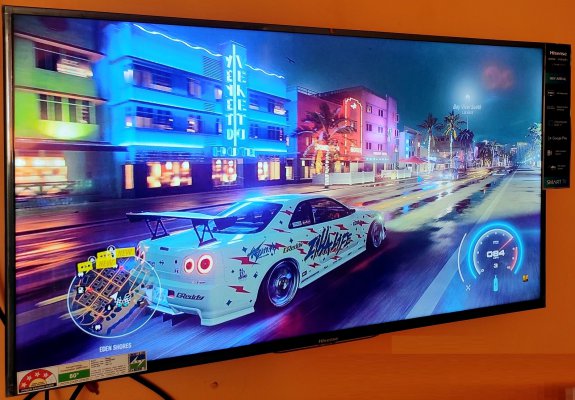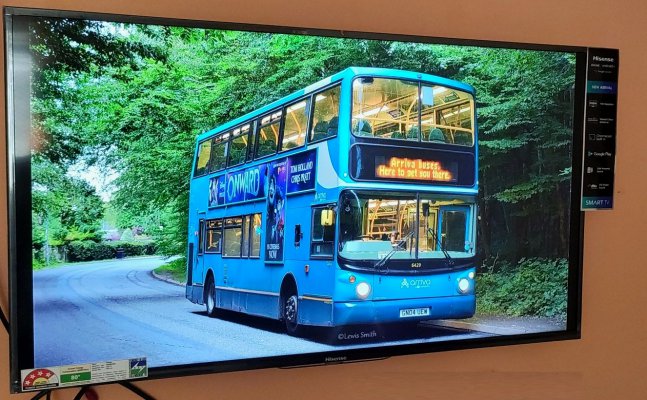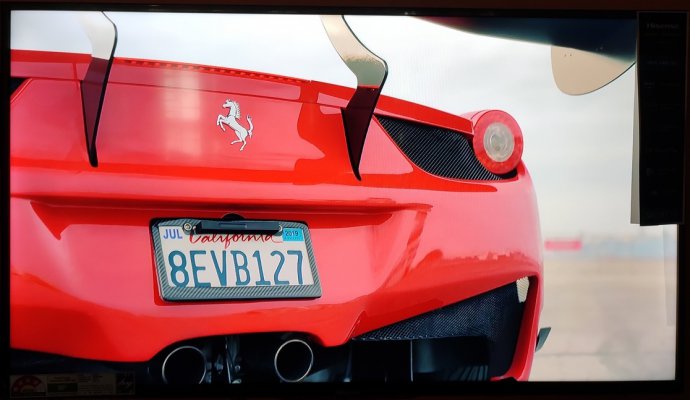 **
Yesterday few friends dropped in at my place and they were astonished with this model as they currently use samsung, lg and vu. Very much impressed with this purchase.. Few others are now awaiting for hisense next sale!
Last edited: