Product - Logitech Cordless Desktop EX 110

Source of Purchase - PrimeABGB

Date of Purchase - 4th May 09

Warranty - 1 Year & 8 months remaining

Original Invoice - Available

Condition - Excellent (No Damages whatsoever,every key on Keyboard & mouse works absolutely fine)

Reason For Sale - Upgrading

Price -

SOLD



Pics -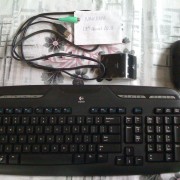 NOTE -

1)I will provide copy of the Bill to the Buyer as i purchased some other products as well.

2)Original Box,Manual,Drivers Disk and everything that comes with the product will be provided.

3)Please allow me to take 1-2 Days for Shipping.

4)Shipping is possible by Courier Service of Buyers Choice.



IF YOU HAVE GOT ANY QUERIES THEN PM ME.

PRODUCT WILL BE SHIPPED VIA SPEED POST OR BY COURIER COMPANY OF BUYERS CHOICE.