EXAILE: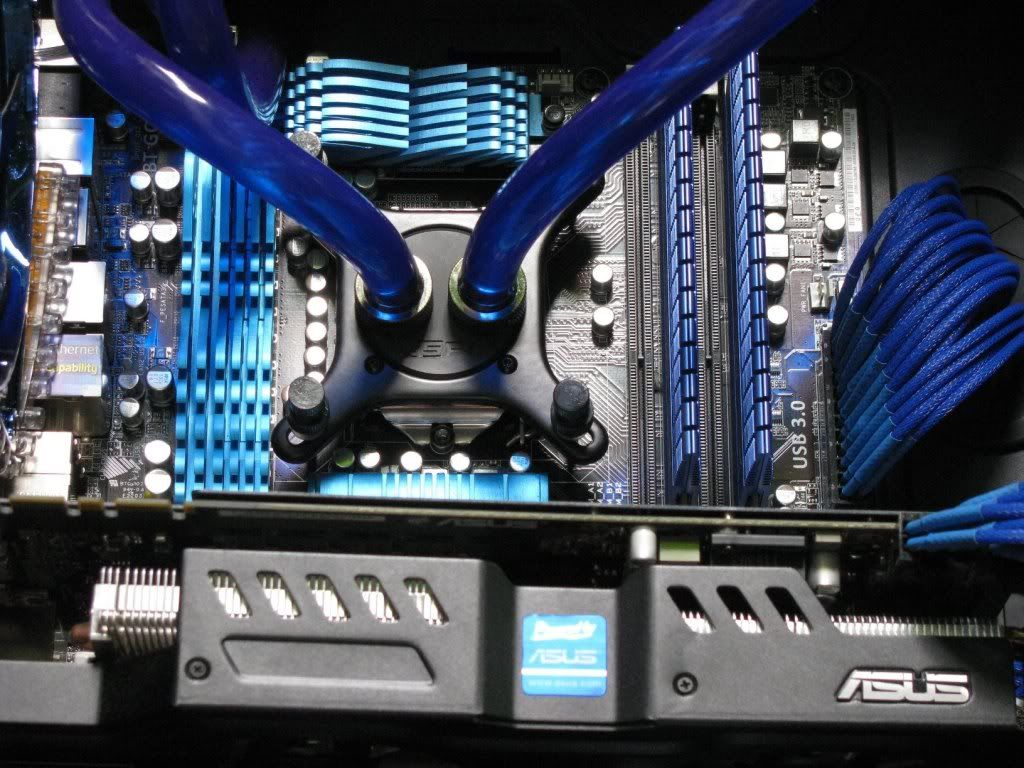 Now that all the parts have come in from various places I thought of starting this out. I couldn't come up with a name for it at all, and was listening to "Exaile" while ordering the parts, and kinda liked the name so just took that. Well so its Project :
EXAILE
This is my first WC project so mind the short comings and mistakes, if there is anything you guys would like to suggest or correct in my work log please comment and help me out. Well my experience in 8086's started long way back when I wanted to upgrade my PII MMX with a RIVA. And thinking of before that playing POP, or Carmen Sandiago on our Factory PC's but that's not related to water, now is it? Anyway lets' cut the history and get to it.
Most of the Rig is as per my Signature, but I will add the list of Water Cooling components and Modding components I have planned/received/yet to receive, as you would be able to tell I intend to go for a black and blue color scheme, with a bit of white or silver thrown in but I am not sure about that last bit. Yes I agree there are better and higher end WC products available from the likes of Swiftech, EK, BitsPower etc but I went with the easier and lazier way and just got most of the stuff in a kit. This has it pros and cons; since its' my first WC setup I didn't wanna go overboard with it. So here's the list finally of the Modding and Water Cooling parts:
1. Mod Right Single Braided Cables UV blue (24 Pin ATX, 2x8 Pin PCIe, 8 Pin EPS, 4 pin molex, 2x3Pin fan )
2. Scythe Kaze Master Pro 6 fan controller
3. Lian Li C0-2 Black CD Benzel
4. 3 x CM 120mm Blue Led Fans
5. 2 x bGears 140mm Blue UV reactive Fans
6. 2 x UV Led Strips
7. 2 x 2 led pass thru lights
8. XSPC Rasa 750 WC Kit with RS360
9. 6 x Compression Fittings
10. PrimoChill UV reactive Blue Tubing
11. Liquid Additives (Kill Coil, UV Blue Dye etc)
12. Also have 2 CM 120mm Blue LED incase I decide to go for Push and Pull, might not add them as
there is already way too much bling going in..
The rest of the components are as follows:
1. Intel 2600K on ASUS P8P67 Deluxe with 8Gb HyperxT1 DDR3
2. ASUS GTX 580 Direct CUII and Xonar STX
3. Corsair 800D with a HX 620 (not sure if the HX620 will be enough after it is ready but lets' see,
since the HX is no slouch either. )
4. 60 GB Mushkin SSD with 5TB Storage ( …m waiting on the Kingston HyperX SSDs )
5. …..the rest is in my signature or Show Off threads: monitor, input devices etc..
My plan so far:
1. Single Loop WC for only the CPU. I would like to have the pipe from the Reservoir/Pump to the Radiator be hidden away from sight, like "Dazmode" has done on his "Orange Build". (…its' there on YouTube.com if anyone is interested, Daz's entire build log, quite nice actually.) I don't have any angular Fittings so I am not sure if I will be able to achieve that. Anyway, I would try and decide. This is a simple single loop, I have no drain ports thought of yet in the loop which I would like to have. I intend add that and temperature probes for liquid to the loop as the next phase once this is all ready.
2. Paint the fan Controller Wires (fan and temp. probe ) to black so that they can be hidden. Right now they are all kinds red, Black yellow and looking terrible, I thought of getting some MDPC cable sleeving for them but then they are not gonna be in sight anyway, atleast I would not like 'em to be in sight so I rather just spray paint 'em all black.
3. Have the white LED's underneath the motherboard as I only would like light coming out from the sides of the motherboard. I have not seen this in any other build and I think the light thrown from underneath the board would look nice. Also I hope the LED's do fit in the tight space between the Motherboard and the case. The LED placement can be seen the one of the diagrams I have posted below.
4. Have the UV's led's hidden away too of course, and have an on/off switch for these if possible. I have not though of their placement as of yet I am not sure where they would go but I know for sure they will be out of sight as I only need them to make the UV reactive components stand out or glow for the lack of a better word.
5. The two bGears 140mm are to be place one in the top exhaust fan and one for the lower intake fan. This is just to add a bit more of Blue to the case. The stock Corsair fans really don't move much air at all. That's why thought of a slight upgrade. And they seemed to look nice as well. I intend to keep both as intake as all my Rad fans are gonna be Exhausting Air out of the system, but I will experiment with them and decide the final placement.
6. Compression fittings to replace all the stock barbs in the XSPC kit. Well though the stock barbs look okay for the application, I thought of trying out some of the Compression fittings as well. Just to have a better idea for the future maybe. And I found the compression fittings look better.
7. The rest of the stuff is my simple machine as it is, not looking to add anything more. I only intend to upgrade my SSD to SATA 3 ones, most likely with Two of the Kingston HyperX's. And then I intend to WASTE my money of other hobbies for at least a couple of months, or at least till something else catches my fancy, you all know how the Upgrade Bug is….
Please let me know if I have over looked or missed out anything...
Have a nice day and Thanks for checking it out.