Hey Guys
I'm Sure you guys would have seen my previous build (with the side distro plates and Mostly Barrow and Byski Blocks, fittings and radiators ) , this time around i wanted to do things a little different and began the never ended journey of importing Spares and fittings for the rebuild or lets say a rebirth of the build, earlier my build had no name but this around i thought why not name it something.
And i named it Niflheim (Norse mythological references and God of war scenes)
What is Niflheim ?
Niflheim, Old Norse Niflheimr, in Norse mythology,
the cold, dark, misty world of the dead, ruled by the goddess Hel
. In some accounts it was the last of nine worlds, a place into which evil men passed after reaching the region of death (Hel).
Why did i name it Niflheim ?
because this is going to be a white and blue build with a lot of customizations and i wanted this to be cold and i had a lot of funny ideas but lets not go there for now, and it is a cold hell and that is all where the money i spent on it went (Just for laughs)
The Link to my previous build :
What am i carrying forward to the new build ?
AMD Ryzen 5900x
Colorful 3090 Advanced OC
ASUS ROG Dark Hero
WD SN850 1tb NVME
Samsung 980 pro 1tb NVME
4 x 4 tb WD purple drives
Lian Li Dynamic O11 XL
Barrow GPU Block
What are the changes i'm going to make ? (What got replaced)
Barrow Side distro plate for O11 XL ------> EKWB Front distro plate with D5 pump for O11 XL
Barrow CPU Block with OLED display --------> Optimus PC Foundations AM4 Block
Barrow PETG tubing ----------> Corsair Acrylic Satin titanium 14MM
Barrow White fittings ---------> EKWB HDC 14MM Satin titanium fittings
Byski 40MM Radiators ---------> EKWB XE(60mm) 360 for the bottom and PE(40mm) 360 for the top
EKWB Mystic fog coolant ------------> EKWB Cryofuel Transparent navy blue
LianLi SL120 Fans x 3 kits -------------> XPG Vento 120 Pro fans (Rebranded Nidec Gentle typhoons)
LianLi Strimer Plus cables ------------> Tweaked PC customized cables
What is new ?
Barrow FBEHD-01 LCD Screen for monitoring temperatures and load
Phanteks Neon LED Strip kit
EKWB Silver D5 Pump cover
Barrow Active Backplate for Colorful 3090 Advanced OC
Gelid thermal pads to replace all the thermal Pads on the board as well as the GPU
EKWB Temperature sensor fitting
EKWB Aesthetic rings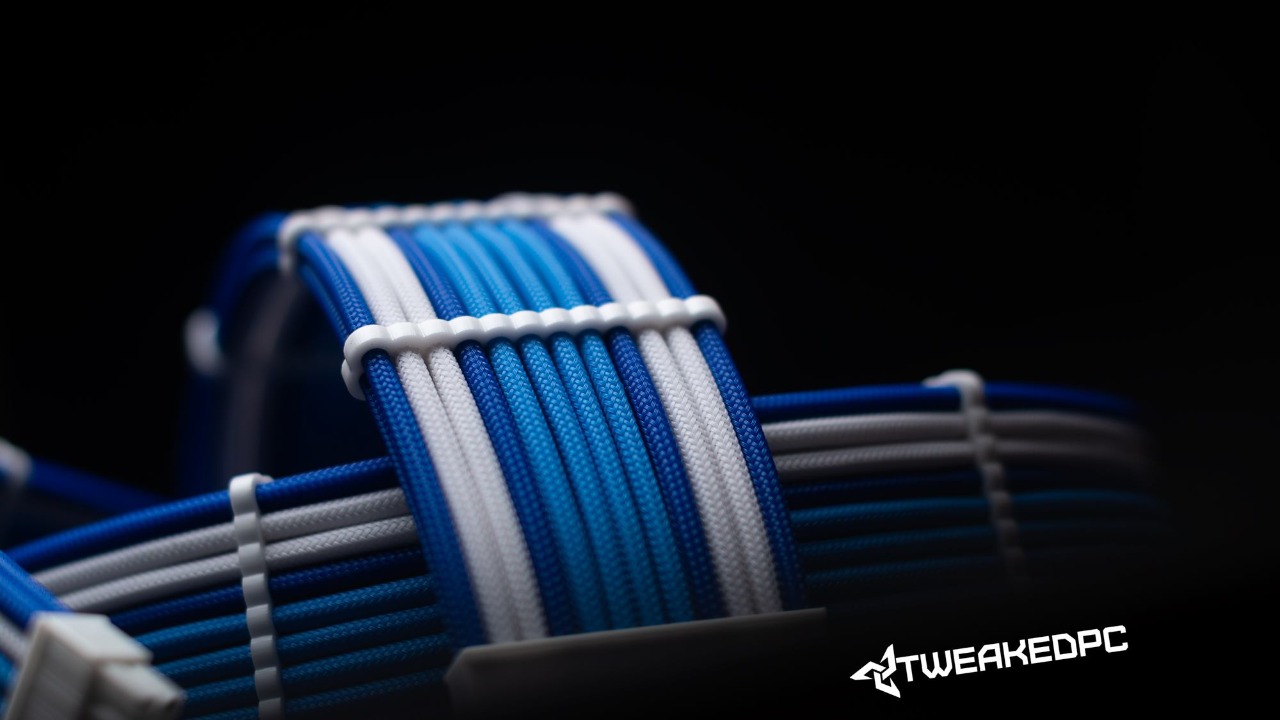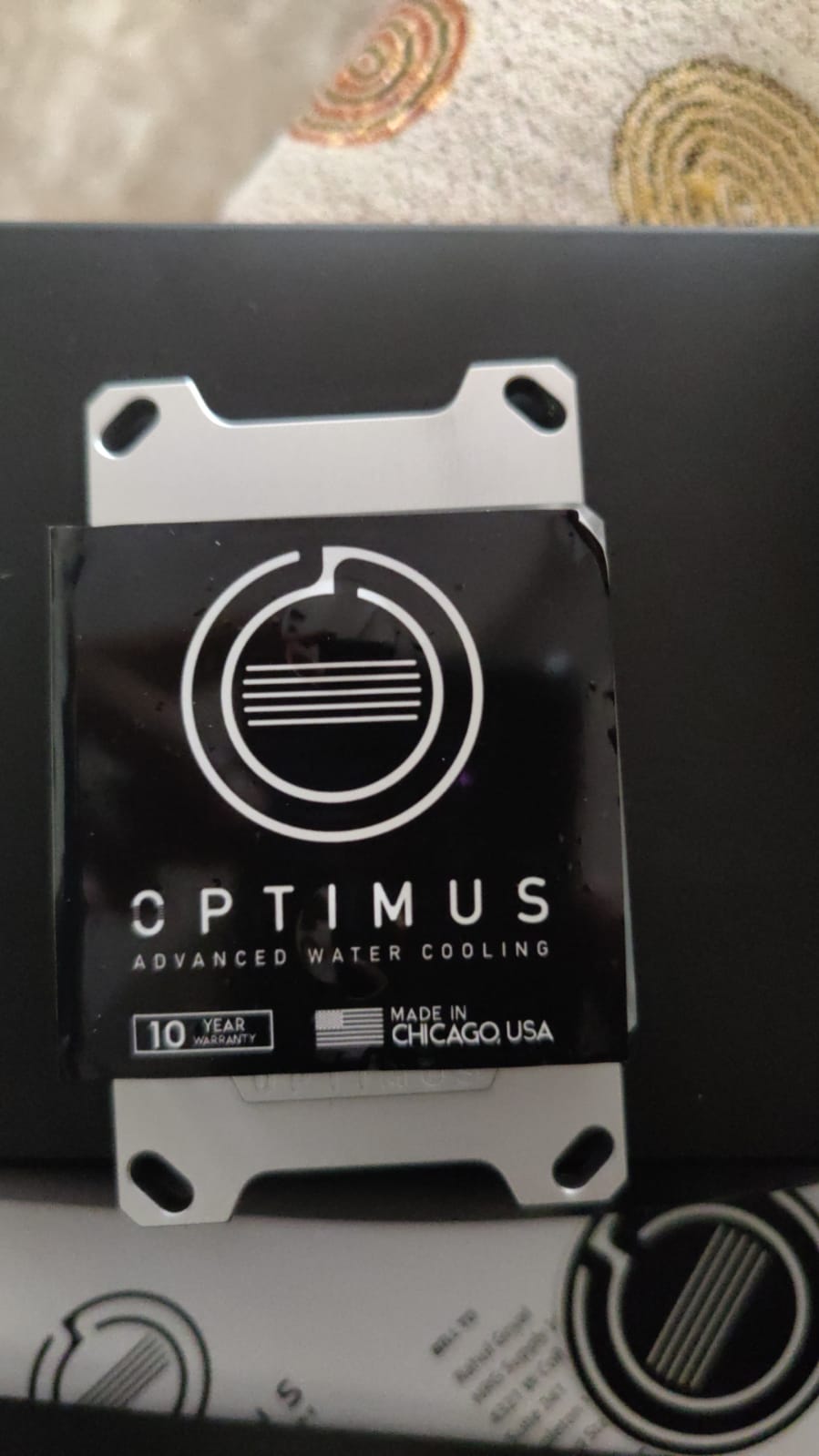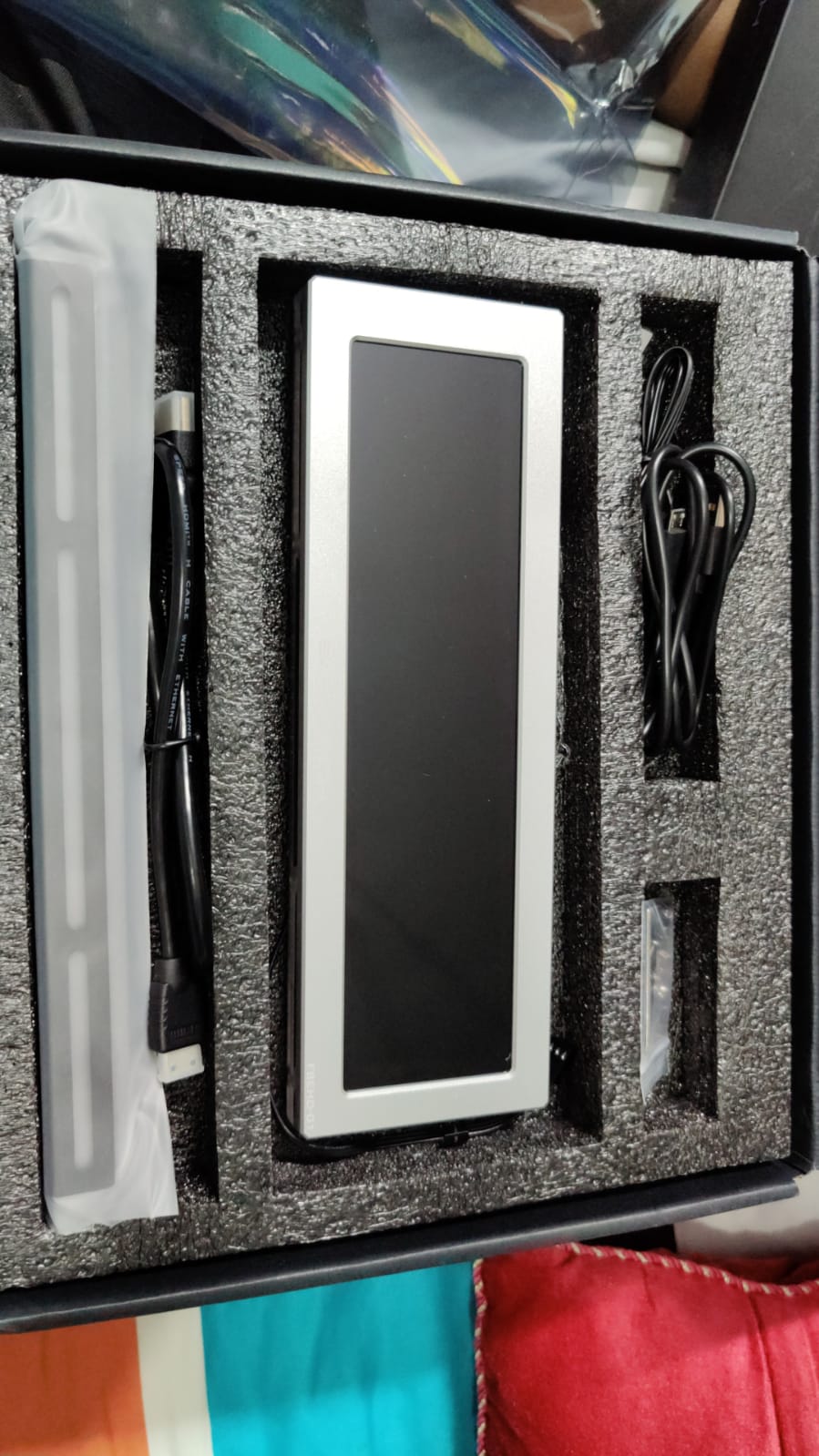 Painted the Black and grey XPG Vento 120 MM PRO to white to match the theme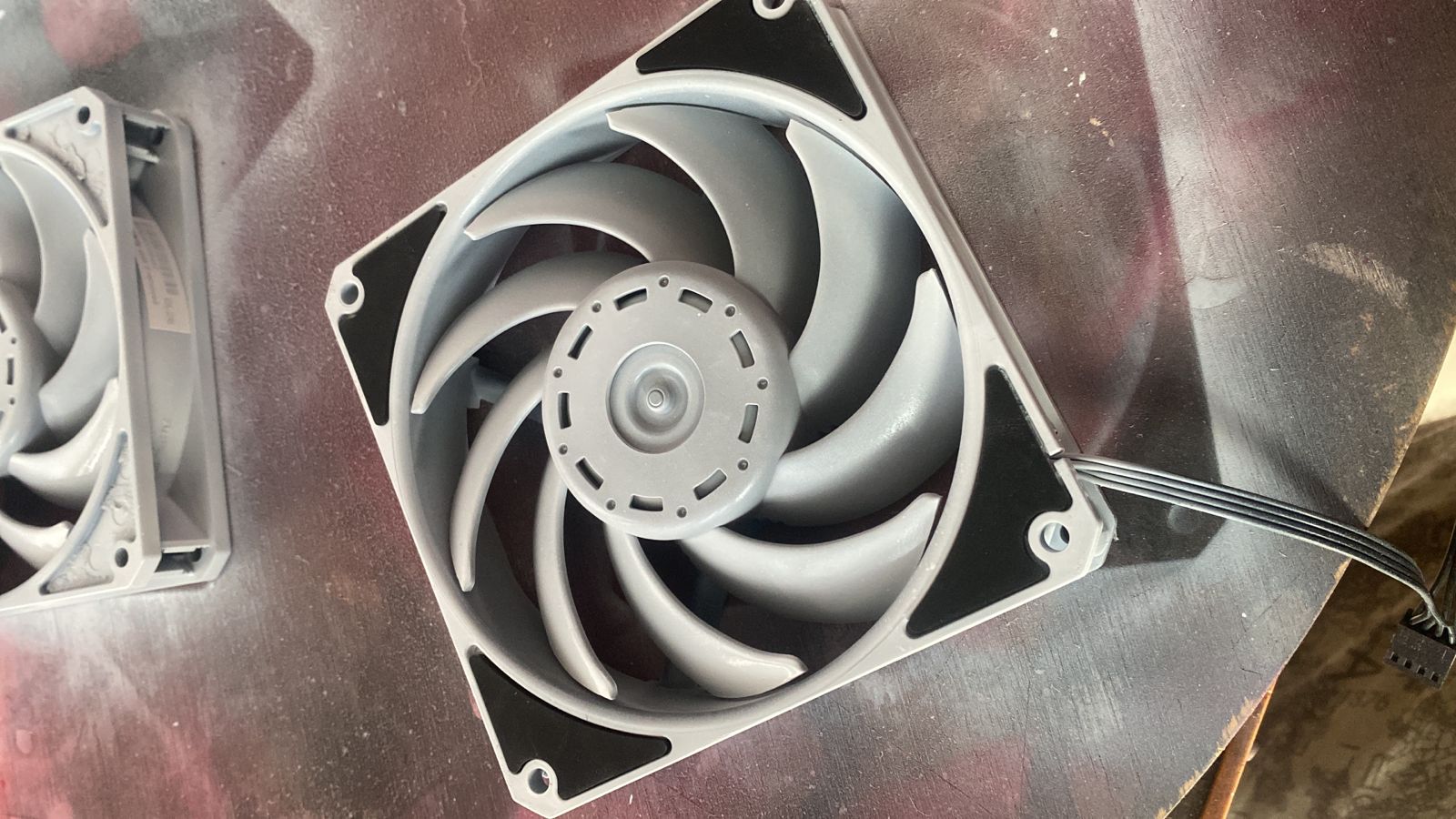 Edit switching to Arctic P12 white as the paint on the vento started chipping a little so will be cleaning these fans back to their original form using PU thinner
The building process started however the painted fans started showing slight inconsistencies hence in pursuit of Arctic P12 PWM PST CO fans.
Mounted the front distro plate and also the D5 pump cover now need to start aligning and cutting the tubes for the straight run post adding the fittings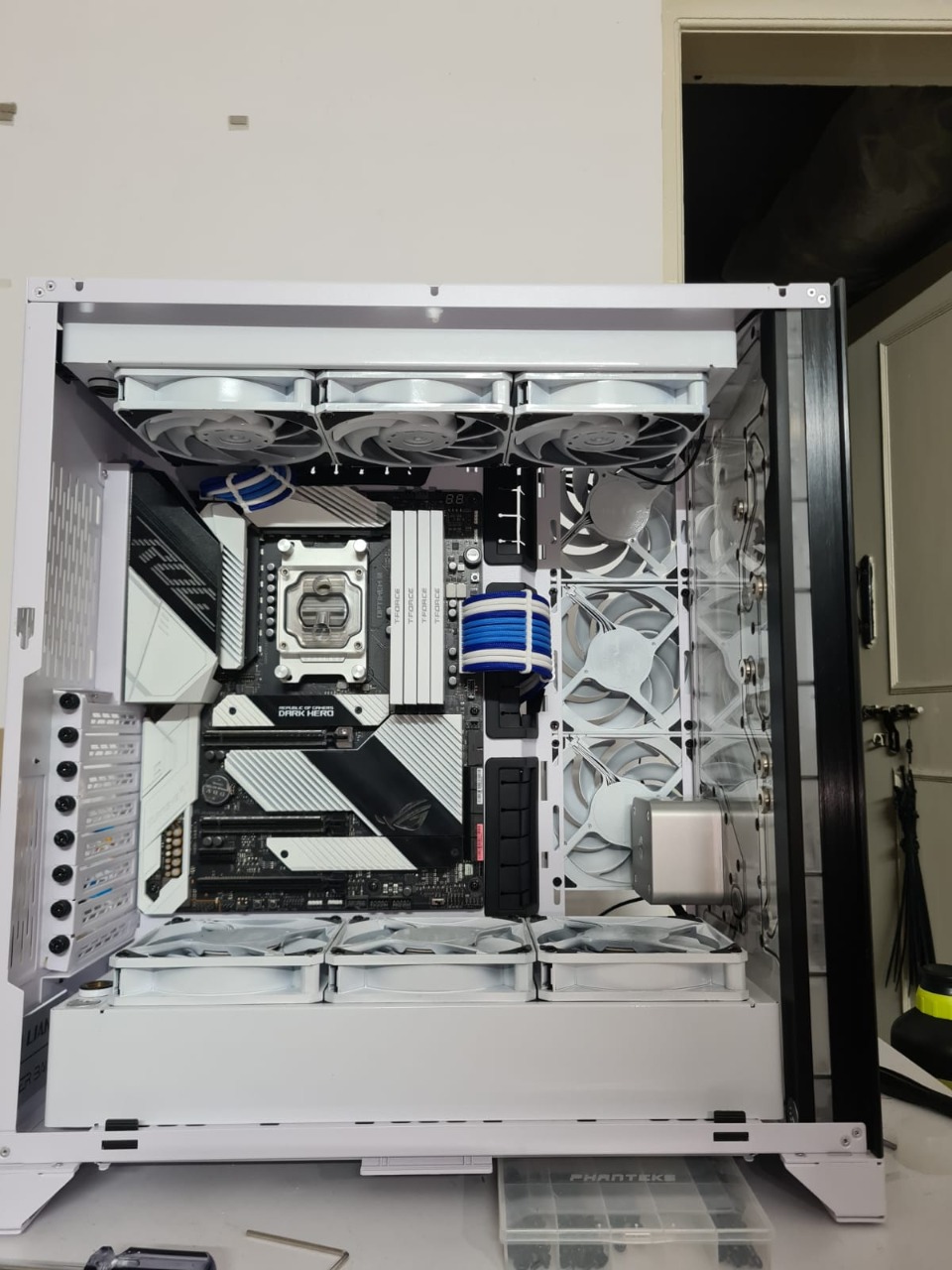 Radiator runs to the front distro plate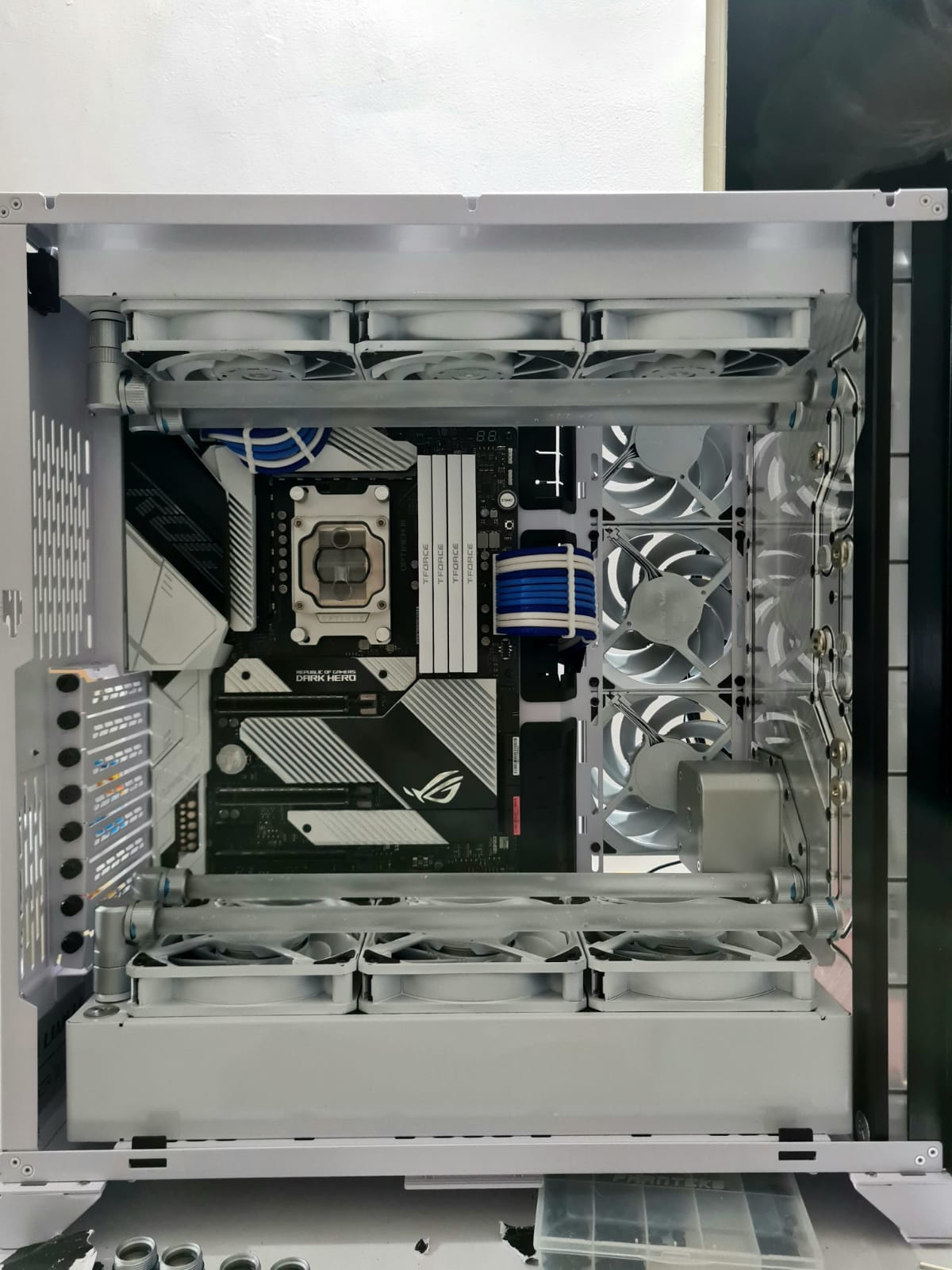 Radiator and GPU tube runs to front distribution plate, and also added the rear active backplate.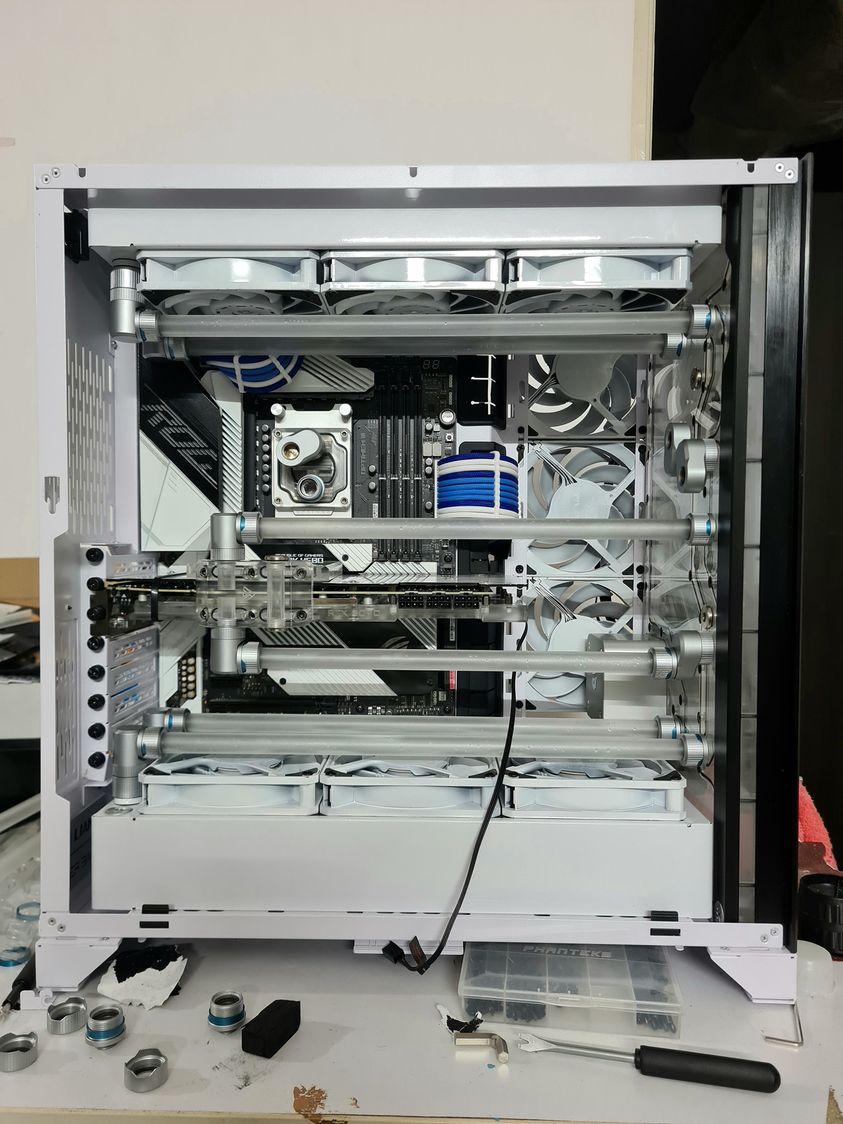 Replaced the fans with Arctic P12 luckily my friend had them in stock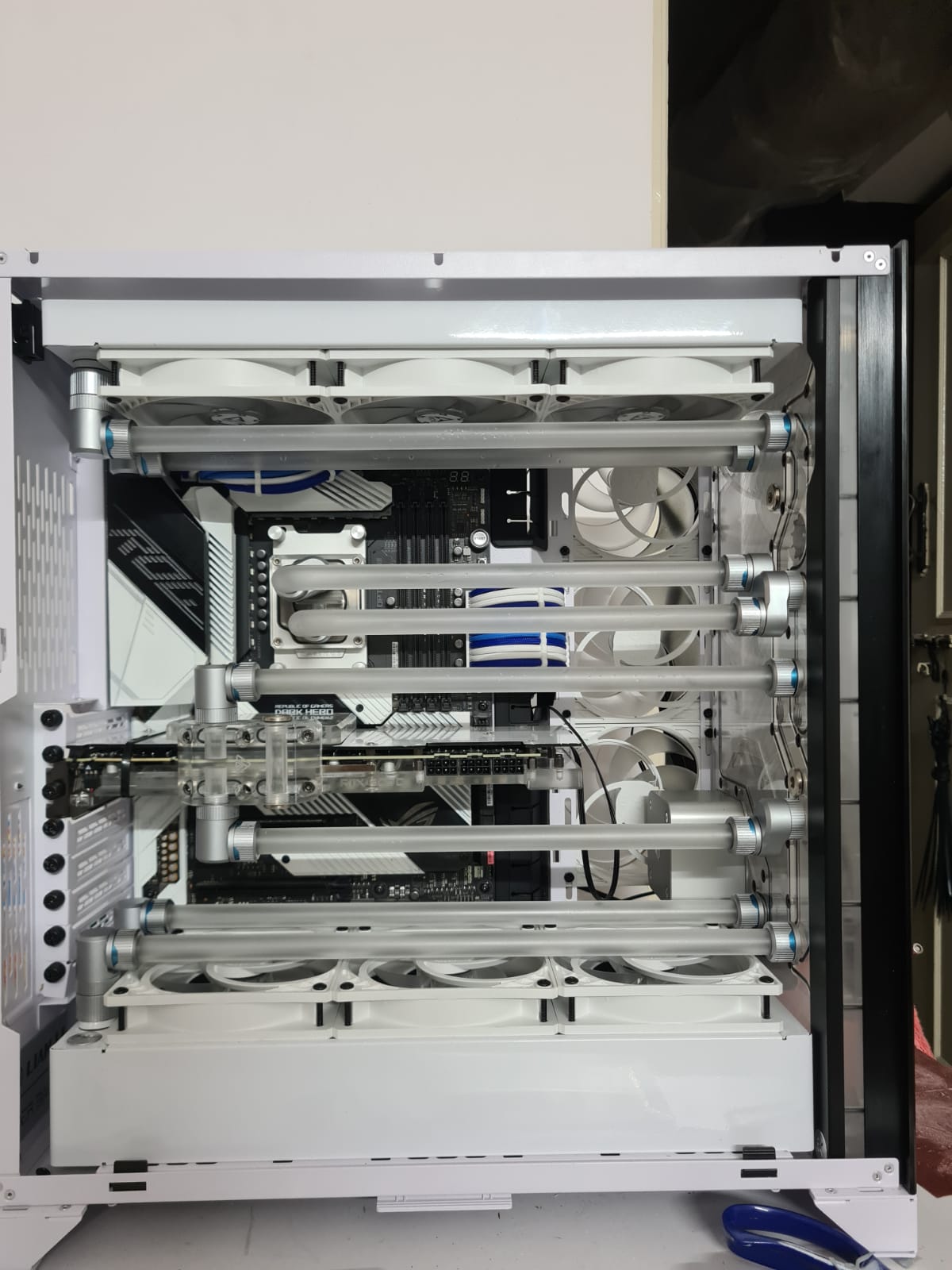 Added the LCD but it hides the beautiful custom cables and the parallel runs at the bottom so gonna use the LCD externally just below my main display to see the temps and utilization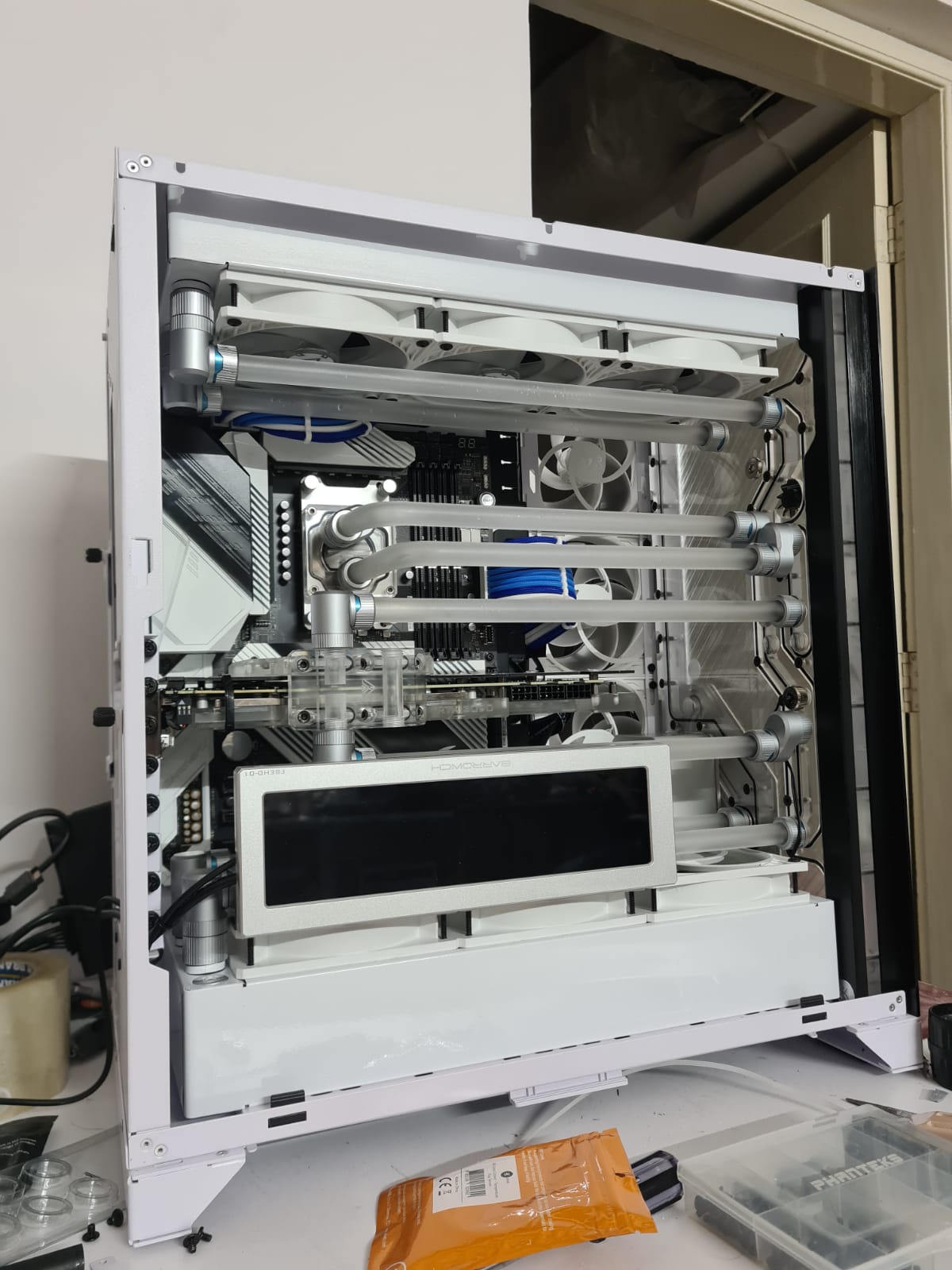 Last edited: