Hey guys.
I got this as backup for few days. Do not need it now and hence its available for sale.
Bought on 10/4/2010. So rest warranty pending from Samsung India.
Its in Mind condition. Never dropped, never abused. Phone still has plastic protective sticker on the back and default screen guard that the phone comes with is still there. But as you can see the default screen guard has started to come off from the right hand bottom corner.
The back of the phone still has that protective sticker as its clearly visible in pics.
Running 2.1 Update 1 stock firmware.
Original Bill, box, phone, original 2GB memory card, original included phone cover, Data cable and hands free along with charger will be provided to the buyer.
Asking Rs.10.5k firm. No lowballing please.
First come first basis. I wont be holding it for anyone.
Here are the pics.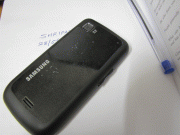 Free Image Hosting by ImageBam.com
EDIT 1 : I forgot to mention that it will also come with the original samsung cover provided in the retail packaging. Added that to the description.
Queue

[strike]1. gcbeldar (Pmed first and asked for payment details, details sent, waiting for confirmation and payment )[/strike]

1. Parv

2. Greenhorn ( will get preference over Parv as Parv wants ebay deal )