Hi,
Up for sale are these Sennheiser HD595 headphones. I bought these on 06/07/2009 & they are in warranty(registered with Sennheiser India) till 06/07/2011. They come with the original bill, box & all accessories.
The headphones are in mint condition & have been used minimally.
They were kept in the box when not used. They have no cosmetic / functional blemish.
Review :
Sennheiser HD 595 @ HeadRoom
Compudio Gadget Reviews: Sennheiser Idol: HD580 vs HD595 vs HD600 vs HD650 Reviewed and Compared
Pics :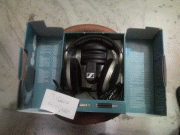 If someone doesn't need the headphone stand then I might let it go for a bit lower.

LOWBALLERS STAY AWAY FROM THIS THREAD. IF YOU CAN FIND IT CHEAPER SOMEWHERE ELSE THEN GO BUY IT.
Reason for sale :Upgraded.