There are already many apps which allow you to share your location with your friends. Facebook allows you to share your location and status with your friends. Foursquare is another popular social app which allows you to check in at a place near your location for which your friends get notification. Now, Foursquare has come up with a new app which brings similar check in feature with many enhancements.
Swarm is a separate app from Foursquare and will exist with along with it. The Foursquare will be now be more focused on discovery and exploration and will ditch the check-in feature, while Swarm will let you check-in and get notification from friends.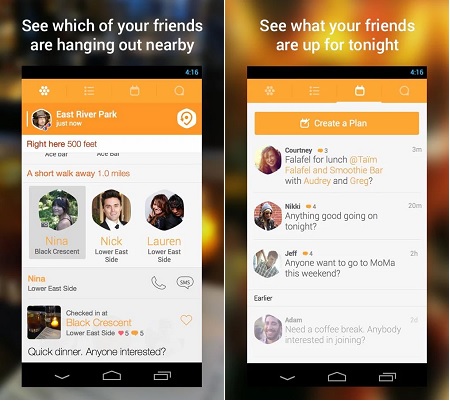 The Swarm app not only allows you to check in to a particular location to share with your friends, but also does passive location sharing. Whenever your friends are in same neighborhood, the app will give a notification so that you can catch up with them.
So, instead of texting friends "where are you?" and "what are you up to later?", the app gives you quick and easy notifications about friend's activities.
Another cool feature is 'Plans' in which you can make a plan for which friends in same city get notification, in case they want to join, they can click 'I am interested'. The app also lets you message your friends,
The idea behind the app is really cool, but unless you have many friends joined, it will only be a battery drainer . I have installed the app but will only be using it for check-ins since, since neighbourhood sharing is useless because i have less friends using the app.
So anybody using Foursquare or installed Swarm yet?
Download link -
Apple iOS
|
Google Play Store