Round 2 of my year-end sale. Moved the unsold items from the other sale thread and added a few more to this
Nov 6: Price drop on a few items.
Nov 20: Price drop on P5N32-E SLI, and added CM 380W power supply
Nov 23: Price drop on TP-Link and Netgear switches - can't get any lower
1. Asus P5N32-E SLI 680i (8k)
- Purchased in Jan '07, so good warranty left on it. This board has gone for replacement so the buyer will get the new piece once it arrives.
2. NEW Thermalright HR-09 S & U Mosfet Coolers (1k each)
- Price includes shipping.
3. Thermalright HR-05 SLI Chipset Cooler (850)
- Was used close to 6 months, purchased from Sidewinder. Price includes shipping.
---Sold
4. CoolerMaster 380W PSU (+12v @16A, Hipro OEM) (1k)
---Sold
5. TP-Link 24-port Unmanaged 10/100M Rackmount Switch (3.2k)
- As good as new, used for just one LAN event in Bangalore.
6. Netgear FS105 5-port Fast Ethernet Switch w/power adapter (1k)
- Got this from the US roughly 2 years ago, and haven't used it for the last year. Price includes shipping.
7. Wharfedale Diamond 8.1 + Norge 2060 Stereo Amp w/cables (14k)
- I insist that interested parties hear the setup before making a purchase decision.
8. Computer table (5k)
---Sold
- Bought it for 7k last year, made of rubber-wood and trust me, it's heavy. Pricing it low because the buyer will have to arrange transport. Let me know if you have questions or need more pics: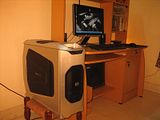 Things you should know:
I need to get rid of this list by Dec '07.
Prices exclude shipping, but I will provide shipping discounts for those who purchase more than 1 item.
Large items cannot be shipped because of the high shipping cost involved.
I don't have time to post actual pics right now, but if you're interested, I can provide them.
All items are in good condition, to say the least, and have been sparingly used. However, I will be happy to answer specific questions via PM or right here.
In-station buyers can inspect the items before purchase.
Everyone gets 1-week testing guarantee, and I will accept the item back *if* it does not work as it should.
A couple items can only be delivered mid-to-end Dec (Speakers, Table)