Expected Price (Rs)

3800
Shipping from

Delhi NCR
Item Condition

5 out of 5
Payment Options

Bank Transfer
Purchase Date

Jul 16, 2022
Shipping Charges

Excluded - at actuals
Have you provided two pics?

Yes
Remaining Warranty Period

3 Years and 10 Months
Invoice Available?

Yes
Reason for Sale

Upgraded
History:
This Kioxia Exceria 1TB NVMe was purchased from Amazon.in on 16th July 2022. Used in an external RTL9210 based NVMe enclosure to offload data from the main drives. Has a 1GB DDR4 DRAM which is a very rare find at this price point.
Excerpt from the TechPowerUp Review:
The Exceria easily beats the performance of all "value" drives in our test group: Sabrent Rocket Q, ADATA Falcon & Swordfish, Crucial P1, HP EX900, WD Blue, Corsair MP400, Kingston A2000, Samsung 970 EVO, and Team Group MP34 are all slower than the Kioxia SSD. More premium PCIe Gen 3 drives are faster, of course; as an example, the Kingston KC2000 is 5% ahead, just like the Kioxia Exceria Plus G2. The ADATA SX8200 Pro and Samsung 980 non-Pro are 6% faster. The SK Hynix Gold P31, the fastest Gen 3 drive we ever tested, offers 8% extra performance at twice the price. The best Gen 4 SSDs, which are much more expensive, are up to 11% faster, with bigger differences in specific tests, which only makes sense if you have the money to spend and the workloads to benefit from, but if you're looking for best price/performance then nothing can beat the Kioxia Exceria right now—it leads our Performance per Dollar chart by quite a significant margin.
Link to the full review.
Condition:
Excellent condition with only 3.9TB writes and 99% health. More details in the CrystaldiskInfo screenshot below. Includes original packaging and manual.
Warranty:
5 year manufacturer warranty. Amazon India invoice included.
Reason for sale:
Upgraded to a larger capacity drive.
Price and availability:
Price is fixed. PM me if you have any other questions.
Delhi NCR buyers preferred.
Also have a WD SN570 1TB for sale here:
WD SN570 1TB TLC NVMe, 3 months old, only 1.5TB writes
. Price for both: 7200.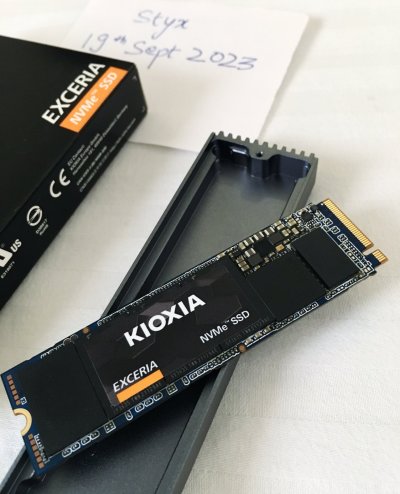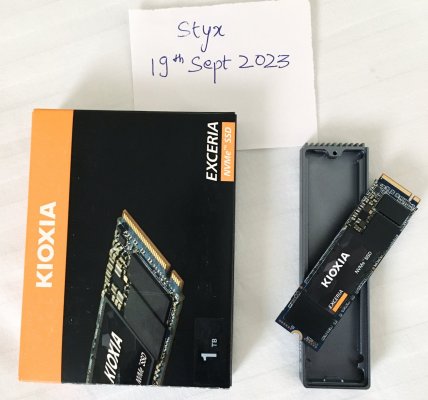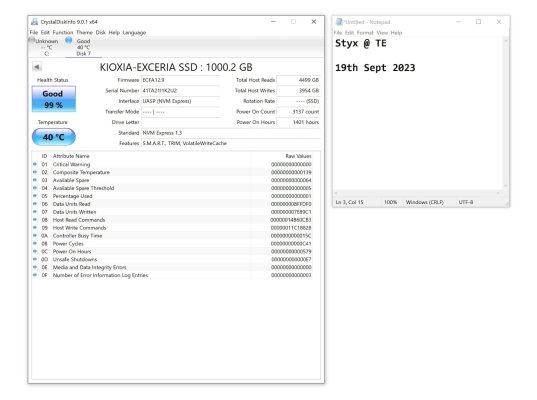 Last edited: