I have a custom built NAS with 6 x 4TB Drives (Seagate Skyhawk 4TB ST4000VX007). The drives are pretty good, have 3 years warranty and run at 5900RPM and are pretty silent. They are all CMR.
Recently one of the drives showed 8 pending sectors, so I decided to buy a replacement and keep it handy. Here the fun part begins.
I ordered 3 drives from 3 different sellers on 2 different platforms and enquired about 4th on 3rd website. All of them had listed the CMR Drive (ST4000VX007 - lets call it X007 for short), mentioned the same on the title, description, everywhere. Even the invoice from all three orders states X007 as drive purchased, but received ST4000VX013 (X013 for short) drive, which is SMR, and not suited for NAS applications as resilvering times are too long for them.
Read more:
CMR vs SMR | Howtogeek
The product pages mentioned came up as results with 'In Stock' status when I looked up the model number on Google/PCPricetracker.in.
Order 1
: Clarion Computers. (Product page)

Ordered for ₹7890 on 31st Oct'22.
Delivered to Pune on 5th Nov'22.
Packing was the best among the three sellers I ordered from. Plastic clamshell- that Seagate uses for bulk shipping + 1 layer of cardboard + 2-3 layers of previously used bubble wrap.
Made an unboxing video, found the drive to be sealed, but the model they sent was X013 (SMR drive).
Talked to the number on their site, he said Seagate has stopped shipping X007s now, replaced with X013. I said I can locally get them but as I wasn't in a hurry, to save a few hundred bucks, I ordered from your site. His response: 'Ab yahi aata hai, baki jagah bahot purana stock rahega'.
He did create a pickup from my place, and offered to refund once the drive reaches him back. He was very quick to tell me to not open the seal of the drive which I could relate to.
Order 2
: Amazon.in Seller gadgets storm (Product page)

Placed order on 7th Nov'22, delivered on 10th Nov'22.
Packing was okay-ish. Wrapped in fresh bubble wrap, placed in a cardboard (bit oversized) box.
Again, X013 drive, sealed. Serial number different from the one on the p-slip.
The seller had good reviews (most of the items were FBA - fulfilled by Amazon (Basically Amazon has your inventory and ships products from their warehouse when someone orders) and most negative seller reviews were discarded by Amazon as they are Amazon Fulfilled. Mine was discarded too).

Order 3
: Amazon.in Seller TPSTECH (Product page)
After receiving the wrong drive twice, I thought at least TPS wouldn't mess it up. So, I went ahead and ordered.
Ordered on 10th Nov'22, delivered on 13th Nov'22.
Packing was okay-ish as well. Previously used bubble wrap (4-5 layers) plus wrapped in cardboard.
X013 drive, sealed.
Again, my seller feedback was discarded by Amazon.
Enquiry (almost order 4)
: Compify.in (product page)
Asked them on WhatsApp to confirm before placing the order. They stated X007 is out of stock, so they too would have shipped X013 without notifying, we will never know.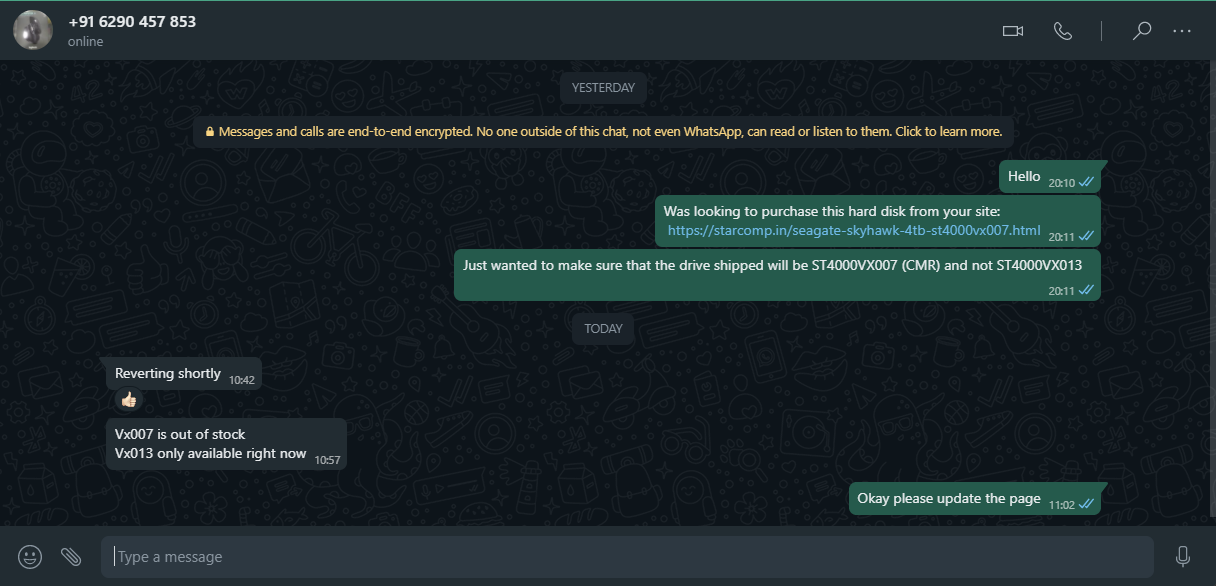 Final thoughts
:
I have been talking to Amazon CC for Amazon orders, but they are not ready to refund/take the drive back as the drive is 'non-returnable'. Have so far received ₹250 as cashback for the difference between two model's costs, for one of the two orders.
Probably will receive the Clarion refund today, as the drive was delivered to their shop today.
Please double check the model you are buying. And avoid Amazon/Flipkart for drives altogether.